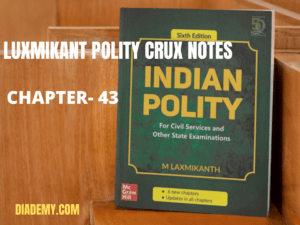 Union Public Service Commission
[Articles 315 to 323]
Introduction
·         It is the central recruiting agency in India

·         Is an independent constitutional body – directly created by the Constitution.

Composition
UPSC – Chairman (by POI) + other member [No as decided by POI from time to time (9-11)]

No qualification given except ½ of member should hold office for Atleast 10 years, either under GOI or state government.

Tenure – 6/65 – can resign to POI

Can be removed by the President

Acting Chairman – office vacant

Unable to perform function.

Removal
·         In engaged in – paid employment outside office bankrupt

·         President can remove chairman or any other member-on ground of misbehaviour – SC can enquire and uphold the removal or rejected it.

·         Misbehaviour:

a.       If he is concerned or interested in any contract or agreement made by the government of India or government of a state.

b.       Participates in any way in the profit of such a contract or agreement or in any benefit there from otherwise than a member in common with other members of an Inc company

Independence
·         Chairman & member removal on ground mentioned in constitution.

·         Salary – CFI

·         Chairman – No second term (NO retirement appointment)

·         Member – only chairman of SPSC or UPSC.

Functions
Holding examination for All- India services, central & public services.

Farming & operating scheme of IPSC.

Serve state or any need of state with approval of POI.

Extension/ re- appointment of services.

UPSC
Not consulted- [Limitations]

·         While in making reservation for any backward classes.

·         SC/ST in appointment

·         Selection of Chairman/member of commission tribunal, highest diplomat

·         Temporary appointment

Role
Watch dog of Merit system.

Not concerned with classification of service, pay condition cadre management, training.

UPSC recruit.

Recommend govt. But only advisory nature. But govt has bound to state the reason for disregarding the reccom.

CVC
1964- Diluted UPSC as both are consulted before taking decision/disciplinary against civil servant.

Problem arises when two bodies tender conflicting advice.

However, UPSC, upper has as CVC [Created by resolution by govt act & conferred statutory status in Oct, 2003.
Get all essential Crux notes by clicking here    https://diademy.com/product/staticcrux/