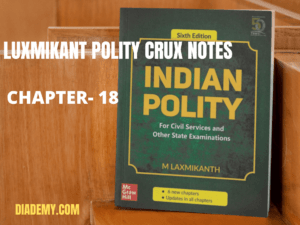 Vice –President [Article – 63-71]
Vice President
·         Office is modelled – American Vice President

·         Second highest office after President of India.

·         elected by the members of an electoral college – UH, LH M

·         both elected and nominated members of the Parliament

·         the members of the state legislative (Not include)

·         Elected by system of proportional representation by means of the single transferable vote and voting is done by secret ballot.

Qualification
·         Citizen of India, 35 age, qualification to became member of RS

·         Not hold office of profit.

·         The nominated of a candidate for election to office of VP must be subscribed by at least 20 electors as proposer & 20 electors as seconders. Every candidate has to make security deposit of 15,000 in the Reserve Bank of India.

Oath
By President or some person appointed in that behalf of him.

1.       He should not be a member of either House of Parliament or a House of the state legislature.

2.       Should not hold any other office of profit.

Term of Office
→ 5 years from the date on which he enters upon his office.

→ Removed by a resolution of the Rajya Sabha passed by an absolute majority (i.e., a majority of the total strength of the House) and agreed to by the Lok Sabha (i.e. simple majority).

→ No such resolution can be moved unless at least 14 days advance notice has been given.

Vacancy in office of VP
·         On the expiry of his tenure of 5 years.

·         By his resignation

·         On his removal

·         By his death

·         Declared disqualified by SC

·         All doubts and disputes in connection with election of the Vice-President are inquired into and decided by the Supreme Court whose decision is final.

Power & Function
·         He acts as the ex-officio Chairman of Rajya Sabha. In this capacity, his powers and functions are similar to those of the Speaker of Lok Sabha.

·         Act as President when a vacancy occurs in the office of the President

·         Can act as President only for a maximum period of 6 months

·         While acting as President Vice-President does not perform the duties of the office of the chairman of Rajya Sabha.

Emoluments
·         Constitution has not fixed any emoluments for the Vice-President in that capacity.

·         He draws his regular salary in his capacity as the ex-officio Chairman of the Rajya Sabha.

·         While acting as President, he is not entitled to the salary or allowance of President.
| | |
| --- | --- |
| Article | Provision |
| 63. | The Vice-President of India |
| 64. | The Vice-President to be ex-officio Chairman of RS |
| 65. | The Vice-President to act as President |
| 66. | Election of Vice-President |
| 67. | Term of office of Vice-President |
| 69. | Oath or affirmation by the Vice-President |
| 70. | Discharge of President's functions in other contingencies |
| 71. | Matters relating to, or connected with, the election of Vice- President |
Get all essential Crux notes by clicking here  https://diademy.com/product/staticcrux/