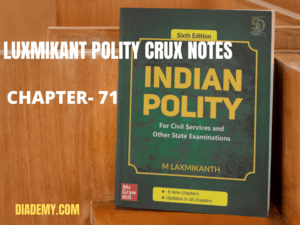 Elections
ELECTORAL SYSTEM
Articles 324 to 329 in Part XV of the Constitution make the following provisions with regard to the electoral system in our country:

1.       Constitution (Article 324) provides for an independent Election Commission – POI, V (POI), MP, MLA

2.       One general electoral roll for the Parliament and the state legislatures – Communal & Separate Electorates

3.       No discussion on religion, race, caste, sex.

4.       Adult franchise, every person who is a citizen of India (18 years of age), is entitled to vote.

5.       All Role preparation of electoral rolls, the delimitation of constituencies and all other matters necessary for securing their due constitution.

6.       State legislatures can make only those matters which are not covered by the Parliament.

7.       Validity of any law relating – delimitation or the allotment of seats to such constituencies cannot be questioned in any court.

8.       Article 323 B establish a tribunal for the election disputes. It also provides exclusion of the jurisdiction of all courts (except the special leave appeal in Supreme Court). – in Chandra Kumar case 1997 – Supreme Court declared provision unconstitutional – election tribunal if established an appeal lies to the High Court

ELECTION MACHINERY
Election Commission of India (ECI) – Election Commission of India is a three-member body, with 1 Chief Election Commissioner and 2 Election Commissioners.

Chief Electoral Officer (CEO) – Chief Electoral Officer of a state/ Union Territory is authorised to supervise the election work in the state/Union Territory.

District Election Officer (DEO) – District Election Officer supervises the election work of a district.

Returning Officer (RO) – Election Commission of India appoints one or more Assistant Returning Officers and RO.

Electoral Registration Officer (ERO) – Election Commission of India, in consultation with the state / UT government, appoints Electoral Registration Officer.

Presiding Officer – Conduct Election at polling states District Election Officer appointing polling officer. In the case of Union Territories, Returning Officers.

Observers – Election Commission of India nominates officers of Government as Observers for Parliamentary and Assembly Constituencies. These observers are of various kinds.

1.       General Observers

2.       Expenditure Observers

3.       Police Observers

4.       Awareness Observers

5.       Micro Observers

6.       Assistant Expenditure Observers

ELECTION PROCESS
Time of Elections – Elections for the Lok Sabha and every state take place every five years, unless called earlier.

Schedule of Elections – Constitution states that there can be maximum 6 months between last session of the dissolved Lok Sabha and the recalling of the new House.

Just before a few weak EC announced, mode of conduct immediately effect

Oath or Affirmation – It is necessary for a candidate, In front of Ro & ARO

·         For person in prison/Detection – superintendent of Prison & commandant.

·         In the case of a candidate confined to in a hospital – medical superintendent in charge of the hospital or similarly authorised.

·         If a candidate is outside India – High Commissioner or diplomatic consular authorised by him can also administer oath/affirmation.

 

Polling Days – Polling is, different days in different constituencies.

Voting Procedure – Since 1998, the Commission firstly used Electronic Voting Machines (EMVs) instead of ballot boxes.

o    2003, all state elections

o    2004, Lok Sabha – 1 million EVMs used

The advantages of the EVM are followings.

1.       Eliminate doubtful votes.

2.       Reduces cost of printing (almost nil) as only one sheet of ballot paper is required.

3.       Counting of Votes makes easily.

4.       Saving a large number of trees making the process eco-friendly.

Election Petitions – If an elector or Candidates thinks can be filled in H.C.

o    16th LS – women 62/668.

o    Const. of 16 LS – 3426 (crores)

 

Area wise Largest constituency –

Ladak – Barner – Kutch – Arunachal (west + East)

 

Area wise smallest constituency –

Mulkajgiri (Telangana) – Ghaziabad (UP) – Bangalore

North (Karnataka) – Unao (UP) – North west

Delhi (NCI of Delhi)

 

Smallest constituency (Population wise)

Lakshadweep – Daman & Diu – Ladak ( J & K)

Dadar and Nagar Haveli – A & N island.

Election Petition
An elector or candidate can file an election petition if he or she thinks that there is a malpractice during election – it is not an ordinary suit but treated as a contest in which whole constituency is in world

Tried by High Court of the state involved –if upheld may lead to re-staging of the elections in that constituency.
Get all essential Crux notes by clicking here  https://diademy.com/product/staticcrux/