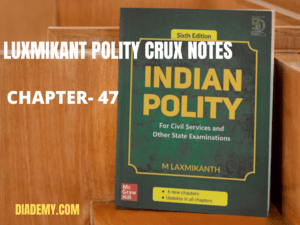 National Commission for SCs
Constitutional Body
Art 338- appoint special officer for sc & st to const. safeguards for the SCs and STs and to report to the President.
In 1978
multi-member Commission
89th Constitutional Amendment Act Of 2003
Bifurcated; National Commission for SCs and

National Commission for STs

National Commission For SCs 2004
Chairperson + a vice-chairperson + 3 other members→ by POI
Functions Of The Commission
·         To investigate & monitor all matter relating to sc & evaluate them.

·         To inquire, all complaint with respects and deprivation of rights and safeguards of the SCs.

·         To participate advice – socio-economic development of SCs.

·         To present – report of work to POI.

·         To recommend- to measure to improve the socio-economic development.

Reports Of The Commission
Commission report President remote memorandum LS→ action taken or,

Why no action taken by recommendations.

If he seems→Governor→SLA→ action taken or,

Why no action taken by recomm.

Powers Of The Commission
All the matter investigate (inquire & complaints)

(a)Summoning and enforcing the attendance of any person (from any part) and examining on oath.

(b)requiring the discovery of any product

(c)receiving evidence on affidavits;

(d)Requisitioning any public record from any court.

(e)Any matter POI decides.

·         Central government and the state governments should commission for SC major policy.

·         Same function for OBC and Anglo Indian & present its report to POI.
Get all essential Crux notes by clicking here    https://diademy.com/product/staticcrux/