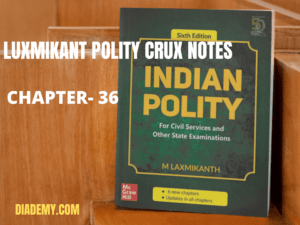 Subordinate Courts
Introduction
As they are under subordination under the high court at district and lower levels.
Constitutional Provisions
Articles 233 to 237 in Part VI of the Constitution.

1.   Appointment of District Judges- The appointment of district judges, Posting, transfer, promotion with Consultation of HC by the governor.

2.   Appointment of other Judges- should not be already in service of control or state govt. Been advocate for 7 years or leader should be recommended by HC.

·         Other judges- Appointment of other Judges (OJ) to judicial service of state made by governor of state after consultation with SPSC & HC.

3.   Control over Subordinate Courts- All transfer posting, promotion leave belonging to Judicial service of the state and rank below DJ, vested in HC.

4.   Interpretation- 'District Judges' Judges of civil court, additional district judge, joint district judge, assistant district judge, chief judge of a small cause court, chief presidency magistrate, additional chief presidency magistrate, sessions judge, additional sessions judge.

5.   Judicial Services- service consisting exclusively of person intend to fill post of DJ and other civil Judicial post (interior of DJ)

Structure & Jurisdiction
Of subordinate court laid by state, they differ slightly from state to state. There are mainly three tiers of civil & criminal Court below HC,

OJ Highest Judicial Authority

·         Original & Appellate – Civil→ District Judge

Criminal→ session Judge

·         Judicial & administrative power

·         Supervisory power overall

Appeal against order of OJ in HC

Any capital punishment or Fine should be ratified by state.

NLSA
National Legal service Authority-

Article (39A) – free legal aid to the poor and weaker sections to ensures justice for all

Article 22 (1) – Obligatory to ensure equality before law and legal system promote justice on the basis of equal opportunity of law.

In the year 1987, the legal service Authority Act came under force in 9th Nov/1995.

To establish a nationwide uniform network of free and competent under service.

SC Legal service committee- to implement legal service programme.

Functions:

i.      Provided free and competent legal services to eligible persons.

ii.     Organise Lok Adalat for amicable settlement.

iii.   Organise legal awareness camps in rural areas

Free legal aid is available for:

·         women and children,

·         members of SC/ST,

·         industrial workmen,

·         victims of mass disaster, violence, flood, drought, earthquake, inds disaster

·         disabled persons,

·         persons in custody,

·         persons whose annual income does not exceed Rs.1 lakh,

·         victims of trafficking or begar

LOK ADALATS
Case pending in courts or at litigation stage are compromised or settled in an amicable manner.

People court, Gandhian principles

Expeditious & Economic effective & In Expensive Justice

·       Base on Alternative Dispute settlement ADR

·       No Victors/no rancour by negotiation conciliation

Functions SLSA, DLSA, SCLSC, HC, SC, TLSC→ Organised Lok Adalat at such Interval & places as he think fits.

LA-service or retired Judge + Lawyer + social worker.

Requisite its own powerfor determining any issue- All Judicial proceeding within IPC.

Award will be final no pleading.

Easy trail & speedy with flexibility.

PERMANENT LOK ADALATS
Legal service Authority Act 1987 – 2002 for permanent Lok Adalat to deal with case dealing with public utility services.

Reasons-

Help weaker section/ In expensive/sprit of conciliation outside court.

New Features
P (LA) consist of chairman (OJ + A(OJ) + or other higher officer.

On public utility service such as transport communication, power etc.

FAMILY COURTS
Family Courts Act 1984 – establishment of family court with a view a view to promote conciliation & secure speedy trail in marriage & Family issues.

Reason- many urge for Family Court for family disputes emphasis on the conciliation & achieving socially desirable results.

Mechanism of dispute conciliation.

Features of Family Court
·         Establishment of FC by state govt, obligatory of state govt, Family Court in every city.

·         Focus on conciliation, so no tough rules.

·         Simplifies Rule of laws.

·         Right to appeal in HC only.

Gram Nyayalayas
The Gram Nyayalayas Act, 2008 establishment of the Gram Nyayalayas

Eliminate- Justice at door step/secure justice

Social, Economic, Geographic etc.

Reasons-

·         Poor can't access to justice Compell for it. 39(A of OPSP)

·         Lok Adalat & other ADR, Conciliation, simplifying Judicial procedural law etc by state govt hence need further.

·         The Law commission in 118th Report- necessity of Gram Nyayalayas

Mobile Court– Criminal & civil

Seat @ headquarter of the Intermediate Panchayat shall be guided by principal of Natural justice & sub to any rule.

An aroused of offence may file & plea bargaining.
Get all essential Crux notes by clicking here  https://diademy.com/product/staticcrux/