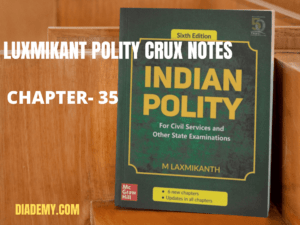 Tribunals
Original Constitution
No Tribunal
42nd Amendment Act, 1976
(Tribunal) – Art 323 A – Administrative Tribunal

Art 323 B – Dealing with other matters

Added in Part XIV- to the Constitution.

ADMINISTRATIVE TRIBUNALS
Central govt. To establish one central Administrative tribunal and the state administrative tribunals.
CAT
Central Administrative Tribunal (CAT) – 1985 Delhi (17 branch in state)

Chairman (65 years) + V. Chairman (62 years) + Member same status Judge of HC.

Members – recommend by – a committee of chaired by sitting judge of SC who is nominated by CJA.

CAT – Multi member body.

State Administrative Tribunals (SAT)
Presence of Joint Adm. Tribunal (JAT)

By Adm. tribunal act 1985, SAT chief by POI after consultation with the governor.

TRIBUNALS FOR OTHER MATTERS
323(B), parl. & state legislature for tribunal to following matter.

Taxation, foreign exchange, Industrial labour, land reform, food stuff. Election to parliament & state Legislature.

·         Article 323 A – establishment of tribunals for public service matters only, Article 323 B – establishment of tribunals for certain other matters

·         Article 323 A – established only by Parliament,

Article 323 B – established both by Parliament and state legislatures with respect to matters falling within their legislative competence

·         Article 323 A – only one tribunal for the Centre and one for each state or two or more states may be established.

Article 323 B – a hierarchy of tribunals may be created.
Get all essential Crux notes by clicking here  https://diademy.com/product/staticcrux/