Context: The No Confidence motion moved by the Congress against the Bharatiya Janata Party-Jannayak Janta Party coalition government in Haryana on Wednesday was defeated by 55 votes to 32.
Analysis
What is No Confidence motion? 
Article 75/164 of the Constitution:

The council of ministers shall be collectively responsible to the Lok Sabha/State Assembly

(not Parliament

/State Legislature

!).

A no-confidence motion is usually moved by the opposition when it feels that the ruling government does not enjoy a majority in the House any longer. 

No reason

is required to move such a motion.
It can be

moved against the entire Council of Ministers and not individual ministers or private members. 
A no-confidence motion can be moved by

any member of the house

and can be done

only in the Lok Sabha

/State Assembly

and not the Rajya Sabha/Legislative Council.

 
The Rajya Sabha/Legislative Council cannot remove the council of ministers by passing a no-confidence motion. 

This is because the Council of ministers is collectively responsible only to the Lok Sabha/State Assembly.

But, the Rajya Sabha/Legislative Council can discuss and criticise the policies and activities of the government. 
Such a motion is moved under Rule 198 of the Rules of Procedure

(the term is not mentioned in the Constitution). 
A member has to give a written notice of the motion before 10 am, which is then read out by the Speaker of the House. 

Any Lok Sabha MP who can garner the support of 50 colleagues, can introduce a motion of no-confidence against the Council of Ministers. If the motion carries, the house debates and votes on the motion. 

If a majority of the members of the house vote in favour of the motion, the motion is passed and the Government is bound to vacate the office.
If individuals or parties abstain from voting, those numbers will be removed from the overall strength of the House and then the majority will be taken into account.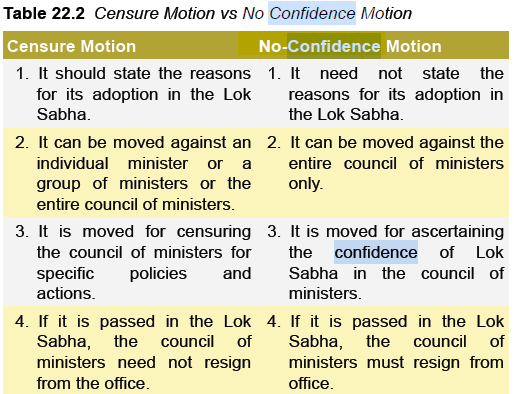 The question of the Union government/state government losing the confidence of the Lok Sabha/legislative assembly should be decided on the floor of the House and until that is done the ministry should not be unseated. 
Both censure motion and no-confidence motion can be moved in Lok Sabha or lower house in states.

J.B. Kripalani moved

the first-ever no-confidence motion

in August 1963 against the Nehru government after the India-China war. 
Kripalani, an independent MP condemned the Nehru government for poor execution of plans, and even called Jawaharlal Nehru's Panchsheel policy

"five nonsenses."
The maximum number of such motions have been

moved against Indira Gandhi during her various tenures as Prime Minister.

 

The first motion that almost passed muster, and led to the falling of a government was that by Y.B. Chavan against the Morarji Desai government. Only almost, because Desai resigned before the motion could be put to vote.
Click here  to get Current Affairs Comprehensive Notes only just 999/-


Click here

 to get our all Courses
Click here to follow our latest updates


Click Here

to join our Civil Servies Test Series