Context: Uranium deposits in India: The Department of Atomic Energy (DAE) has confirmed that "small deposits" of uranium were found at Kasha Kaladi in Shimla and Tileli in Mandi district of Himachal Pradesh.
The largest deposit in the state is at Rajpura in Una district.
The size of the find has put Himachal Pradesh at the 10th position among 11 states in the country where uranium has been traced.
Andhra Pradesh, Jharkhand and Meghalaya occupy the top three positions, respectively.
Analysis
Uranium deposits in India
Jaduguda in Singhbhum Thrust Bel

t (in the state of Jharkhand) is the first uranium deposit to be discovered in the country in 1951.
Jaduguda is the first mine in the country to produce uranium ore in a commercial scale.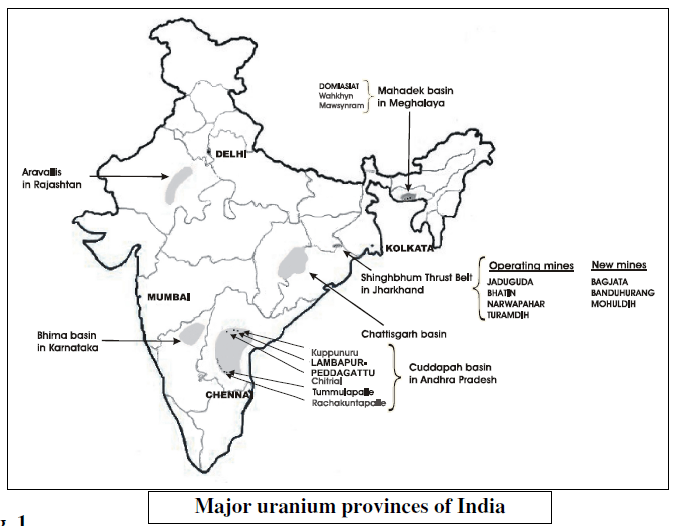 Bhatin, Narwapahar and Turamdih are well known uranium mines of the country.
Apart from discoveries in the Singhbhum Thrust Belt, several uranium occurrences have also been found in Cuddapah/Kadapa basin of Andhra Pradesh.
In the Mahadek basin of Meghalaya in the North-eastern part of the country, sandstone-type uranium deposits provide near-surface flat ore bodies amenable to commercial operations.
The Tummulpalli deposit (in Andhra Pradesh) is considered to be one of the largest deposits of uranium in the world.
India currently imports uranium from Kazakhstan, Uzbekistan and Canada and plans to also purchase the fuel from Australia.
Nuclear Energy Resources (From NCERT)
Important minerals used for the generation of nuclear energy are uranium and thorium.
Uranium deposits occur in the Dharwar rocks.
Geographically, uranium ores are known to occur in several locations along the Singbhum Copper belt.
It is also found in Udaipur, Alwar and Jhunjhunu districts of Rajasthan, Durg district of Chhattisgarh, Bhandara district of Maharashtra and Kullu district of Himachal Pradesh.
Thorium is mainly obtained from monazite and ilmenite in the beach sands along the coast of Kerala and Tamil Nadu.
World's richest monazite deposits occur in Palakkad and Kollam districts of Kerala, near Vishakhapatnam in Andhra Pradesh and Mahanadi river delta in Odisha.
Click here to read the complete 16th Feb's Most Powerful Daily  Current Affairs concepts
Click here to get Prelims Cum Mains 2022 Course
Click here to get our all Courses
Click here to follow our latest updates
If you find this post helpful, then do share your thoughts with us by commenting