Context: The Central Government by way of an Ordinance, namely the Tribunal Reforms (Rationalization and Conditions of Service) Ordinance, 2021 has abolished the Intellectual Property Appellate Board (IPAB).
The Ordinance has also abolished the Plant Varieties Protection Appellate Tribunal under the Protection of Plant Varieties and Farmers' Rights Act, 2001.
Analysis
IPAB was established in 2003 under Trade Marks Act, 1999 and was exercising original and appellate jurisdiction under the provisions of the Patents Act, 1970, the Copyright Act, 1957 and the Geographical Indications of Goods (Registration and Protection) Act, 1999.
From now on all appeals against the decisions of the Registrar of Trademarks, the Registrar of Geographical Indications and the Controller of Patents would now be filed before the concerned High Courts and appeals against the decision of the Registrar of Copyright before the concerned Commercial Courts including the Commercial Division of the High Courts.
The appeals pending before the IPAB, would also be transferred to the respective High Courts whereas the appeals filed under the Copyright Act, 1957 would be transferred to the respective Commercial Courts.
Tribunal Reforms  Ordinance 2021
The Tribunal Reforms (Rationalisation and Conditions of Service) Ordinance 2021 was promulgated on April 4, 2021.
It dissolves certain existing appellate bodies and transfers their functions (such as adjudication of appeals) to other existing judicial bodies (Table 1).
A Bill with similar provisions was introduced in Lok Sabha on February 13, 2021 and is currently pending.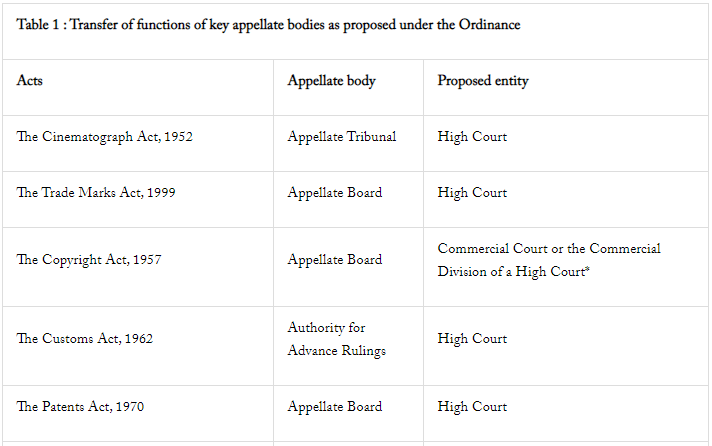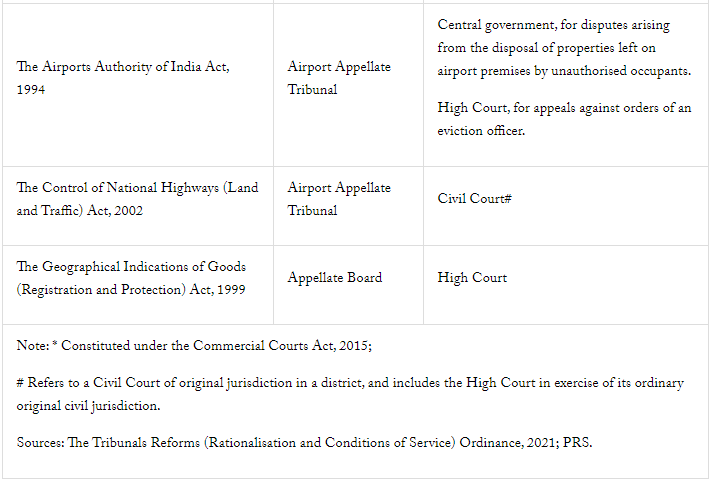 India's National Intellectual Property Rights (IPR) Policy- 2016
Its clarion call is "Creative India; Innovative India: रचनात्मक भारत; अभिनव भारत.
The Policy aims to push IPRs as a marketable financial asset, while protecting public interest;
The Policy will be reviewed every five years;
The policy is entirely compliant with the WTO's agreement on TRIPS;
The department of industrial policy and promotion (DIPP) is the nodal agency for all IPR issues;
The 'Cell for IPR Promotion & Management (CIPAM)', setup under a professional body under the aegis of DIPP, is to be the single point of reference for implementation of objectives of the National IPR Policy.
Copyrights related issues will also come under DIPP's ambit from that of the Human Resource Development (HRD) Ministry.
Films, music, industrial drawings will be all covered by copyright.
The first and foremost objective of the Policy is "IPR Awareness: Outreach and Promotion".
Under this objective, one of the key focus areas is awareness on IPR for school children.
For the first time ever, IPRs have been exclusively included in the NCERT textbook for Class 12 school syllabus. 
Scheme for IPR Awareness – Creative India; Innovative India 
Aims at raising IPR awareness amongst students, youth, authors, artists, budding inventors and professionals;
To inspire them to create, innovate and protect their creations and inventions across India including Tier 1, Tier 2, Tier 3 cities as well as rural areas in the next 3 years;
Launched by Cell for IPR Promotion and Management (CIPAM) under the aegis of the Department of Industrial Policy & Promotion (DIPP), Ministry of Commerce.
World Intellectual Property Day is celebrated on April 26.
What is meant by Intellectual Property Rights (IPR)?
Intellectual Property Rights (IPR) are about creations of the mind, they are granted to creators of IP, for ideas which are new and original, by the respective governments.
No one can use others' IPR without their permission.
These rights come with limited monopoly and exclusivity.
What are the different types of IPR?
There are different types of IPR namely, patents, copyrights, trademarks, industrial designs, protection of geographical indications (GIs), IC lay-out designs, trade secrets and new plant varieties.
Are IP rights territorial in nature?
Yes, IP rights are territorial. It means that an Indian registration is valid only in India.
For protection of Intellectual Property in any other country, one has to seek protection separately under the relevant law.
Types of IPR in India
Patent
A patent is granted for an invention which is a new product or process involving an inventive step and capable of industrial application.
"New invention" means the subject matter has not fallen in public domain or that it does not form part of the state of the art;
Inventive step is the feature(s) of the invention that involves technical advance as compared to the existing knowledge or having economic significance or both and that makes the invention not obvious to a person skilled in the art.
The Indian Patent Office has been recognized as an International Searching Authority and an International Preliminary Examining Authority (ISA/IPEA) by World Intellectual Property Organization under the Patent Cooperation Treaty, thus joining an elite group of about 17 countries.
What is the term for a patent in India?
The term of every patent in India is 20 years from the date of filing.
What is Paris Convention?
Paris Convention is an international convention.
India is also a member to this convention.
Under this convention if one applies for registration of patent in any member country, within six months from the date of filing of patent application in India, they will have the same priority as in India.
Patent Cooperation Treaty (PCT)
India is a contracting party to PCT that allows the patent applicant to seek patent protection for an invention simultaneously in a large number of countries by filing a single "international" patent application instead of filing several separate national or regional patent applications.
Industrial Design
From the IP point of view, industrial design refers only to the ornamental or overall visual appearance of a product
For registration of industrial design, under the Designs Act, 2000 following points must be adhered to:
Design should be new or original, not previously published or used in any country before the date of application for registration.
Design should relate to features of shape, configuration, pattern or ornamentation, composition of lines or colours applied to an article.
Design should be applied to any article by any industrial process or means whether manual, mechanical, chemical, separate or combined.
Design should not be linked to any functional aspect of the article.
What cannot be protected by an industrial design?
A manufacturing process;
Functional features of an article
A principle of construction, or how an article is built
The materials used in the construction of an article
The useful purpose (functionality) the design serves or is intended to serve
Colour per se or Ideas
What is the duration of the design registration in India?
Registration of a design lasts for 10 years from the date of registration which can then be renewed for another 5 years.
However total term for registration cannot exceed 15 years.
Trademark
A trademark means a mark capable of being represented graphically and which is capable of distinguishing the goods or services of one undertaking from those of other undertakings.
A trademark can be a sign, words, letters, numbers, drawings, pictures, emblem, colours or combination of colours, shape of goods, graphic representation or packaging or sound or any combination of the above as applied to goods or services.
Though the registration of a trademark is not compulsory, registration is a prima facie proof of the title and it gives the registered proprietor an exclusive right to use the trademark and take legal action in case of infringement.
If a trademark is not registered and if someone not having the right in the trademark uses that trademark, the proprietor of the trademark can take the common law action of passing off.
The initial registration is valid for a period of 10 years from the date of registration which is renewable for the period of every 10 years, for an indefinite period of time.
Madrid Protocol
India has acceded to the Madrid Protocol which allows applicants to file applications in other countries that are members of the Protocol through a simple Form and by payment in one currency.
Foreign applicants can also file indicating India as the designated country.
Geographical Indication
A Geographical Indication (GI) is primarily an agricultural, natural or a manufactured product (handicrafts and industrial goods) originating from a definite geographical territory.
The manufactured goods should be produced or processed or prepared in that territory.
Typically, such a name conveys an assurance of quality and distinctiveness, which is essentially attributable to the place of its origin.
#LetsTalkIPis a social media campaign to promote Indian GIs.
The Cell for IPR Promotions & Management (CIPAM) under the aegis of the Department of Industrial Policy Promotion (DIPP), Ministry of Commerce and Industry, has also launched "Gift a GI" campaign to help in branding and promotion of registered GI products.
The Intellectual Property Appellate Board (IPAB) currently exercises jurisdiction over Trademarks, Patents, Geographical Indications and Copyright Cases.
The IPAB has its headquarters at Chennai.
The Intellectual Property Appellate Board (IPAB) was established by the Central Government under the Trademarks Act 1999.
A GI registration gives the registered proprietor and authorised users the legal right to the exclusive use of the GI, and no unauthorised person can use the tag.
What is the benefit of the registration of geographical indications?
It confers legal protection to Geographical Indications in India
Prevents unauthorised use of a Registered Geographical Indication by others
It provides legal protection to Indian Geographical Indications which in turn boost exports.
It promotes economic prosperity of producers of goods produced in a geographical territory.
Is a registration of a geographical indication compulsory and how does it help the applicant?
Registration is not compulsory.
Registration affords better legal protection to facilitate an action for infringement.
The registered proprietor and authorised users can initiate infringement actions.
The authorised users can exercise the exclusive right to use the geographical indication.
How long the registration of Geographical Indication is valid?
The registration of a geographical indication is valid for a period of 10 years
Can a registered geographical indication be assigned, transmitted, etc?
A geographical indication is a public property belonging to the producers of the concerned goods.
It shall not be the subject matter of assignment, transmission, licensing, pledge, mortgage or such other agreement
However, when an authorised user dies, his right devolves on his successor in title.
How a geographical indication is different from a trade mark?
A trade mark is a sign which is used in the course of trade and it distinguishes goods or services of one enterprise from those of other enterprises.
Whereas a geographical indication is an indication used to identify goods having special characteristics originating from a definite geographical territory.
GI LOGO, TAGLINE LAUNCH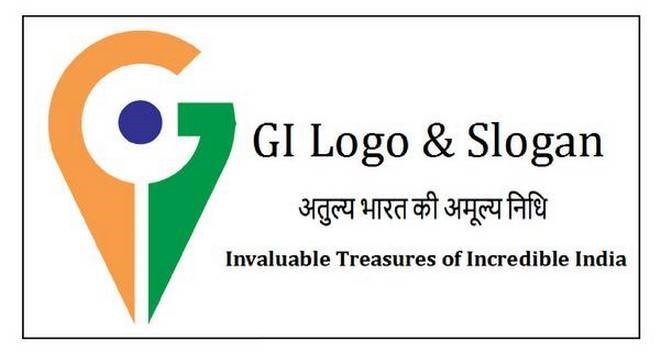 A logo and tagline for Geographical Indications (GI) has been launched to increase awareness about intellectual property rights (IPRs) in the country.
Odisha recently got a Geographical Indications (GI) tag for its variant of the rasagola.
Odisha's rasagola comes under the food category which includes other famous items such as the Tirupathi laddu, Hyderabad haleem, Dharwad pedha and Bikaneri bhujia.
Geographical Spread
Karnataka has the highest number of GI-tagged products.
However, when geographical area is factored in, Kerala has the highest.
Sarees and fabrics have been given the highest number of GI-tags, followed by specialised crafts, rice, mango etc.
While Tamil Nadu has the highest number of handicraft GIs, Maharashtra leads in the number of GI-tagged agricultural products.
Ministry/Office Administering the Patent, Design, Trademark and GI.
Controller General of Patents, Designs and Trade Marks, Department of Industrial Policy and Promotion, Ministry of Commerce & Industry
Copyright
Copyright is a right given by the law to creators of literary, dramatic, musical and artistic works and producers of cinematograph films and sound recordings.
In fact, it is a bundle of rights including, inter alia, rights of reproduction, communication to the public, adaptation and translation of the work.
There could be slight variations in the composition of the rights depending on the work.
Computer Software is considered literary work; hence it is also protectable under copyrights.
The Copyright Act, 1957 has been amended in 2012 to bring the Act in conformity with two WIPO internet treaties concluded in 1996 namely, the WIPO Copyright Treaty ("WCT") and WIPO Performances and Phonograms Treaty ("WPPT").
Why should one register for Copyright?
Copyright comes into existence as soon as a work is created and no formality is required to be completed for acquiring Copyright in India.
However, certificate of registration of Copyright and the entries made therein serve as a prima facie evidence in a court of law and therefore, would help in establishing authorship and also infringement.
In case the author or the owner decides not to register, the work should be properly dated and signed. This may be useful in case of engineering drawings.
Copyright owner has economic rights as well as moral rights.
Is copyright registration mandatory?
No, it isn't but getting copyright registration is the best way to seek legal remedy as it serves as a prima facie evidence in a court of law, in case of any dispute arising out of copyright ownership issue.
What is the difference between Copyright and Copyleft?
Copyleft is like a license or an agreement for a user using the copyleft work, specifically for software.
As per the terms of copyleft, any person has right to freely use, distribute, modify software code but at the same time the user must donate the modified version of the software code under similar terms and condition to freely use, distribute and modify the modified version. This kind of software is called copyleft software.
Thus, Copyleft ensures:
Software available is royalty free
Source codes must be disclosed
Freedom to modify the software
Anybody redistributing the modified version will provide similar independence to others for freely using, redistributing, and making alteration in that software so that the whole community is benefited.
In case of copyleft, author (developer) cannot stop others from using, modifying and redistributing as per the conditions disclosed in the GPL license.
Is there any Government agency being setup for improving enforcement measures against copyright piracy?
Yes, the Copyright Enforcement Advisory Council (CEAC) under Ministry of Human Resource Development has been constituted to seek advice from the creative copyright industries and top police officials of all States and Union Territories for improving enforcement measures to contain copyright piracy.
Ministry/Office Administering the Copyrights
Registrar of Copyrights, Department of Industrial Policy and Promotion, Ministry of Commerce & Industry
Semiconductor Integrated Circuits Layout-Design
The aim is to provide protection of Intellectual Property Right (IPR) in the area of Semiconductor Integrated Circuit Layout-Designs and for matters connected therewith or incidental thereto.
Ministry/Office Administering the Semiconductor Integrated Circuits Layout-Design Registry
Semiconductor Integrated Circuits Layout-Design Registry, Registrar of Copyrights, Department of Industrial Policy and Promotion, Ministry of Commerce & Industry
The Protection of Plant Varieties and Farmers' Rights
The Protection of Plant Varieties and Farmers' Rights Act, 2001 has been enacted in India to give effect to the 'Trade Related Aspects of the Intellectual Property Rights' of WTO, which India has ratified.
Farmers' Rights in the PPV&FR Act, 2001
Access to seed
Farmers are entitled to save, use, sow, re-sow, exchange, share or sell their farm produce, including seeds of protected varieties.
However, farmers are not entitled to sell branded seed of a variety protected under this Act.
Benefit sharing
The PPV&FR Act is the first law that integrates a provision for access and benefit-sharing (ABS) along with Plant Breeder's Rights (PBRs).
Compensation
Registered seed must be sold with the full disclosure of their agronomic performance.
When such seed is sold to farmers but fails to provide the expected performance under recommended management conditions, the farmer is eligible to claim compensation from the breeder.
Reasonable Seed Price
Farmers have the right to access seed of registered varieties at a reasonable and remunerative price.
When this condition is not met, the breeder's exclusive right over the variety can be suspended.
Farmers' recognition and reward for contributing to conservation
Farmers who have been engaged in PGR conservation and crop improvement, and who have made substantial contributions in providing genetic resources for crop improvement, receive recognition and rewards from the national gene fund.
Exemption from registration fees for farmers
Under PPV&FR Act, farmers have the privilege of being completely exempted from payment of any kind of fees or other payments that are normally payable for variety registration.
Farmer protection from innocent infringement
If a farmer can prove before court that he or she was not aware of the existence of any rights at the time of an infringement on any such rights, as detailed in the PPV&FR Act, he or she will not be charged.
Protection of Plant Varieties and Farmers' Rights Authority
It has also been established under the Act in the Ministry of Agriculture and Farmers' Welfare.
General Functions of the Authority
Registration of new plant varieties, essentially derived varieties (EDV), extant varieties;
Developing DUS (Distinctiveness, Uniformity and Stability) test guidelines for new plant species;
Developing characterization and documentation of varieties registered;
Compulsory cataloging facilities for all variety of plants;
Documentation, indexing and cataloguing of farmers' varieties;
Recognizing and rewarding farmers, community of farmers, particularly tribal and rural community engaged in conservation and improvement of plant varieties;
Preservation of plant genetic resources of economic plants and their wild relatives;
Maintenance of the National Register of Plant Varieties; and
Maintenance of National Gene Bank.
Ministry/Office Administering the Semiconductor Integrated Circuits Layout-Design Registry
Protection of Plant Varieties & Farmers' Rights Authority, Ministry of Agriculture
International Agreements
India is a member of the World Trade Organisation and committed to the Agreement on Trade Related Aspects of Intellectual Property.
India is also a member of World Intellectual Property Organization, a body responsible for the promotion of the protection of IPRs throughout the world.
India is also a member of the following important WIPO-administered International Treaties and Conventions relating to IPRs:
Budapest Treaty on the International Recognition of the Deposit of Micro-organisms for the Purposes of Patent Procedure
Paris Convention for the Protection of Industrial Property
Convention Establishing the World Intellectual Property Organization
Berne Convention for the Protection of Literary and Artistic Works
Patent Cooperation Treaty
Protocol Relating to the Madrid Agreement Concerning the International Registration of Marks- Madrid Protocol
Washington Treaty on Intellectual Property in respect of Integrated Circuits
Nairobi Treaty on the Protection of the Olympic Symbol
Convention for the Protection of Producers of Phonograms Against Unauthorized Duplication of Their Phonograms
Marrakesh Treaty to Facilitate Access to Published Works by Visually Impaired Persons and Persons with Print Disabilities (India was the first nation to ratify the Marrakesh Treaty to Facilitate Access to Published Works for Persons Who Are Blind, Visually Impaired or Otherwise Print Disabled)
Trade Related Intellectual Property Rights (TRIPs)
One of the important agreements of the WTO is the Trade Related Intellectual Property Rights (TRIPs), which deals about the protection of Intellectual Property Rights (IPRs) across countries.
The TRIPS Agreement sets minimum standards in the international rules governing patents, including on medicines.
It includes, amongst others, a minimum patent period of 20 years; provision for product patents; and the protection to pharmaceutical test data from 'unfair commercial use'.
The Doha Declaration: restoring the balance
The amendment allows countries producing generic medicines under compulsory licence to export all of the medicines to least-developed countries that lack manufacturing capacity themselves.
What is TRIPS Plus?
TRIPs Plus are higher level of protection norms demanded by the developed countries that are not prescribed by the WTO's TRIPs regime.
Although they are named as 'TRIPS-Plus,' they are not formally related to TRIPs.
Since it is the developed countries who owns most of the technologies and patents, they are using various international forums to pressurize higher level of protection for intellectual property.
Over the last few decades they are creating Free Trade Agreements to give higher level of protection to IPRs.
Often these FTAs are outside the WTO framework and hence they can give higher level of protection to IPRs there.
The developing countries have concerns over the higher level of protection demanded by the developed world.
They fear that once such levels of protection are given multilaterally, it will reduce competition and may led to price rise of medicines, affecting health security in poor countries.
Common examples of TRIPS plus provisions include extending the term of a patent longer than the twenty-year minimum, or introducing provisions that limit the use of compulsory licenses or that restrict generic competition.
Data exclusivity and TRIPS Plus
An example for advanced norms under TRIPs Plus is the protection demanded by developed countries for data exclusivity which doesn't usually come under TRIPs.
Data exclusivity is the protection of clinical test data submitted to a regulatory agency to prove safety, quality and efficacy of a new drug, and preventing the generic drug manufacturers from relying on this data in their own applications.
Such a data exclusivity will stop generic drug manufactures of developing countries from using these data while applying for licenses.
India's stand on TRIPS Plus
India's opposition to TRIPs Plus is reflected in the country's FTA negotiation with countries like Japan and the EU who demand TRIPs Plus level of protection in their proposed CEPA (Comprehensive Economic Partnership Agreement).
Technology and Innovation Support Center (TISC)
India's Second Technology and Innovation Support Center (TISC) Established at Anna University, Chennai under the World Intellectual Property Organization's (WIPO) TISC program. 
India's first Technology and Innovation Support Center (TISC) was set up at Patent Information Centre, Punjab.
WIPO's Technology and Innovation Support Center (TISC) program provides innovators in developing countries with access to locally based, high quality technology information and related services, helping them to exploit their innovative potential and to create, protect, and manage their Intellectual Property Rights (IPRs).
Over 500 TISCs operate worldwide and establishing a TISC in India will give the host institutions access to the global network.
Services offered by TISCs include:
Access to online patent and non-patent (scientific and technical) resources and IP-related publications;
Assistance in searching and retrieving technology information;
Training in database search;
On-demand searches (novelty, state-of-the-art and infringement);
Monitoring technology and competitors;
Basic information on industrial property laws, management and strategy, and technology commercialization and marketing.
The Cell for IPR Promotion and Management (CIPAM) is designated as the National Focal Point for the TISC national network.
As the national focal point, CIPAM shall identify potential host institutions, assess their capacities and support them in joining the TISC program.
CIPAM will also act as the main intermediary between WIPO and TISC host institutions and coordinate all the activities of the national TISC network.
Trade Dress
Trade dress refers to features of the visual or sensual appearance of a product that may also include its packaging, shape, combination of colors which may be registered and protected from being used by competitors in relation to their business and services.
The characteristic includes their shape (3 dimensional), packaging, color, graphic design of the product.
Objective
Trade dress protection is intended to protect consumers from packaging or appearance of products that are designed to imitate other products; to prevent a consumer from buying one product under the belief that it is another.
For Ex. Apple Inc. recently secured the registration over the design of its flagship Apple Stores as trade dress.
Pooling of Patents
Pooling of patent resources is in line with the Doha Declaration on Public Health which is a part of the TRIPS agreement.
This declaration recognises the need for taking measures to 'protect public health' and 'promote access to medicines'.