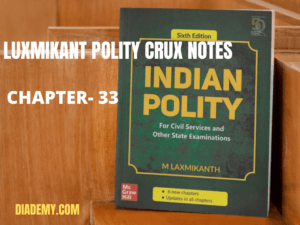 State Legislature
Art → 168-212
No uniformity, bicameral legislature
ORGANISATION OF STATE LEGISLATURE
2018→ 7 state, bicameral Legis. → AP, Telangana, Uttar Pradesh, Bihar, Maharashtra, Karnataka and Jammu and Kashmir.

22→ state unicameral legislature.

When Bicameral STATE LEGISLATURE (SL)→Governor + L.C. + LA→ Vidhan Sabha or Lower house upper house or Vidhan Parishad.

Created or abolished→ by Parl.

2/3rd [P+V] + 50% SLA→ passes a resolution

Criticised→ No the house of Representative

COMPOSITION OF TWO HOUSES
1. Composition of Assembly –

Strength→ representatives of the directly elected people on universal adult franchise. Max = 500 & Min =60

Nomination→ one member of Anglo Indian (for 10 year but Later increase for 10 years (1960))

85th CA→ 2020

Territorial Constituencies→ demarcation of these Consistuency, equal representation = ratio b/w population at state remain same throughout the state.

Readjustment→ Total no. of seat in assembly, territorial Consistuency Parl. Empower to make Laus.

2. Composition of Council→ 1/3rd of the total strength of the assembly Except JK-32 and minimum strength is 40.

Duration→ SLA→5 Year→ dissolved at any time/extend 1 year within 6 month revocation of emergency & be elected.

Qualification→ Citizen of India, Oath in front of election Commission

SLA = 25 years, SC – 30 years.

Other Qualification as People representation Act 1951
Disqualification→ Any office of profit, insolvent, unsound mind, acquire citizenship of foreign.

Oath→ governor ordy by governor.

Speaker, Dyspeaker, Dy Chair→ same as Parl.

Summon/Adjournment/ Prorogation/Dissolution same as Parl. (By governor & speaker)

Legislative procedure same as Parliament

Quorum
1/10 No Joint Session.
Language
Official Lang. of state English or Hindi, but P.O. can Permit a member to address mother tongue.
Get all essential Crux notes by clicking here  https://diademy.com/product/staticcrux/