Context: Average spot power price rose by 65% to ₹4.06 per unit in March compared to the year earlier month at the Indian Energy Exchange (IEX) mainly due to increase in demand on account of rise in temperature and revival of economic activities.
Analysis
INDIAN ENERGY EXCHANGE LIMITED (IEX) is the first and largest energy exchange in India providing a nationwide, automated trading platform for physical delivery of electricity, Renewable Energy Certificates and Energy Saving Certificates.
Physical delivery of Electricity
The exchange platform enables efficient price discovery and increases the accessibility and transparency of the power market in India.
Contracts trading at the exchange cover a range for buying/selling electricity for duration up to 11 days.
It even enables participants to purchase electricity for the same day through intra-day contracts.
Renewable Energy Certificates (REC)
Central Electricity Regulatory Commission introduced REC mechanism to ease the purchase of renewable energy by the state utilities and obligated entities, including the states which are not well endowed with RE sources.
REC framework seeks to create a national level market for renewable generators to recover their cost. One REC (Renewable Energy Certificate) represents 1 MWh of energy generated from renewable sources.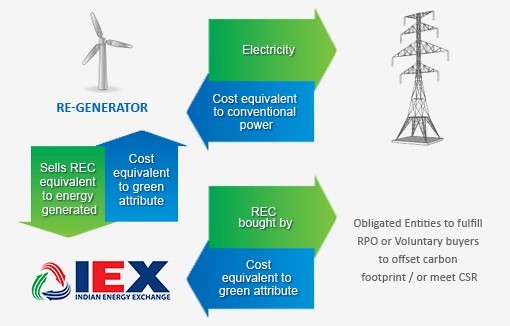 RECs are tradable, intangible energy commodities which represent the attributes of electricity generated from renewable resources.
Energy Saving Certificates (ESCerts)
ESCerts to be traded only on electricity exchanges
ESCerts are the tradable certificates under the Perform, Achieve, Trade (PAT) Scheme of Bureau of Energy Efficiency (BEE), a market-based mechanism to incentivise energy efficiency in large energy-intensive industries.
IEX became the first and only Power Exchange to commence trading in ESCerts.
One of the most important initiative under National Mission on Enhanced Energy Efficiency (NMEEE) is Perform, Achieve & Trade (PAT) mechanism, launched by Bureau of Energy Efficiency (BEE) under Ministry of Power
PAT is a market-based mechanism to step up and incentivize energy efficiency in large energy-intensive industries.
The scheme covers Designated Consumers (DCs) from eight energy-intensive sectors—thermal power, aluminium, cement, fertilizer, iron and steel, pulp and paper, textiles and chlor-alkali.
These eight sectors account for 25% of GDP and about 45% of India's primary energy consumption and consume 165 million tonne equivalent of energy consumption annually.
It facilitates the DCs to achieve their legal obligations under Energy Conservation Act, 2001, but also provides them with necessary market-based incentives to over-achieve the targets set for them.
Click here to get Prelims Marathon 2021 Program
Click here to get Free Study Materials for UPSC IAS 2021/22
Click here to follow our latest updates


Click here

to join our Civil Servies Test Series