UPSC Mains 2021 GS-3 Hits from DIADEMY IAS Mains Booster & Answer writing course
Qn1. Explain the difference between the computing methodology of India's Gross Domestic Product (GDP) before the year 2015 and after the year 2015. (Answer in 150 words)
DIADEMY MAINS BOOSTER CONTENT – DIRECT HITS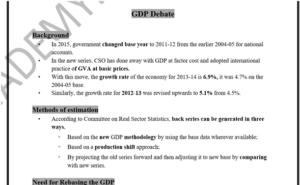 Qn2. Distinguish between Capital Budget and Revenue Budget. Explain the components of both these Budgets. (Answer in 150 words)
DIADEMT ECONOMY (PRE CUM MAINS COURSE)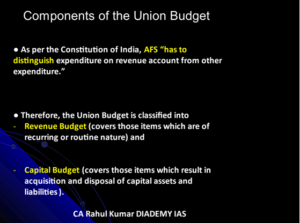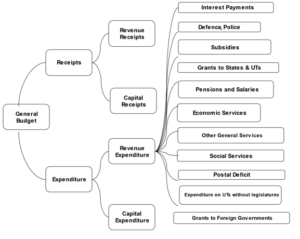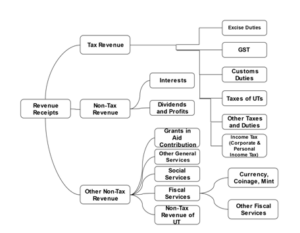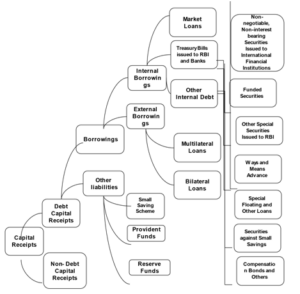 Qn3. How did land reforms in some parts of the country help to improve the socio-economic conditions of marginal and small farmers? (Answer in 150 words)
DIADEMY MAINS BOOSTER CONTENT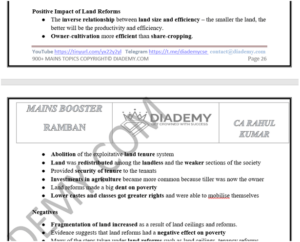 Qn4. How and to what extent would micro-irrigation help in solving India's water crisis? (Answer in 150 words)
DIADEMY MAINS BOOSTER CONTENT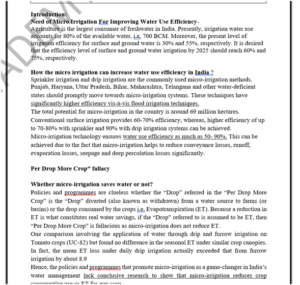 Qn6. Explain the purpose of the Green Grid Initiative launched at the World Leaders Summit of the COP26 UN Climate Change Conference in Glasgow in November 2021. When was this idea first floated in the International Solar Alliance (ISA)? (Answer in 150 words)

Qn9. Discuss how emerging technologies and globalisation contribute to money laundering. Elaborate measures to tackle the problem of money laundering both at national and international levels. (Answer in 150 words)
DIADEMY MAINS BOOSTER CONTENT – Exact Hit
Round Tripping
In the context of black money, it leaves the country through various channels such as inflated invoices, payments to shell companies overseas, the hawala route and so on.
After cooling its heels overseas for a while, this money returns in a freshly laundered form; thus completing a round-trip.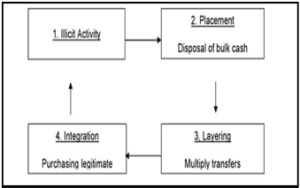 Vulnerability of India (International Narcotics Control Strategy Report)
India's emerging status as a regional financial center
its large system of informal cross-border money flows (Hawala)
its widely perceived tax avoidance problems
Poor GAAR Implementation
Unholy nexus
narcotics trafficking
illegal trade in endangered wildlife, trade in illegal gems (particularly diamonds), smuggling,
trafficking in persons,
India's geographical location between the heroin-producing countries of the Golden Triangle and Golden Crescent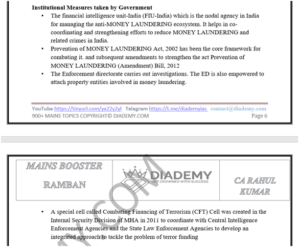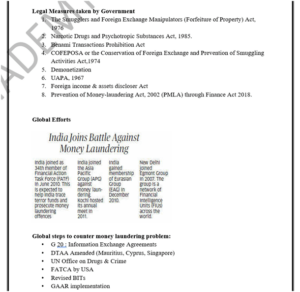 Qn10. Keeping in view India's internal security, analyse the impact of cross-border cyber attacks. Also, discuss defensive measures against these sophisticated attacks. (Answer in 150 words)
DIADEMY MAINS BOOSTER CONTENT – Exact Hit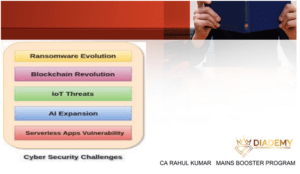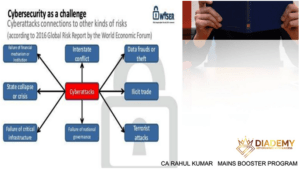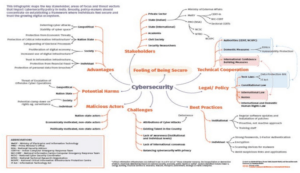 Qn11. Do you agree that the Indian economy has recently experienced V- shapes recovery? Give reasons in support of your answer. (Answer in 250 words)
DIADEMYECONOMIC SURVEY CLASS – PPT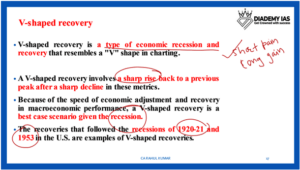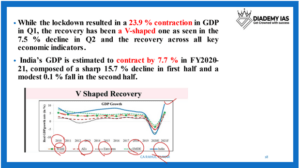 Qn12. "Investment in infrastructure is essential for more rapid and inclusive economic growth." Discuss in the light of India's experience. (Answer in 250 words)
DIADEMY MAINS BOOSTER CONTENT – Exact Hit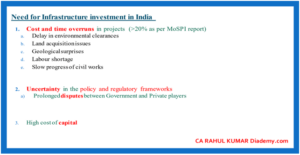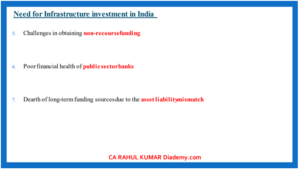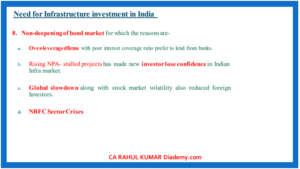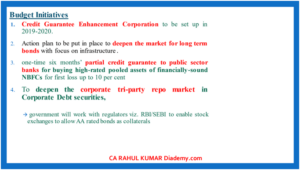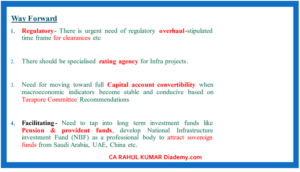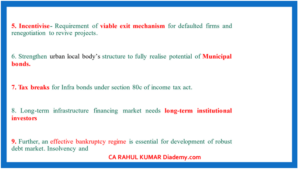 Qn13. What are the salient features of the National Food Security Act, 2013? How has the Food Security Bill helped in eliminating hunger and malnutrition in India? (Answer in 250 words)
DIADEMY MAINS BOOSTER CONTENT – Exact Hit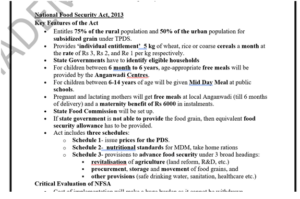 Qn14. What are the present challenges before crop diversification? How do emerging technologies provide an opportunity for crop diversification? (Answer in 250 words)
DIADEMY MAINS BOOSTER CONTENT – Exact Hit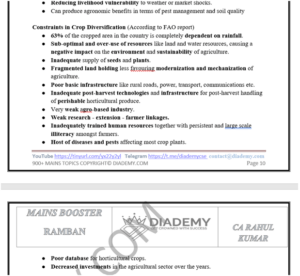 Qn15. What are the research and developmental achievements in applied biotechnology? How will these achievements help to uplift the poorer sections of society? (Answer in 250 words)
DIADEMY MAINS BOOSTER CONTENT – Exact Hit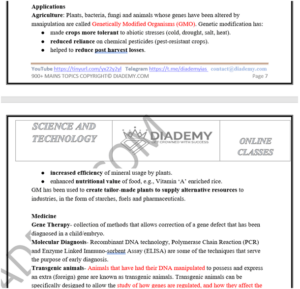 Qn17. Describe the major outcomes of the 26th session of the Conference of the Parties (COP) to the United Nations Framework Convention on Climate Change (UNFCCC). What are the commitments made by India at this conference? (Answer in 250 words)
DIADEMY MAINS BOOSTER CONTENT – Exact Hit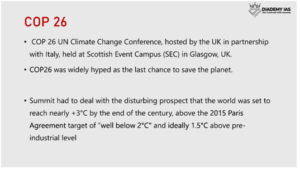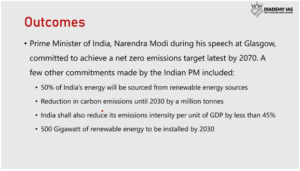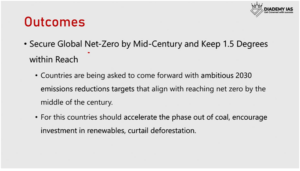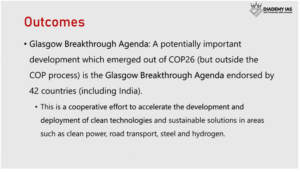 Qn18. Describe the various causes and effects of landslides. Mention the important components of the National Landslide Risk Management Strategy. (Answer in 250 words)
DIADEMY MAINS Booster & Mains Answer writing  – Exact Hit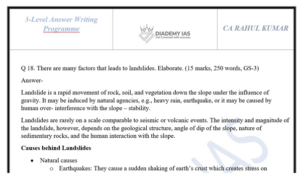 Qn19. Analyse the multidimensıonal challenges posed by external state and non-state actors, to the internal security of India. Also, discuss measures required to be taken to combat these threats. (Answer in 250 words)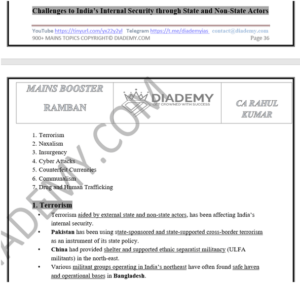 Qn20. Analyse the complexity and intensity of terrorism, its causes, linkages and obnoxious nexus. Also, suggest measures required to be taken to eradicate the menace of terrorism. (Answer in 250 words)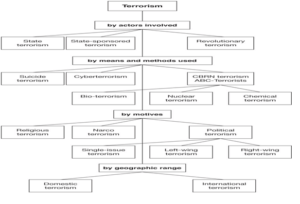 Causes/Types of Terrorism In India
Religion based
External state sponsored
Ethnic based
Economic factors (marginalisation
Strategy to deal with Terrorism
Dismantling various linkages
Good governance
Identify vulnerable communities
Special forces in vulnerable regions
Land and coastal border security
PM 11-point action agenda for counter-terrorism in the G20 Summit
Adoption of Comprehensive Convention on International Terrorism. (CCIT)
Effective implementation of UNSC resolution 2322 and other international resolutions.
Exchange of best practices and process of de-radicalisation between G-20 countries.
Closure of terror funding with the help of Financial Action Task Force.
Weapons and Explosive Action Task Force must be formed to stop arms trading to terror organisations.
Firm and deterrent action must be taken against countries who support terrorism and barring them from G20 summit.
Countries attending G20 summit must exchange lists of designated terrorists and take action against them and their supporters.
PM 11-point action agenda for counter-terrorism in the G20 Summit
For those arrested for terror activities, extradition process must be simplified.
Concrete support among G-20 countries for Cyber Security to stop terror activities.
G-20 countries must form National Security Advisors on Counter Terrorism.
Recommendations of 2nd ARC
Need for comprehensive anti terrorist legislation
Need to clearly define criminal acts that can be construed as terrorism.
Granting of bail to accused only after the Court gives the Public Prosecutor an opportunity of being heard
Amend CrPC to comply with recommendations
Confession before the police should be made admissible only after comprehensive police reforms
Provisions for constitution of Special Fast Track Courts exclusively for trial of terrorism related case
Provision for penalisingunauthorisedpossession of certain specified arms and ammunition
Controllong Terrorist Financing
Amending Prevention of Money-laundering Act to expand list of predicateoffences to widen its scope and outreach
Increased coordination among various investigation agencies
Extending financial transaction reporting regime under the Financial Intelligence Unit
Provisions regarding freezing of assets, funds, bank accounts, deposits, cash etc. when there is reasonable suspicion of their intended use in terrorist activities.
Know complete details of MAINS BOOSTER PLUS COURSE CLICK HERE
Call us at 9811599537 for above courses