UPSC PRELIMS+MAINS
A) Schemes, Policies, Initiatives, Awards and Social Issues
AYUSH Export Promotion Council (AEPC) and Harmonized System (HS) Codes (PIB)
Steps taken/proposed to be taken to achieve price and quality competitiveness to boost AYUSH exports:
Ministry of AYUSH and Ministry of Commerce and Industry will work together for establishing an AYUSH Export Promotion Council (AEPC).
The proposed AEPC can be housed at Ministry of AYUSH.
Standardisation of HS code for AYUSH will be expedited.
Ministry of AYUSH will work in collaboration with Bureau of Indian standards to develop international standards for AYUSH products as well as services.
AYUSH will figure in the Brand India activities.
Harmonized System (HS) Codes
Harmonized System (HS) Codes is

a standardized numerical method of classifying traded products (import-export)

.
It is used by customs authorities around the world to identify products when assessing duties and taxes and for gathering statistics.
The HS is administrated by the World Customs Organization (WCO) and is updated every five years.
The HS assigns specific six-digit codes for varying classifications and commodities.
Countries are allowed to add longer codes to the first six digits for further classification

. 
ITC HS Code List or India Harmonised Code System Code
ITC-HS Codes or better known as Indian Trade Clarification based on Harmonized System of Coding was adopted in India for import-export operations.
Indian custom uses an eight-digit ITC-HS Codes to suit the national trade requirements.
Governing Body of ITC (HS) Code:
Any changes or formulation or addition of new codes in ITC-HS Codes are carried out by DGFT (Directorate General of Foreign Trade).
Geographical Indication (IE)
Context: The Himachal Pradesh government is trying to obtain GIs (Geographical Indication) for five products from the state – Karsog Kulth, Thangi of Pangi, Chamba Metal Crafts, Chamba Chukh, and Rajmah of Bharmour.
Analysis
What is special about these five products from Himachal?
Karsog Kulth: Kulthi or Kulth (horse gram) is a legume grown as a kharif crop in Himachal Pradesh.
Kulth grown in the Karsog area of Mandi district is believed to be particularly rich in amino acids.
Pangi ki Thangi: It is a type of hazelnut which grows in Pangi valley located in the northwestern edge of Himachal.
It is known for its unique flavour and sweetness.
Chamba metal crafts: These include items such as metal idols and brass utensils which, historically, were made by skilled artisans in the courts of kings of Chamba.
There are efforts to revive the trade, and a plate made from a brass-like alloy and having carvings of gods and goddesses is still popular.
Chamba Chukh: It's a chutney made from green and red chillies grown in Chamba, and prepared in traditional and unique ways.
The practice has largely declined in rural households of Chamba, but survives to some extent at the small-scale industrial level.
Bharmouri Rajmah: It's more specifically called the Kugtalu Rajmah, since it grows in the area around Kugti Pass in the Bharmour region of Chamba district.
It is rich in proteins and has a unique flavour.
How will the Himachal govt seek GIs for these products?
Once the characteristic features of all products are identified, the HP Council of Science, Technology and Environment will apply for GI status to the central government's Office of the Controller General of Patents, Designs and Trademarks under the Ministry of Commerce and Industry.
After the application, teams from the Centre will investigate the claims and the time taken to award a GI typically takes two to four years.
How many registered GIs does Himachal currently have?
These include four handicrafts (Kullu Shawl, Chamba Rumal, Kinnauri Shawl and Kangra Paintings), three agricultural products (Kangra Tea, Basmati and Himachali Kala Zeera) and one manufactured product (Himachali Chulli (apricot) oil).
How does a GI tag help?
A GI tag provides a better market for these products and prevents misuse of the name.
A GI registration is given to an area, not a trader, but once a product gets the registration, traders dealing in the product can apply for selling it with the GI logo. Authorised traders are each assigned a unique GI number.
For example, Kullu shawl has 135 authorised traders. A shawl made in Ludhiana cannot be sold as a Kullu shawl. If any unauthorised trader, even from Kullu, tries to sell a shawl under the name of Kullu shawl, he or she can be prosecuted under The Geographical Indications of Goods (Registration and Protection) Act, 1999.
GIs are also expected to boost or revive the items whose production has declined, as is being aimed in the case of Chamba Chukh and metal crafts.
What is a Geographical Indication?
The World Intellectual Property Organisation defines a Geographical Indication tag as "a sign used on products that have a specific geographical origin and possess qualities or a reputation that are due to that origin".
A Geographical Indication (GI) is primarily an agricultural, manufactured or a natural product (handicrafts and industrial goods) originating from a definite geographical territory.
The manufactured goods should be produced or processed or prepared in that territory.
Geographical Indications of Goods are defined as that aspect of industrial property which refer to the geographical indication referring to a country or to a place situated therein as being the country or place of origin of that product.
Typically, such a name conveys an assurance of quality and distinctiveness which is essentially attributable to the fact of its origin in that defined geographical locality, region or country.
A GI registration gives the registered proprietor and authorised users the legal right to the exclusive use of the GI, and no unauthorised person can use the tag.
Under the Paris Convention for the Protection of Industrial Property, geographical indications are covered as an element of IPRs.
They have also covered 

under the Trade Related Aspects of Intellectual Property Rights (TRIPS) Agreement

, which was part of the Agreements concluding the Uruguay Round of GATT negotiations.
India, as a member of the World Trade Organization (WTO), enacted the Geographical Indications of Goods (Registration & Protection) Act, 1999.
"Goods" means any agricultural, natural or manufactured goods or any goods of handicraft or of industry and includes food stuff.
#LetsTalkIPis a social media campaign to promote Indian GIs.
The Cell for IPR Promotions & Management (CIPAM) under the aegis of the Department of Industrial Policy Promotion (DIPP), Ministry of Commerce and Industry, has also launched

"Gift a GI" campaign

to help in branding and promotion of registered GI products.
Ministry/Office Administering the Patent, Design, Trademark and GI
Controller General of Patents, Designs and Trade Marks, Department of Industrial Policy and Promotion, Ministry of Commerce & Industry.
Intellectual Property Appellate Board (IPAB)
The Trade Marks Act, 1999 (Act), provides for the establishment of an Appellate Board to be known as the Intellectual Property Appellate Board (IPAB) in the Ministry of Commerce and Industry in 2003 to hear appeals against the decisions of the Registrar under the:
Trade Marks Act, 1999;
Geographical Indications of Goods (Registration and Protection) Act, 1999;
Patents (Amendment) Act, 1970;
Copyrights Act, 1957; and
Protection of Plant Varieties and Farmers Act, 2011.
The IPAB has its headquarters at Chennai.
The

Intellectual Property Appellate Board (IPAB)

currently exercises jurisdiction over Trademarks, Patents, Geographical Indications, Copyright and Plant Varieties Protection Appellate Tribunal (PVPAT) Cases.
The applicants of all Intellectual Property Rights (IPRs) can directly file Special Leave Petition (SLP) before the Hon'ble Supreme Court against any order of Intellectual Property Appellate Board (IPAB).
They can also prefer writ petition before the High Court against orders of IPAB and IP offices by invoking Article 226 of the Constitution of India and then file SLP before the Supreme Court.
What is the benefit of registration of geographical indications?
It confers legal protection to Geographical Indications in India.
Prevents unauthorised use of a Registered Geographical Indication by others
It provides legal protection to Indian Geographical Indications which in turn boost exports.
It promotes economic prosperity of producers of goods produced in a geographical territory.
Is a registration of a geographical indication compulsory and how does it help the applicant?
Registration is

not compulsory

.
Registration affords better legal protection to facilitate an action for infringement.
The registered proprietor and authorised users can initiate infringement actions.
The authorised users can exercise the exclusive right to use the geographical indication.
How long the registration of Geographical Indication is valid?
The registration of a geographical indication is valid for a period of 10 years
Can a registered geographical indication be assigned, transmitted, etc?
A geographical indication is a public property belonging to the producers of the concerned goods.
It shall not be the subject matter of assignment, transmission, licensing, pledge, mortgage or such other agreement
However, when an authorised user dies, his right devolves on his successor in title.
How a geographical indication is different from a trademark?
A trade mark is a sign which is used in the course of trade and it distinguishes goods or services of one enterprise from those of other enterprises.
Whereas a geographical indication is an indication used to identify goods having special characteristics originating from a definite geographical territory.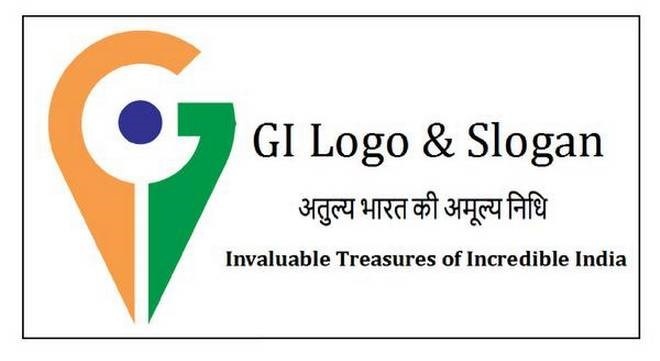 A logo and tagline for Geographical Indications (GI) had been launched to increase awareness about intellectual property rights (IPRs) in the country.
Geographical Spread
Karnataka has the highest number of GI-tagged products (please note that these types of information keep changing, keep yourself updates).
However, when geographical area is factored in, Kerala has the highest.
Sarees and fabrics have been given the highest number of GI-tags, followed by specialised crafts, rice, mango etc.
While Tamil Nadu has the highest number of handicraft GIs, Maharashtra leads in the number of GI-tagged agricultural products.
India has given GIs to foreign products:
Scotch Whisky-Scotland
Champagne Cognac-France
Prosciutto di Parma (cheese), Parmigiano-Reggiano (cheese), Prosecco (Wine)-ITALY
Porto (Wine), Douro (Wine)-Portugal
Napa Valley (Wine)-US
Tequila Pisco (brandy)-Peru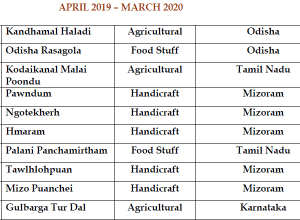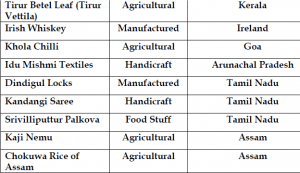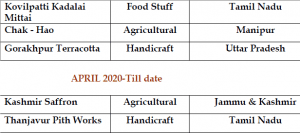 Protection of Children from Sexual Offences (POCSO) Act (TH)
Context: The Thalassery police registered a case under the provisions of the Protection of Children from Sexual Offences (POCSO) Act against the chairman of the Child Welfare Committee in Kannur.
The police registered the case on the basis of a confidential statement given by the girl to a magistrate. The 17-year-old girl was sexually assaulted when she came for counselling.
The Child Welfare Committee is the district-level authority that considers child abuse cases and proposes solutions.
Analysis
Protection of Children from Sexual Offences (POCSO) Act, 2012
The Act deals with sexual offences against persons

below 18 years of age

, who are deemed as children.
The Act for the first time, defines "penetrative sexual assault", "sexual assault" and "sexual harassment".
Speedy trial of offences through the appointment of

Special Public Prosecutor

s and designated

Special Courts

.
The Act provides for stringent punishments which have

been graded as per the gravity of offence.

 
The Act deems a sexual assault to be "aggravated" under certain circumstances, such as when the abused child is mentally ill or when the abuse is committed by a person in a position of trust or authority vis-a-vis the child, like a family member, police officer, teacher, or doctor.
The Act provides for a dedicated

'Online Complaint System (e‑baalnidaan)

' to ensure timely/speedy redressal of complaints of various violations and deprivation of child rights.
The Act also provides for mandatory reporting of sexual offences.
The police are also required to bring the matter to the attention of the Child Welfare Committee (CWC) within 24 hours of receiving the report.
It provides for special courts that conduct the trial in-camera and without revealing the identity of the child.
The Act stipulates that a case of child sexual abuse must be disposed of within one year from the date the offence is reported.
The Act provides for the Special Court to determine the amount of compensation to be paid to a child who has been sexually abused, so that this money can then be used for the child's medical treatment and rehabilitation.
Recent Amendments
The amended Act provides death penalty for aggravated sexual assault on children and greater punishments for other crimes against minors.
The Bill justifies this by referring to the judgments of the Supreme Court in Machhi Singh (1983) and Devender Pal Singh (2002) in which the court has held that the death penalty can be awarded only in rarest of rare cases.
It makes offences against children

gender neutra

l.
The Act defines child pornography, making it punishable.
Under witness protection scheme, all measures such as doing threat assessment of the victim and witness and if required even changing their identity and others, were taken to ensure their safety.
If juvenile is involved in sexual offence against the children, that case will come under Juvenile Justice Act and the death penalty could be given only if he is above 16 years of age and juvenile justice board finds that he has adult mind.
The Act specifically defines what 'child pornography' is; 'using a child for pornographic purposes' and for 'possessing or storing pornography involving a child' is punishable. It has also widened the ambit of 'Aggravated sexual assault'.
B) Polity, Bills, Acts and Judgments
4.Right to Protest (TH)
Context: People have a right to demonstrate peacefully and authorities need to let them do so," Stephane Dujarric, spokesperson for the Secretary-General of the United Nations said, on being asked about the farmers' movement in India.
Analysis
C) Art, Culture and History
5.Parliament project set for launch (TH)
Context: Prime Minister of India would on December 10 lay the foundation stone for the new Parliament building.
Some of the important features of the new building

The MPs' offices, of 40 sq m each, would be built in place of the Shram Shakti Bhawan by 2024 and would be connected to Parliament via an underground pathway.
The new building would be built adjacent to the existing building in over 22 months.
The building would accommodate up to 1,224 MPs during joint sessions in the Lok Sabha chamber.
According to government sources, the existing Parliament building, constructed by the British in the 1920s, was designed for the Imperial Legislative Council and not for a bicameral Parliament.
The building has been modified over the years, including in 1956 when two floors were added.
While the number of Lok Sabha seats has remained 545 based on delimitation carried out on the basis of the 1971 Census, it is likely to increase after 2026 as the number of seats has been frozen till then.
The new Lok Sabha chamber would be three times the size of the current one.
The existing Parliamentary building
On December 12, 1911, at the coronation of

George V

as Emperor of India, he announced the transfer of the seat of the government of India from "Calcutta to the ancient Capital of Delhi."
Architects Edwin Lutyens and Herbert Baker embarked upon a 20-year-long project, and built Parliament House, Rashtrapati Bhawan, North and South Blocks, Rajpath, India Gate and the National Archives.
New Delhi was finally unveiled in 1931.
D) Economic Developments: India and World
6.Option-1 of the GST Compensation (TH)
Context: Jharkhand has accepted the alternative offered by the Centre to meet part of the GST compensation shortfall through a special borrowing window.
Rest 27 States and 3 Union Territories who are members of the GST council have already decided in favour of Option-1.
Analysis
With Jharkhand's acquiescence to the Centre's proposed solution, all States and Union Territories have now exercised the option to meet the Rs 1.83 – 35 lakh crore shortfall in Goods and Services Tax (GST) collection of states.
The Centre had offered States the option of borrowing ₹1.1 lakh crore out of the estimated ₹83 – 2.35 lakh crore shortfall in compensation dues payable to States for this year.
After initially asking States to undertake the borrowings themselves, the Centre had later offered to borrow on States' behalf and lend it onwards.
All repayments for these special borrowings will be made from future collections of GST cess, whose validity has been extended beyond the originally envisaged sunset date of June 2022.
Under the borrowing plan (Option-1), the Centre would borrow from market on behalf of the States Rs 1.10 lakh crore to meet revenue shortfall on account of GST implementation.
The remaining shortfall is estimated to be the revenue impact of the COVID-19 pandemic.
States which choose Option-1 are getting the amount of shortfall arising out of GST implementation through a special borrowing window put in place by the Government of India.
Under the terms of Option-1, besides getting the facility of a special window for borrowings to meet the shortfall arising out of GST implementation, states are also entitled to get unconditional permission to borrow the final instalment of 0.50 per cent of Gross State Domestic Product (GSDP) out of the 2 per cent additional borrowings permitted by the Government of India, under 'Aatmnirbhar Abhiyaan' on May 17, 2020.
This is over and above the special window of Rs 1.1 lakh crore.
The second option given by the Centre was for the states to borrow the entire Rs 1.83 – 35 lakh crore collection shortfall.
E) Miscellaneous
7.Angola invites India to mine diamonds (TH)
Angola has invited Indian companies to invest in diamond mining.
Angola is the third-largest producer of diamonds in Africa and has only explored 40% of the diamond-rich territory, but has had difficulty in attracting foreign investment.
What is Mahaparinirvan Diwas? (PIB)
December 6, 2020, marks the death 64thdeath anniversary of Dr B. R. Ambedkar, the chief architect of the Indian Constitution.
The social reformer, economist, thinker, politician and the first Law Minister of Independent India, Bhimrao Ramji Ambedkar breathed his last while in his sleep and is paid tribute to on this day, regarded as the Mahaparinirvan Diwas.
The historic Poona Pact of 1932 was signed by him which gave the Dalits a place in the general electoral list.
In 1956 he published his book "Annihilation of Caste" which vehemently criticised the then practice and laws regarding the untouchables and Dalits.
Dr BR Ambedkar was awarded the Bharat Ratna, the highest civilian honour of India, posthumously in 1990.
The term 'parinirvan' in Buddhist traditions refers to someone who has attained nirvana in his lifetime and after death.
Click here to get Current Affairs Booster Course


Click here

 to get our all Courses


Click here

 to follow our latest updates
If you find this post helpful, then do share your thoughts with us by commenting