UPSC PRELIMS+MAINS
A) Science and Technology, Defence, Space
1. Light Detection and Ranging Survey (LiDAR) (PIB)
Context: National High Speed Rail Corporation Limited will be adopting Light Detection and Ranging Survey (LiDAR) technique using Laser enabled equipment mounted on a Helicopter for conducting ground survey for the preparation of Detailed Project Report for the proposed Delhi-Varanasi HSR corridor.
Analysis
The alignment or ground survey is a crucial activity for any linear infrastructure project as the survey provides accurate details of areas around the alignment.
The aerial LiDAR survey technique, for the first time for any railway project in India, was adopted for the Mumbai- Ahmedabad High Speed Rail (MAHSR) Corridor primarily because of its high accuracy.
The ground survey using aerial LiDAR for MAHSR alignment was done only in 12 weeks against the 10-12 months if had been done through traditional survey methods.
LiDAR
LiDAR, which stands for Light Detection and Ranging, is a remote sensing method that uses light in the form of a pulsed laser to measure ranges (variable distances) to the Earth.
These light pulses—combined with other data recorded by the airborne system— generate precise, three-dimensional information about the shape of the Earth and its surface characteristics.
A LiDAR instrument principally consists of a laser, a scanner, and a specialized GPS receiver.
Airplanes and helicopters are the most commonly used platforms for acquiring LiDAR data over broad areas.
Two types of LiDAR are topographic and bathymetric.
Topographic LiDAR typically uses a near-infrared laser to map the land, while bathymetric LiDAR uses water-penetrating green light to also measure seafloor and riverbed elevations.
LiDAR systems allow scientists and mapping professionals to examine both natural and manmade
A from the Department of Archaeology and Ancient History said that the LiDAR technology has immense potential for India, especially for agriculture and geology-related applications, but our country has still not used it in archaeology.
2. Alligators can re-grow their tail (TH)
Context: It is not just lizards and geckos; a new study now shows that young alligators also have the ability to regrow their tails.
Alligators have retained the cellular machinery to regrow complex tail.
Analysis
How does a lizard lose its tail?
Certain animals voluntarily shed a body part in response to attempted predation.
Lizards losing their tails when they are pulled by a predator is well known. This self-amputation is called autotomy.
The severed tail continues to wiggle for about 30 minutes. This wiggly motion very often distracts the attention of the predator, thus enabling the lizard to escape.
Geckos
Geckos are reptiles and are found on all the continents except Antarctica. These are colourful lizards which have adapted to habitats from rain forests, to deserts, to cold mountain slopes.
Over a long period of time, geckos have developed special physical features to help them survive and avoid predators.
Gecko tails serve many purposes

They help balance their weight as they climb branches,
they act as fuel tanks to store fat,
and as camouflage to help them disappear into their environment.
Geckos are also able to shed their tails if a predator grabs them
Others animals/insects around us which can autotomize:
Inky-eyed African spiny mouse—can shed its skin when under attack and grow it back immediately after that; it is the only mammal that can autotomize.
Lizard—it has muscles that naturally pull apart where the tail attaches so that it can fall off quickly.
Squid—summersaults in the opposite direction and leaves the affected limb in the predator's jaws.
Starfish—drops an arm that eventually grows into another starfish.
Salamanders—can grow back their appendages and organs such as the heart and eyes after losing them.
Crabs and octopuses—can grow back parts of their body.
True bugs – cannot regenerate body parts. They lose shed off parts for good.
Crayfish—cuts off its arm to escape being boiled alive in a pan.
Earthworms will self-amputate during ant attacks in order to escape
Grasshoppers will sacrifice a back leg if held by a predator.
Red sea slug, spiders and some species of scorpions also show autotomy.
Spot the difference between alligator and crocodile?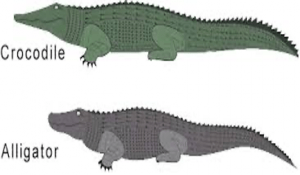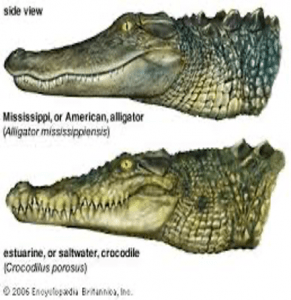 Snout shape

: Alligators have wider, U-shaped snouts, while crocodile front ends are more pointed and V-shaped.
Teeth: For alligators, the upper jaw is wider than the lower one, so when they close their mouths,

all their teeth are hidden

. On the other hand, crocodiles teeth are visible even when their snout is closed.

Habitat

: Crocodiles tend to live in saltwater habitats, while alligators hang out in freshwater marshes and lakes. 
3. Difference between Digital, Virtual, and Crypto Currencies (TH)
Context: Chinese e-commerce company JD.com Inc. said it has become the country's first virtual platform to accept Beijing's homegrown digital currency.
Digital yuan is one of the world's most advanced 'central bank digital currency' initiatives.
Analysis
Digital Currency Defined
Digital currency is the overall superset that includes virtual currency, which in turn includes cryptocurrencies.
Compared to virtual currency, a digital currency covers a larger group that represents monetary assets in digital form.
Digital currency can be regulated or unregulated.
In the former case, it can be denominated to a sovereign currency—that is, a country's central bank can issue a digital form of its fiat currency notes.
On the other hand, a virtual currency often remains unregulated and hence constitutes a type of digital currency.
Cryptocurrencies like bitcoin and ethereum are considered to be a part of the virtual currency group.
Virtual Currency Defined
According to the European Central Bank's 2015 "Virtual currency schemes – a further analysis" report, virtual currency is a digital representation of value, (not issued by a central bank, credit institution or e-money institution), which, in some circumstances, can be used as an alternative to money.
Virtual currency is an electronic representation of monetary value that may be issued, managed, and controlled by private issuers, developers, or the founding organization.
Such virtual currencies are often represented in terms of tokens and may remain unregulated without a legal tender.
Unlike regular money, virtual currency relies on a system of trust and may not be issued by a central bank or other banking regulatory authority.
They derive their value based on the underlying mechanism, like mining in cases of cryptocurrencies, or the backing by the underlying asset.
Cryptocurrencies Defined
Cryptocurrencies are a specific variant of digital currencies.
Cryptocurrencies are algorithm powered currency used as tokens in select online communities and backed by certain technologies, assets or projects.
They are mostly used in peer-to-peer payments but are now increasingly used to pay for real-world goods and services.
Cryptocurrency is considered secure, reliable and trustworthy as it is based on cryptography.
The art of writing or solving codes, cryptography is a mix of different sciences, with mathematics at its base.
Cryptocurrencies use Blockchain and a decentralized ledger, which means that no single individual or supervisory authority controls the actions in the network.
Digital Currencies Vs. Cryptocurrencies – The Main Differences
Digital currencies are centralized, meaning that transaction within the network is regulated in a centralized location, like a bank.
Cryptocurrencies are decentralized, and the regulations inside the network are governed by the majority of the community.
Digital currencies are not transparent. With digital currencies, you cannot choose the address of the wallet and see all money transfers since the beginning of time. This information is kept strictly confidential and private.
Cryptocurrencies are transparent. Anyone and everyone is able to see any and all transactions made and received by any user, as all revenue streams are placed in a public chain – the blockchain.
Digital currencies have a central authority that can deal with any problems or issues. This central body can, for example, freeze or cancel transactions on the request of the participant or the authorities.
Cryptocurrencies are regulated by their respective communities and therefore experiences dramatic price movements since the only real force behind trading is consumer sentiment.
Most countries have some legal framework surrounding digital currencies.
Right now, the same cannot be said about cryptocurrencies. In most countries, their official status is not defined.
So, digital currency is an umbrella term, comprising cryptocurrencies but the lines are definitely being blurred.
B) Schemes, Policies, Initiatives, Awards and Social Issues
4. Fisheries and India
The Vice President opined that COVID-19 might prove to be a game-changer for India's fisheries sector as the pandemic has made people conscious of adopting healthy dietary habits.
Fish is rich in omega-3 fatty acids, which are necessary for our body and good for cardiovascular health.
India ranks second in the world in total fish production.
India is the 4th largest exporter of fish in the world.

Note

: Pradhan Mantri Matsya Sampada Yojana (PMMSY), e-Gopala App, Biofloc systems and Aquaponics were covered in 10th Sep file.
5. Vanchit Ikai Samooh aur Vargon ki Aarthik Sahayta (VISVAS) Yojana
Implementation of interest subvention Scheme of Ministry of Social Justice & Empowerment, Government of India –Vanchit Ikai Samooh aur Vargon ki Aarthik Sahayta (VISVAS) Yojana for financial empowerment of economically marginalized OBC/SC SHGs & Individuals got a major boost with signing of Memorandum of Agreements (MoAs) by  National Backward Classes Finance & Development Corporation (NBCFDC) and National Scheduled Castes Finance and Development Corporation (NSFDC) with Central Bank of India a premier and leading Public Sector Bank.
The scheme will benefit OBC/SC SHGs with loans/borrowings up to Rs.4.00 Lakh and OBC/SC individuals with loan/borrowing up to Rs.2.00 Lakh with a quick interest subvention (the government paying part of the interest on a loan) benefit of 5% directly into the standard accounts of borrowing SHGs/beneficiaries.
6. Invest India: The Winner of the Investment Promotion Award 2020 (PIB)
Context: The United Nations Conference on Trade and Development (UNCTAD) has declared Invest India- the National Investment Promotion Agency of India- as a winner of the 2020 United Nations Investment Promotion Award.
Analysis
The award recognizes and celebrates the outstanding achievements and best practices of Investment Promotion Agencies (IPAs) across the globe.
The evaluation was based on UNCTAD's assessment of work undertaken by 180 Investment Promotion Agencies.
The response of IPAs to the pandemic became the basis for the evaluation of the 2020 United Nations Investment Promotion Award.
Invest India: India's national Investment Promotion & Facilitation Agency
Invest India, set up in 2009, is a non-profit venture under the Department for Promotion of Industry and Internal Trade, Ministry of Commerce and Industry, Government of India.
It acts as the first point of reference for investors in India.
As the national Investment Promotion & Facilitation Agency, Invest India focuses on sector-specific investor targeting and development of new partnerships to enable sustainable investments in India.
In addition to a core team that focuses on sustainable investments, Invest India also partners with substantial investment promotion agencies and multilateral organizations.
Invest India also actively works with several Indian states to build capacity as well as bring in global best practices in investment targeting, promotion and facilitation areas.
UNCTAD in the UN system
UNCTAD is a permanent intergovernmental body established by the United Nations General Assembly in 1964.
Headquarters in Geneva, it is a central agency that monitors performance of IPAs and identifies global best practices.
UNCTAD is part of the UN Secretariat.
It reports to the UN General Assembly and the Economic and Social Council.
It is also part of the United Nations Sustainable Development Group.
It also supports implementation of Financing for Sustainable Development, as mandated by the global community in the 2015 Addis Ababa Agenda, together with four other major institutional stakeholders:

the World Bank, the International Monetary Fund, the World Trade Organization, and the United Nations Development Programme

.
While it works mainly with governments, to effectively deal with the magnitude and complexity of meeting the Sustainable Development Goals, it believes that partnerships and closer cooperation with the private sector and civil society are essential.
Functions
Working at the national, regional, and global level, its efforts help countries to:
Comprehend options to address macro-level development challenges
Achieve beneficial integration into the international trading system
Diversify economies to make them less dependent on commodities
Limit their exposure to financial volatility and debt
Attract investment and make it more development friendly
Increase access to digital technologies
Promote entrepreneurship and innovation
Help local firms move up value chains
Speed up the flow of goods across borders
Protect consumers from abuse
Curb regulations that stifle competition
Adapt to climate change and use natural resources more effectively
Access the benefits of a globalized economy more fairly and effectively
Equip them to deal with the potential drawbacks of greater economic integration.
Note

: The Generalized System of Preferences (GSP) was instituted in 1971 under the aegis of United Nations Conference on Trade and Development (UNCTAD).
The objective of UNCTAD's support on GSP and other preferential arrangements is to help developing countries – particularly LDCs – to increase utilization of GSP and other trade preferences and in turn promote productive capacity development and increased trade.
The primary objective of the Generalized System of Preference, commonly called GSP is to

contribute to the reduction of poverty and the promotion of sustainable development and good governance

.
C) Miscellaneous
7. India Mobile Congress (IMC) 2020
IMC 2020 is being organised by the Department of Telecommunications, Government of India, and the Cellular Operators Association of India (COAI).
The theme for IMC 2020 is "Inclusive Innovation – Smart, Secure, Sustainable". 
8. Armed Forces Flag Day
Armed Forces Flag Day is marked in India every year on December 7 to honour martyrs and the men in uniform who serve India.
It is mainly observed to rehabilitate those wounded in wars, for the welfare of serving soldiers and their families and the welfare of ex-servicemen and their families.
Also, the money collected is used for providing help to the ex-servicemen who are battling serious health issues.
Citizens are urged to make voluntary contributions towards the Armed Forces Flag Day Fund for the welfare of personnel and ex-servicemen, their family members and also to rehabilitate those injured in wars.
To celebrate the day, all three branches of the Indian armed forces – the Indian Army, the Indian Air Force (IAF) and the Indian Navy – arrange a variety of shows, carnivals, dramas and other entertainment programmes to showcase to the general public the efforts of their personnel to ensure national security.
After the country gained Independence, there was an imminent shortage of funds for the welfare of armed forces.
On August 28, 1949, a committee set up under the defence minister decided to observe a Flag Day annually on December 7.
The day was first observed on December 7, 1949.
The committee had suggested that it would distribute flags to the citizens in exchange of them contributing to the fund for armed forces personnel.
Click here to get Current Affairs Booster Course
Click here to get our all Courses
Click here to follow our latest updates
If you find this post helpful, then do share your thoughts with us by commenting