UPSC PRELIMS+MAINS 
A) Science and Technology, Defence, Space
1. Vigyan Yatra and Scientific Temper (PIB)
Vigyan Yatra is a promotional activity of the India International Science Festival.
In this activity, the mobile science exhibition vans flag off from many cities of the country and the vision behind this science journey is to promote scientific temper and inculcate the culture of science among the masses.
India International Science Festival 2020 organizes Curtain Raiser, Vigyan Yatra and Outreach programs as the pre-event activities.
Scientific Temper and the Indian Constitution
The phrase scientific temper is mentioned in Part IVA in Article 51A of Indian Constitution under Fundamental Duties (FDs).
FDs were added by 42nd Constitutional Amendment Act in 1976 on the recommendation of 

Swaran Singh Committee

.
Article 51A(h), "It shall be the duty of every citizen … to develop the scientific temper, humanism and the spirit of inquiry and reform."

Jawaharlal Nehru coined the term 'scientific temper

'; he defines it as an attitude of logical and rational thinking.
In 1976, the Government of India reemphasised its commitment to cultivate scientific temper through a constitutional amendment (Article 51A), and setup a nodal agency called the National Council of Science and Technology Communication (NCSTC).
The National Council for Science and Technology Communication (NCSTC) is mandated to communicate Science and Technology to masses, stimulate scientific and technological temper and coordinate and orchestrate such efforts throughout the country.
National Children's Science Congress is an opportunity for brilliant young scientists (10 -17 years of age group), started since 1993 to popularize the method of science.
UNESCO Kalinga Prize
The UNESCO Kalinga Prize for the Popularization of Science is an award given by UNESCO for exceptional skill in presenting scientific ideas to lay people.
It was created in 1951, following a donation from Hon'ble Shri Biju Patnaik, Chief Minister of Orissa.
Till to date, more than sixty-five individuals, from around twenty-four countries have received this award. Many of whom have also been Nobel-Prize winners.
National Science Day
National Science Day is celebrated every year on 28th February to commemorate the announcement of the discovery of the 'Raman Effect' by Sir C.V. Raman for which he was awarded the Nobel Prize in 1930. Government of India designated 28 February as National Science Day (NSD) in 1986.
Since then, theme-based science communication activities are carried out all over the country on this occasion.
National Council for Science & Technology Communication (NCSTC), Department of Science and Technology (DST) acts as a nodal agency to support, catalyze and coordinate the celebration of the National Science Day.
DST also instituted National Awards for Science Popularization in 1987 to stimulate, encourage and recognize outstanding efforts in the area of science and technology communication and popularization as well as inculcating scientific temper among masses.
These awards are presented every year on National Science Day.
B) Agriculture, Geography, Environment and Biodiversity
2. Explained: What is the Geminids meteor shower set to peak mid-December? (IE)
Context

: The Geminids meteor shower, believed to be the strongest of the year, is active from December 4-December 20.
Soon after the Geminids meteor shower, viewers in the northern hemisphere can expect to see the

Ursids meteor shower

, which will be active from December 17-December 26.
However, the rate of Ursids is much less than Geminids.
The annual Perseids meteor shower was active from August 17-26.
Analysis
Why is the Geminid meteor shower considered to be the best of the year?
The Geminids meteor showers are unique because their origin does not lie in a comet, but what is believed to be an asteroid or an extinct comet.
The Geminids emerge from 3200 Phaethon, which meteor scientists consider to be an asteroid.
According to NASA, the Geminids rate will be better this year because the shower's peak overlaps with a nearly new moon, which means there will be darker skies and no moonlight to wash out the fainter meteors.
What are meteor showers?
Meteors are bits of rock and ice that are ejected from comets as they manoeuvre around their orbits around the sun.
Comets are dusty snowballs. They orbit the Sun just like planets do. They contain frozen gases, rock and dust, and are basically leftovers from the formation of the Solar System.
Meteor showers are witnessed when Earth passes through the trail of debris left behind by a comet or an asteroid.
When a meteor reaches the Earth, it is called a meteorite and a series of meteorites, when encountered at once, is termed as a meteor shower.
According to NASA, over 30 meteor showers occur annually and are observable from the Earth.
As meteors fall towards the Earth, the resistance makes the space rocks extremely hot and, as meteorites pass through the atmosphere, they leave behind streaks of glowing gas that are visible to the observers and not the rock itself.
3. Cold Day and Cold Wave (TH)
Context

: Cold wave likely to grip Delhi by end of the week
Analysis
Cold Day
In the plains of north India, foggy conditions prevail during winter for several days or weeks.
The minimum temperature on these days remains

above normal

, while maximum temperature remains much below normal.

When maximum temperature is less than or equal to 16°C in Plains, it will be declared "Cold Day."
Cold Wave
Wind chill is a measurement of the rate of heat loss from your body when you're exposed to low temperatures combined with wind.
Wind chill factor is taken into account while declaring the cold wave situation.
The wind chill effective minimum temperature (WCTn) is defined as the effective minimum temperature due to wind flow.
For example, when the minimum temperature is 15 degree Celsius and the wind speed is 10 mph, WCTn will be 10.5 degree Celsius (it is calculated using some formula- not relevant for CSE).
When WCTn is 0°C or less, Cold Wave should be declared irrespective of normal minimum temperature of the station.
However, this criterion is not applicable for those stations whose normal minimum temperature is below 0°C.
4. Malabar Tree Toad (TH)
Context

: The Habitats Trust awards conservation grants to revive the population of the Malabar Tree Toad that is found only in the Western Ghats
It is found only in the evergreen forests of the Western Ghats and nowhere else in the world.
They can be sighted only when they descend to the ground at the beginning of the Southwest monsoon to breed in forest streams.
Analysis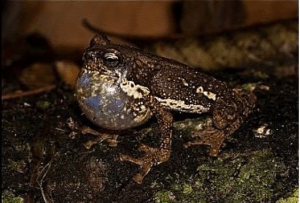 The Malabar tree toad (Pedostibes tuberculosus) is considered an endemic toad of the Western Ghats with endangered status according to International Union for Conservation of Nature (IUCN).
It is found only at three places of the Western Ghats – Kerala, Goa and Maharashtra.
Habitat and threat
It is semi-arboreal(arboreal: living in trees), and it inhabits the montane moist evergreen forests and wetlands of the Western Ghats of India.
The threat to its persistence comes from habitat disturbances due to the conversion of forests into non-timber plantations and other human encroachment.
C) Polity, Bills, Acts and Judgments
5. What constitutes a breach of legislature's privilege? (IE)
Context

: A Shiv Sena MLA submitted a breach of privilege motion against media outlets for carrying a fake story based on actor Kangana Ranaut's tweets that the Enforcement Directorate (ED) found a Pakistani credit card at his house during a raid.
Analysis
Parliamentary privileges and privileges of State Legislature
Parliamentary privileges (Article 105 of the Constitution)/privileges of State Legislature (Article 194 of the Constitution) are special rights, immunities and exemptions enjoyed by the two Houses of Parliament/State Legislatures, their committees and their members.
They are necessary:
To secure the independence and effectiveness of their actions;
To maintain their authority, dignity and honour; and
To protect their members from any obstruction in the discharge of their parliamentary responsibilities.
The Constitution has also extended the parliamentary privileges/privileges of State Legislature to those persons who are entitled to speak and take part in the proceedings of a House of Parliament/State Legislature or any of their committees.
These include the Attorney General of India/Advocate General of the State and Union/State Ministers.
It must be noted that the parliamentary privileges do not extend to the President/Governor who are also integral part of the Parliament/State Legislature.
Classification
Parliamentary privileges/privileges of State Legislature can be classified into two broad categories:
Those that are enjoyed by each House of Parliament//State Legislature collectively; and
Those that are enjoyed by the members individually.
Collective Privileges
The privileges belonging to each House of the Parliament/State Legislature collectively are:
It has the right to publish its reports, debates and proceedings and also the right to prohibit others from publishing the same.
The 44th Amendment Act of 1978 restored the freedom of the press to publish true reports of parliamentary proceedings/proceedings of the State Legislature without prior permission of the House.
But this is not applicable in the case of a secret sitting of the House.
It can exclude strangers from its own procedure and hold secret sittings to discuss some important matters.
It can make rules to regulate its own procedure and the conduct its business and to adjudicate upon matters.
It can punish members as well as outsiders for breach of its privileges or its contempt by reprimand, admonition or imprisonment (also suspension or expulsion, in case of members).
It has the right to receive immediate information of the arrest, detention, conviction, imprisonment and release of a member.
It can institute inquiries and order the attendance of witnesses and send for relevant papers and records.
The courts are prohibited to inquire into the proceedings of a House or its committees.
No person (either a member or outsider) can be arrested, and no legal process (civil or criminal) can be served within the precincts of the House without the permission of the presiding officer.
Individual Privileges
The privileges belonging to the member individually are:
They cannot be arrested during the session of Parliament/State Legislature and 40 days before the beginning and 40 days after the end of a session.
This privilege is available only in civil cases and not in criminal cases or preventive detention cases.
They have freedom of speech in Parliament/State Legislature.
No member is liable to any proceedings in any court for anything said or any vote given by him in Parliament/State Legislature or its committees.
This freedom is subject to the provisions of the Constitution and to the rules and standing orders regulating the procedure of Parliament/State Legislature.
They are exempted from jury service.
They can refuse to give evidence and appear as a witness in a case pending in a court when Parliament/State Legislature is in session.
Breach of Privilege and Contempt of the House
Normally, a breach of privilege may amount to contempt of the House. Likewise, contempt of the House may include may include a breach of privilege also.
Contempt of the House, however, has wider implications. There may be a contempt of the House without specifically committing a breach of privilege. Similarly, actions which are not breaches of any specific privilege but are offences against the dignity and authority of the House amounts to contempt of the House.
Sources of Privileges
Originally, the Constitution (Article 105) expressedly mentioned two privileges, that is, freedom of speech in Parliament/State Legislature and right of publication of its proceedings.
With regard to other privileges, it provided that they were to be the same as those of the British House of Commons, its committees and its members on the date of its commencement (26th January 1950), until defined by Parliament.
It should be noted that the Parliament, till now, has not made any special law to exhaustively codify all the privileges.
They are based on five sources:
Constitutional provisions;
Various laws made by Parliament;
Rules of both the Houses;
Parliamentary conventions; and
Judicial interpretations.
Who can move a privilege motion? How?
A notice is moved in the form of a motion by any member of either House against those being held guilty of breach of privilege.
What are the rules governing privilege?
A member may, with the consent of the Speaker or the Chairperson, raise a question involving a breach of privilege either of a member or of the House or of a committee thereof.
The rules however mandate that any notice should be relating to an incident of recent occurrence and should need the intervention of the House.
Notices have to be given before 10 am to the Speaker or the Chairperson.
What is the role of the Speaker/Rajya Sabha Chair?
The Speaker/RS chairperson is the first level of scrutiny of a privilege motion.
The Speaker/Chair can decide on the privilege motion himself or herself or refer it to the privileges committee of Parliament.
If the Speaker/Chair gives consent, the member concerned is given an opportunity to make a short statement.
What percentage of privilege notices are rejected?
A large number of notices are rejected, with penal action recommended in only a few.
What is the privileges committee?
In the Lok Sabha, the Speaker nominates a committee of privileges consisting of 15 members as per respective party strengths.
In the Rajya Sabha, the deputy chairperson heads the committee of privileges, that consists of 10 members.
What is the punishment in case of breach of privilege or contempt of the House?
The house can ensure attendance of the offending person.
The person can be given a warning and let go or be sent to prison as the case may be.
6. Members of Parliament Local Area Development Scheme (MPLADS) (TH)
Context

: At a meeting of the Standing Committee on MP Local Area Development Scheme (MPLADS) funds of the Rajya Sabha headed by Deputy Chairman Harivansh, members of all parties unanimously asked the government to release funds for the projects sanctioned in 2018 and 2019, which were under way before the funds were suspended due the COVID-19 pandemic.
Analysis
MPLADS is a Central Sector Scheme, a Plan Scheme fully funded by Government of India.
Under the scheme, each MP has the choice to suggest to the District Collector for works to the tune of 5 Crores per annum to be taken up in his/her constituency.
The Rajya Sabha Members of Parliament can recommend works in one or more districts in the State from where he/she has been elected.
The Nominated Members of the Lok Sabha and Rajya Sabha may select any one or more Districts from any one State in the Country for implementation of their choice of work under the scheme.
The funds released under the scheme are non-lapsable and the funds received by a district in a particular year can be utilized in the subsequent financial year(s) also.
Moreover, unspent balance is not an unused fund but also includes the funds in pipeline for implementation of ongoing works.
The Ministry of Statistics and Programme Implementation has been responsible for the policy formulation, release of funds and prescribing monitoring mechanism for implementation of the Scheme.
MPs are to recommend every year, works costing at least 15 per cent of the MPLADS entitlement for the year for areas inhabited by Scheduled Caste population and 7.5 per cent for areas inhabited by S.T. population.
Around ₹20 lakh of the MPLADS fund per annum has been allotted for the welfare of differently abled people. Suspension of the MPLADS undermines the developmental aspirations of these marginalised segments.
How does the scheme work?
MPs and MLAs do not receive any money under these schemes. The government transfers it directly to the respective local authorities.
The legislators can only recommend works in their constituencies based on a set of guidelines. For the MPLAD Scheme, the guidelines focus on the creation of durable community assets like roads, school buildings etc.
Recommendations for non-durable assets can be made only under limited circumstances.
For example, during COVID-19 pandemic, the government allowed use of MPLAD funds for the purchase of personal protection equipment, coronavirus testing kits etc.
States have their version of this scheme with varying amounts per MLA.
The guidelines for use of MLALAD funds differ across states.
After the legislators give the list of developmental works, they are executed by the district authorities as per the governments financial, technical and administrative rules.
Why has the scheme been sometimes criticised?
The criticism has been on two broad grounds.

First

, that it is inconsistent with the spirit of the Constitution as

it co-opts legislators into executive functioning.
The workload on MPs created by the scheme diverted their attention from holding the government accountable and other legislative work.
The National Commission to Review the Working of the Constitution (2000) and the Second Administrative Reforms Commission, headed by Veerappa Moily (2007), recommended discontinuation of the scheme.
The second criticism stems from allegations of corruption associated with allocation of works.
The Comptroller and Auditor General has on many occasions highlighted gaps in implementation.
However, it should be noted that the second instalment of funds is released only when the first instalment is fully utilised with no audit objections.
"One MP – One Idea"
The Ministry of Statistics and Programme Implementation has announced a new scheme "One MP – One Idea" under the Member of Parliament Local Area Development Scheme (MPLADS).
Based on the innovative ideas received from the local people regarding developmental projects, an 'One MP – One Idea' Competition may be held in each Lok Sabha constituency annually to select the three best innovations for cash awards on the specific request of an MP to promote such a scheme in his/her constituency.
D) Schemes, Policies, Initiatives, Awards and Social Issues
7. Ayushman Bharat – Pradhan Mantri Jan Arogya Yojana (AB-PMJAY) (TH)
Context

: Patients seeking care at private hospitals tend to be older and a larger share consist of men compared with those seeking medical care at public hospitals, show data released by the National Health Agency (NHA).
In its briefing on "The role of private hospitals" published recently, the agency says they account for over half of the empanelled hospitals, nearly two-thirds of claim volumes, and three-quarters of claim outlays in the Ayushman Bharat Pradhan Mantri Jan Arogya Yojana (PM-JAY).
This, when private hospitals are making a smaller contribution in extending the geographic reach of PM-JAY to underserved areas.
The agency's survey also found that over 72% of private empanelled hospitals are located in just seven States: Uttar Pradesh, Rajasthan, Tamil Nadu, Gujarat, Maharashtra, Punjab and Karnataka.
The data further states that claims processing appears to be more efficient in the case of private hospitals than for public hospitals.
Analysis
There are two main pillars of the Pradhan Mantri Jan Arogya Yojana (PMJAY):
Ayushman Bharat (AB) Scheme, where 1.5 lakh sub-centres and primary health centres are being converted into health and wellness centres; and
The

National Health Protection Mission (NHPM)

, which aims to provide health cover of ₹5 lakh per family, per annum, reaching out to 500 million people.
Ayushman Bharat
Ayushman Bharat – Pradhan Mantri Jan Arogya Yojana (AB-PMJAY) is a

Centrally Sponsored Scheme

having central sector component under Ayushman Bharat Mission anchored in the Ministry of Health and Family Welfare (MoHFW).
It aims to address health holistically, in primary, secondary and tertiary care systems.
It covers both prevention and health promotion.
Establishment of 'Health and wellness Centres' is a major health initiative under this Scheme.
Health and Wellness Centre
The National Health Policy, 2017 says the Health and Wellness Centres are the foundation of India's health system.
Under the scheme, around 1,50,000 SHC/ PHC/ UPHCs will be upgraded into wellness clinics that will provide 12 sets of services.
These centres will also provide free essential drugs and diagnostic services.
The SHC- AB-HWCs, will be manned by Community Health officer (CHO).
They can be a BSc or Ayurveda Practitioner trained in 6 months Certificate Programme in Community Health.
Changes have been made to the nursing curriculum such that for 2020, the nursing graduates can man our HWCs.
National Health Protection Mission
It aims to cover over 10 crore poor and vulnerable families (approximately 50 crore beneficiaries).
It will provide coverage upto 5 lakh rupees per family per year for secondary and tertiary care hospitalization.
The beneficiaries will be selected on the basis of Socio-Economic Caste Census (SECC) database.
In rural areas, households living in one room kuccha homes, those with no adult members, those headed by women, those belonging to SC/ST, the homeless and landless are some of the beneficiaries.
In the cities, beneficiaries include rag pickers, street vendors, domestic help, sanitation workers, shop workers and so on.
NHPM will subsume the on-going centrally sponsored schemes –Rashtriya Swasthya Bima Yojana (RSBY) and the Senior Citizen Health Insurance Scheme (SCHIS).
There will be no cap on family size and age in the scheme.
The benefit cover will also include pre and post-hospitalisation expenses.
All pre-existing conditions will be covered from day one of the policy.
A defined transport allowance per hospitalization will also be paid to the beneficiary.
Benefits of the scheme are portable across the country and a beneficiary covered under the scheme will be allowed to take cashless benefits from any public/private empanelled hospitals across the country.
It will be an entitlement-based scheme with entitlement decided on the basis of deprivation criteria in the SECC database.
State Governments (at their own cost) will be allowed to expand AB-NHPM both horizontally and vertically.
It is proposed to set up Ayushman Bharat National Health Protection Mission Council (AB-NHPMC) at apex level Chaired by Union Health and Family Welfare Minister.
The Scheme will cover almost all secondary and many tertiary hospitalizations (except a negative list).
It is proposed to have an Ayushman Bharat National Health Protection Mission Governing Board (AB-NHPMGB) which will be jointly chaired by Secretary (HFW) and Member (Health), NITI Aayog.
E) Miscellaneous
8. Project 17A ship 'HIMGIRI' (TH)
'Himgiri', the first of the three Project 17A ships being built at M/s Garden Reach Shipbuilders and Engineers Limited (GRSE), Kolkata was launched.

Under the Project 17A program, a total of seven warships, four at Mazagon Dock Shipbuilders Limited (MDL) and three ships at GRSE are being built with enhanced stealth features, advanced indigenous weapon and sensor fit along with several other improvements.

P17A ships are the first gas turbine propulsion and largest combat platforms ever built at GRSE.
9. eSanjeevani (PIB)
eSanjeevani telemedicine service of the Health Ministry has crossed 1 million (10 lakh) tele-consultations.
This eSanjeevani platform has enabled two types of telemedicine services viz. Doctor-to-Doctor (eSanjeevani) and Patient-to-Doctor (eSanjeevani OPD) Tele-consultations.
The former is being implemented under the Ayushman Bharat Health and Wellness Centre (AB-HWCs) programme.
Patient-to-Doctor (eSanjeevani OPD) Tele-consultations, offered at no cost, this e-health service is rapidly gaining popularity as citizens in around 20 States are now consulting doctors without having to go to the hospital physically.
This service is available as an Android mobile application as well.
It also ensures that the patient gets to see the doctor in around five minutes after logging in.
10. India Water Impact 2020 (PIB)
India Water Impact 2020 is a five-day long summit, hosting experts and academicians from all over the world to discuss and debate issues related to water conservation, water security and river rejuvenation.
The event is co-organised by National Mission for Clean Ganga and Centre for Ganga River Basin Management and Studies.
11. World's largest hybrid renewable energy park (PIB)
Prime Minister of India will lay the foundation stone for what is billed as the world's largest hybrid renewable energy park in Gujarat's Kutch district.
The park will generate 30,000 MW power through solar panels and windmills (thus the name HYBRID ENERGY PARK) on 72,600 hectares along the India-Pakistan border.