UPSC PRELIMS+MAINS 
A) International Relations
1. Bhutan and Israel established formal ties (TH)
Context

: Bhutan and Israel established formal ties on Saturday (13 December).
Analysis
The move follows a flurry of diplomatic activity in both countries in the past few weeks.
In deals brokered by the United States, Israel has established full relations with the United Arab Emirates (UAE), Bahrain, Sudan and Morocco in the last two months, while Bhutan established ties with Germany, its first new formal relationship since 2013.
Since the UAE and Bahrain deals known jointly as "the Abraham Accords", the Gulf states have signed deals with Israel ranging from tourism to aviation and financial services.
With the announcement, Bhutan, which does not have ties with any permanent UNSC member, has taken the restricted number of diplomatic relations to 54 countries and the European Union.
Bhutan does not have diplomatic ties with any of the five permanent members of the UN security council, which includes the US.
Though Bhutan does not have diplomatic ties with China, it has diplomatic ties with Pakistan.
B) Schemes, Policies, Initiatives, Awards and Social Issues
2. Scheme for Special Assistance to States for Capital Expenditure (PIB)
Context

: All the States except Tamil Nadu have availed benefits of the newly announced scheme for "Special Assistance to States for Capital Expenditure".
The scheme was announced by the Finance Minister on 12thOctober, 2020 as a part of the Aatma Nirbhar Bharat package.
Analysis
The Scheme is aimed at boosting capital expenditure by the State Governments who are facing difficult financial environment this year due to the shortfall in tax revenue arising from the COVID 19 pandemic.
Capital Expenditure has a higher multiplier effect, enhancing the future productive capacity of the economy, and results in a higher rate of economy growth.
Therefore, despite the adverse financial position of the Central Government, it was decided to extend a special assistance to the State Governments in respect of capital expenditure, in financial year 2020-21.
The Scheme has three parts. 
Part –I of the scheme covers the north-eastern region.
Part-II of the Scheme is, for all other States not included in Part-I.
The amount has been allocated amongst these States in proportion to their share of central tax as per the interim award of the 15th Finance Commission for the year 2020-21.
Part-III of the Scheme is aimed at pushing various citizen-centric reforms in the States.  Under this Part, amount will be available only to those States who carry out at least 3 out of the 4 reforms specified by the Ministry of Finance in its letter dated 17th May, 2020 regarding reform linked additional borrowing permissions.
The 4 reforms are – One Nation One Ration Card, Ease of doing Business Reform, Urban Local Body/ Utility Reform and Power Sector Reform.
3. Family Welfare Programme in India (TH)
Context

: The Centre told the Supreme Court that it was against coercing couples into having a "certain number of children" in a bid to curb population explosion.
Analysis
The Family Welfare Programme in India is voluntary in nature, which enables couples to decide the size of their family and adopt the family planning methods best suited to them.
India was a signatory to the Programme of Action (POA) of the International Conference on Population and Development, 1994, which was unequivocally against coercion in family planning.
"In fact, international experience shows that any coercion to have a certain number of children is counterproductive and leads to demographic distortions," the Ministry said.
India had also been witnessing a "constant decline" in the total fertility rate (TFR).
According to the Census statistics, "2001-2011 was the first decade in the last 100 years which had not only added lesser population as compared to the previous one, but also registered the sharpest decline in the decadal growth rate from 21.54% in 1991-2001 to 17.64% in 2001-2011".
"The wanted fertility in India as per National Family Health Survey IV is only 1.8 as against the actual fertility of 2.2 prevailing at that time, indicating that couples on an average do not want more than two children," the Ministry said.
TFR is defined as the total number of children born or likely to be born to a woman in her lifetime at the prevailing rate of age-specific fertility.
Population stabilisation is said to be achieved at a TFR of 2.1 because a population just replaces itself at that rate or begin to decline.
If women in a nation or a region or a group have fewer than 2.1 children each, its population will go down over time, while those whose women have more than that will see their population continue to rise.
For India, the effective replacement level fertility is slightly higher than the normal benchmark due to the skewed gender ratio and is at 2.15-2.2.
C) Polity, Bills, Acts and Judgments
4. Schedules of the Constitution (TH)
Context

: Gujjars in Rajasthan, demanding reservation in jobs and education, have sought the Centre's intervention for Ninth Schedule protection to a 2019 State law which accords Most Backward Class (MBC) category for the community, on the lines of the protection given to a reservation law of Tamil Nadu.
Analysis
The Rajasthan Assembly had passed the Rajasthan Backward Classes (Reservation of Seats in Educational Institutions in the State and of Appointments and Posts in Services under the State) Amendment Act, 2019, on February 13 last year, creating the MBC category.
The four other nomadic communities given the quota benefit along with the Gujjars were Banjara, Gadia-Lohar, Raika and Gadariya.
Read about IX schedule from any standard polity book.
D) Science and Technology, Defence, Space
5. China attempts to bring 'Rock Samples' from the Moon (TH)
Context

: China's Chang'e 5 Moon Probe Begins Journey Back to Earth putting China on course to become the first country to successfully retrieve lunar samples since the 1970s.
China will become only the third country to have retrieved lunar samples after the US and the Soviet Union
The plan was to collect 2 kg (4.4 lbs) of samples, although it has not been disclosed how much was actually gathered.
The Chang'e-5 was launched on Nov. 24 and a lander vehicle touched down on the moon on Dec. 1. The mission was expected to take around 23 days in total.
Analysis
Its robotic Chang'e-5 mission touched down on Moon with the aim of collecting samples of rock and dust to bring back to Earth.
The venture has targeted Mons Rümker, a high volcanic complex in a nearside region known as Oceanus Procellarum.
The first samples of rocks from the Moon were collected during the Apollo 11 mission.
NASA noted that lunar samples can help to unravel some important questions in lunar science and astronomy, including the Moon's age, the formation of the Moon, the similarities and differences between the Earth and the Moon's geologic features and history and to see if the Moon can give scientists information about the solar system itself.

For instance, the shape, size, arrangement and composition of individual grains and crystals in a rock can tell scientists about its history, while the radioactive clock can tell them the rock's age.
Further, tiny cracks in rocks can tell them about the radiation history of the Sun in the last 100,000 years.

Rocks found on the Moon are older than any that have been found on Earth and therefore they are valuable in providing information about the Earth and the Moon's shared history.
6. 24X7 RTGS facility to be available from today (TH)
Context

: The Real Time Gross Settlement (RTGS) facility for high-value transactions will become available round-the-clock from 12.30 a.m. on Monday.
It is part of the RBI's plans to push digital payments.
Analysis
Real Time Gross Settlement System (RTGS) is a type of money transfer from one bank to any other bank which is processed at the time it is received.
The RTGS system is primarily meant for large value transactions. The minimum amount that can be remitted through RTGS is Rs 2 lakh with no upper limit.
RTGS offers many advantages over the other modes of funds transfer:
It is a safe and secure system for funds transfer.
RTGS transactions / transfers have no amount cap.
The system is available on all days 24×7.
There is real time transfer of funds to the beneficiary account.
The remitter need not use a physical cheque or a demand draft.
The beneficiary need not visit a bank branch for depositing the paper instruments.
The beneficiary need not be apprehensive about loss / theft of physical instruments or the likelihood of fraudulent encashment thereof.
Remitter can initiate the remittances from his / her home / place of work using internet banking, if his / her bank offers such service.
The transaction charges have been capped by RBI.
The transaction has legal backing.
How is the processing of RTGS different from that of National Electronic Funds Transfer (NEFT) System?
NEFT is an electronic fund transfer system in which the transactions received up to a particular time are processed in batches.
Contrary to this, in RTGS, the transactions are processed continuously on a transaction by transaction basis throughout the RTGS business hours.
Earlier RTGS was not a 24×7 system.
Different Ways to Transfer Funds Online in India
India currently has various methods to transfer money online such as digital wallets, UPI, and more. However, the most commonly used online fund transfer method has been:
National Electronic Funds Transfer (NEFT)
Real Time Gross Settlement (RTGS)
Immediate Mobile Payment Service (IMPS)
While NEFT and RTGS was introduced by RBI (Reserve Bank of India), IMPS was introduced by National Payments Corporation of India (NPCI).
To use these online fund transfer services, remitter (person who wants to transfer money) must have the basic bank account details of the beneficiary (person to whom the money is to be transferred).
NEFT
It is a payment system that facilitates one-to-one funds transfer.
Using NEFT, people can electronically transfer money from any bank branch to a person holding an account with any other bank branch, which is participating in the payment system.
The NEFT transactions can be carried out in bulk and repetitively.
RTGS
It is another payment system in which the money is credited in the beneficiary's account in real time.
This fund transfer method is typically used to transfer enormous sum of money.
IMPS
It is an instant inter-bank funds transfer system.
This funds transfer method is more customer-centric than the other two as it allows the remitter to transfer funds using their smartphones.
Though all the three payment systems are used for funds transfer, they exhibit a few differences.
Before learning their differences, let's first learn some basic terms revolving around payment systems. These terms will help in understanding the difference among different payment systems better.
Fund Transfer Limit
The maximum and minimum amount of money allowed for transfer by each payment system may differ. Therefore, fund transfer value is an important factor in determining which fund transfer method will be appropriate for you.
Service Availability
Some payment systems are available for 24*7 while others have specific timings. Payment systems that are available 24*7 allow remitters to initiate money transfer anytime and any day. However, the funds will settle only when the service is available.
Fund Settlement Speed
Different fund payment systems have different fund settlement speed. Fund settlement speed here is the total time consumed to settle money from one account to another after the transfer has been initiated.
Fund Transfer Charges
Transferring money involves charges. As per RBI, fund transfer charges for each payment system are decided by banks. The amount charged is based on the amount to be transferred, transfer speed and other features offered by the bank. In addition, the government also imposes GST for each transaction. 
Although there are various other important terms, these are the few basics that will help you understand the difference between NEFT, RTGS and IMPS.
7. Geospatial AI or GeoAI (TH)
Context: An editorial
Analysis
The usage of intelligent algorithms, classification of data along with the use of smart predictive analysis AI has found application across a multitude of sectors.
Coming to a more specific intersection, which is the combination of AI and GIS to create a relation based approach called geospatial AI or GeoAI –

it can be termed as a new-age machine learning,which is based on geographical components.

One can take the example of GeoAI in self-driving cars which can solve complex problems in heavy traffic conditions without human intervention and is error-free.
Presently, GeoAI is one of the most interesting emergent technologies that has found equal
application in government and private sector enterprises for data analysis.
Geospatial is a huge dataset that can be utilised by deep learning and machine learning in making their findings much more accurate. 80% of the datasets that we generate today are geospatial, which means that GeoAI naturally creates solutions for other basic sectors.
Be it agriculture, autonomous vehicles, climate or defence, etc. GeoAI finds varied applications in all these sectors since the data collected in them is primarily geospatial in nature.
Geospatial technologies like LiDAR, Satellite imagery, drone mapping, surveying terrestrial cameras produces accurate data with 3D information. Taking into consideration factors responsible for effective decision making such as high data volume and other parameters, it becomes virtually impossible for the human mind to arrive at most conclusive or lowest possible risk situation, thus the use of AI to process this data and extract information out of it.
The rise of GeoAI has brought about tremendous opportunities for the public and private for example, it could be helping in increasing crop yield with the help of precision agriculture or assisting in fighting crime by the deployment of predictive policing models or even predicting when the next big storm or flood will hit.
Many forms of AI surround us already, including
Chatbots* on retail websites and
Programs that flag fraudulent bank activity.
*

Chatbots

– also known as "conversational agents" – are software applications that mimic written or spoken human speech for the purposes of simulating a conversation or interaction with a real person.
At the heart of chatbot technology lies natural language processing or NLP, the same technology that forms the basis of the voice recognition systems used by virtual assistants such as Google Now, Apple's Siri, and Microsoft's Cortana.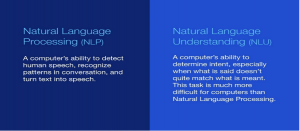 Artificial intelligence is the theory and development of computer systems able to perform tasks normally requiring human intelligence, such as visual perception, speech recognition, decision-making, and translation between languages.
Virtual reality uses a computer to create a simulated three-dimensional world.
Augmented reality is a technology that superimposes a computer-generated image on a user's view of the real world, thus providing a composite view.
Key differences between Artificial Intelligence (AI) and Machine learning (ML):
| | |
| --- | --- |
| •     Artificial Intelligence | •     Machine learning |
| •     Artificial intelligence is a technology which enables a machine to simulate human behavior. | •     Machine learning is a subset of AI which allows a machine to automatically learn from past data without programming explicitly. |
| •     The goal of AI is to make a smart computer system like humans to solve complex problems. | •     The goal of ML is to allow machines to learn from data so that they can give accurate output. |
| •     In AI, we make intelligent systems to perform any task like a human. | •     In ML, we teach machines with data to perform a particular task and give an accurate result. |
| •     Machine learning and deep learning are the two main subsets of AI. | •     Deep learning is a main subset of machine learning. |
| •     AI has a very wide range of scope. | •     Machine learning has a limited scope. |
| •     AI is working to create an intelligent system which can perform various complex tasks. | •     Machine learning is working to create machines that can perform only those specific tasks for which they are trained. |
| •     The main applications of AI are Siri, customer support using chatbots, Expert System, Online game playing, intelligent humanoid robot, etc. | •     The main applications of machine learning are Online recommender system, Google search algorithms, Facebook auto friend tagging suggestions, etc. |
| •     It includes learning, reasoning, and self-correction. | •     It includes learning and self-correction when introduced with new data. |
| •     AI completely deals with Structured, semi-structured, and unstructured data. | •     Machine learning deals with Structured and semi-structured data. |
Deep Learning is a subfield of machine learning concerned with algorithms inspired by the structure and function of the brain called artificial neural networks.
Internet of things is the interconnection via the Internet of computing devices embedded in everyday objects, enabling them to send and receive data.
Analytics is the systematic computational analysis of data or statistics.
Big data is a term that describes the large volume of data – both structured and unstructured – that inundates a business/organisation on a day-to-day basis. But it's not the amount of data that's important. It's what organizations do with the data that matters. Big data can be analyzed for insights that lead to better decisions and strategic business moves.
F) Miscellaneous
8. Manipur observes 81st year of 'women's war' (TH)
Manipur observed the 81st anniversary of the "women's war" at an official function held at the "Women's War Memorial Complex" in Imphal.
It was on December 12, 1939, that the women fought against the British after some of its officials colluded with traders to export the nutritious Manipuri rice, pushing people to the point of starvation.
Following their protest, the export order was revoked.
9. Advanced Towed Artillery Gun System (ATAGS) (TH)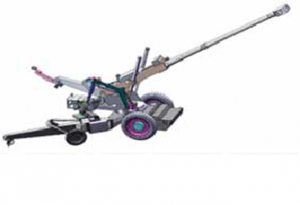 User trials of the indigenous Advanced Towed Artillery Gun System (ATAGS) developed by the Defence Research and Development Organisation (DRDO) jointly with private industry are scheduled to be resumed later this month and proceed with winter and summer trials to be completed by mid-2021
Click here to get Current Affairs Booster Course
Click here to get our all Courses
Click here to follow our latest updates
If you find this post helpful, then do share your thoughts with us by commenting