Context: Andhra Pradesh Chief Minister during the virtual meeting of the governing council of NITI Aayog said the Central government is obliged to grant the Special Category Status India to Andhra Pradesh as per the commitment given in Parliament as a precondition to the bifurcation.
Analysis
In 1969, the Fifth Finance Commission proposed the Special Category States based on recommendations made by the National Development Council.
The idea was to give preferential treatment to certain states that were deemed historically disadvantaged, by allocating more central funds and tax concessions.
The Constitution does not have any provision for categorisation of any State as a Special Category Status (SCS) State.
In the past, the NDC considered factors such as
difficult and hilly terrain;
low population density and/or a sizeable share of tribal population;
strategic location along borders;
economic and infrastructural backwardness, and;
non-viable nature of state finances.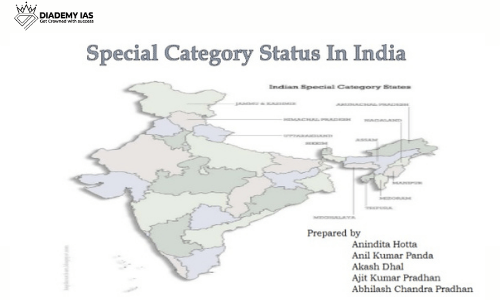 What assistance do states with Special Category Status get?
Preferential treatment in getting central funds assistance
Concessions in income-tax rates, excise and customs duties to attract industries to the state
SCS states would get 30% of the normal central assistance; with the remaining 70% being split among other states based on their population, per capita income, and fiscal performance.
These states can avail the benefit of debt swapping and debt relief schemes
In the case of centrally sponsored schemes and external aid, special category states get it in the ratio of 90 per cent grants and 10 per cent loans, while other states get 30 per cent of their funds as grants.
Tax breaks to attract investment
14th Finance Commission and the SCS states
The 14th Finance Commission did away with the distinction between general and special category states since it had taken into account the level of backwardness of states in the proposed transfer of funds to states.
The idea was that adequate resources would be allocated through tax devolution and grants to address interstate inequalities.
The special category status India was therefore restricted to the three hill states ( J&K, Himachal Pradesh and Uttarakhand) and those in the Northeast by the 14th Finance Commission.
It was also decided that a revenue deficit grant would be provided for certain states for which devolution alone would be insufficient.
Andhra was one of the states that were to be given a revenue deficit grant.
Why does Andhra Pradesh want to get Special Category Status India?
When Andhra Pradesh was bifurcated in 2014, it sought Special Category Status on the grounds that it was at a disadvantage, since it would lose a significant amount of revenue as a result of Hyderabad going to Telangana, the new state that came into existence in June 2014.
Click here

  to get Current Affairs Comprehensive Notes


Click here

 to get our all Courses
Click here to follow our latest updates


Click Here

to join our Civil Servies Test Series