Context: The Sagarmala Pariyojana programme is the flagship programme of the Ministry of Shipping to promote port-led development in the country over the period 2015 to 2035 through harnessing India's 7,500 km long coastline, 14500 km of potentially navigable waterways and strategic location on key international maritime trade routes.
Analysis
The concept of "port led development"
The concept of "port led development" is central to the Sagarmala Pariyojana vision.
Port-led development focuses on logistics-intensive industries (where transportation either represents a high proportion of costs, or timely logistics are a critical success factor).
These industries can be structurally competitive if developed proximate to coast/waterways.
They would be supported by efficient and modern port infrastructure and seamless multi-modal connectivity.
The population in adjoining areas would be sufficiently skilled to participate in economic opportunities on offer.
Need for Port-Led Development in India
Approximately 95 % of India's merchandise trade (by volume) passes through seaports. However, the operational efficiency of Indian ports still lags behind the global average.
Turnaround time (TAT) at major ports was approximately 2.5 days in 2018-19, whereas the global average benchmark is 1-2 days.
Secondly, last-mile connectivity to the ports is one of the major constraints in the smooth movement of cargo to/from the hinterland.
The constraints on connectivity and sub-optimal modal mix results in higher logistics cost thereby affecting the manufacturing sector and export competitiveness.
The third factor is the location of industries/manufacturing centres vis-à-vis the ports.
While the cost differential between India and China is not significant on a per tonne-km basis, China still has a lower container exporting cost, than the cost in India, due to lower lead distances.
The presence of major manufacturing and industrial zones in coastal regions in China, which were developed as part of the Port-Led Policy of the government is the main reason for lower lead distances.
Vision of Sagarmala Pariyojana Programme
The vision of the Sagarmala Pariyojana Programme is to reduce logistics cost for export-import (EXIM) and domestic trade with minimal infrastructure investment.
This includes:
Reducing cost of transporting domestic cargo through optimizing modal mix
Lowering logistics cost of bulk commodities by locating future industrial capacities near the coast
Improving export competitiveness by developing port proximate discrete manufacturing clusters
Optimizing time/cost of EXIM container movement
 Components of Sagarmala Pariyojana Programme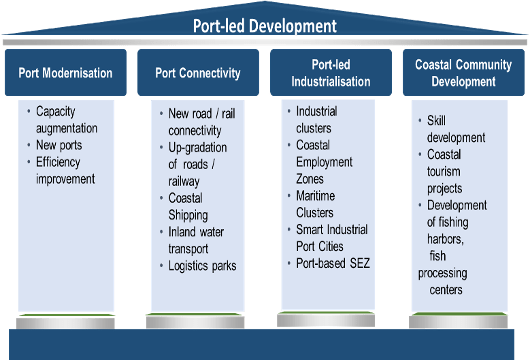 Source- Google
Port Modernization & New Port Development: De-bottlenecking and capacity expansion of existing ports and development of new greenfield ports
Port Connectivity Enhancement: Enhancing the connectivity of the ports to the hinterland, optimizing cost and time of cargo movement through multi-modal logistics solutions including domestic waterways (inland water transport and coastal shipping)
Port-linked Industrialization: Developing port-proximate industrial clusters and Coastal Economic Zones to reduce logistics cost and time of EXIM and domestic cargo
Coastal Community Development: Promoting sustainable development of coastal communities through skill development & livelihood generation activities, fisheries development, coastal tourism etc.
Coastal Shipping & Inland Waterways Transport: Impetus to move cargo through the sustainable and environment-friendly coastal and inland waterways mode.
New Greenfield ports are proposed to be developed at
Vadhavan (Maharashtra)
Tajpur (West Bengal)
Paradip Outer Harbour (Odhisha)
Cuddalore/Sirkazhi (Tamil Nadu)
Belikeri (Karnataka)
Enayam (Tamil Nadu)
To augment transhipment capacity in the country, Vizhinjam (Kerala) and Enayam (Tamil Nadu) are being developed as transhipment ports.
Increasing the share of coastal shipping and inland navigation in the transport modal mix is one of the key objectives of the Sagarmala Programme.
In order to equip ports for movement of coastal cargo, the scope of coastal berth scheme has been expanded and merged with Sagarmala Programme.
Under the scheme, the financial assistance of 50% of project cost is provided to Major Ports/State Governments for construction of Coastal Berths, Breakwater, mechanization of coastal berths and capital dredging.
The Ministry of Shipping's flagship programme for port-led-prosperity 'Sagarmala' received the 'Gold Award'in infrastructure sector in the 52nd Skoch Summit 2018.
The Skoch Awards recognize leadership and excellence in accelerating socio-economic changes.
These awards have become a benchmark of best practices in India in the fields of governance, infrastructure, finance, banking, technology, corporate citizenship, economics and inclusive growth.
Project Unnati – Operational Efficiency Improvement
Under Project Unnati, the global benchmarks were adopted to improve the efficiency and productivity for 12 major ports.
The growth of India's maritime sector is constrained due to:
involvement of multiple agencies in development of infrastructure to promote industrialization, trade, tourism and transportation;
presence of a dual institutional structure that has led to development of major and non-major ports as separate, unconnected entities;
lack of requisite infrastructure for evacuation from major and non-major ports leading to sub-optimal transport modal mix;
limited hinterland linkages that increase the cost of transportation and cargo movement;
limited development of centres for manufacturing and urban and economic activities in the hinterland;
low penetration of coastal and inland shipping in India;
limited mechanization and procedural bottlenecks and lack of scale, deep draft and other facilities at various ports in India.
Do you know?
Against a share of 9 percent of railways and 6 percent of roads in the GDP the share of ports is only 1 percent.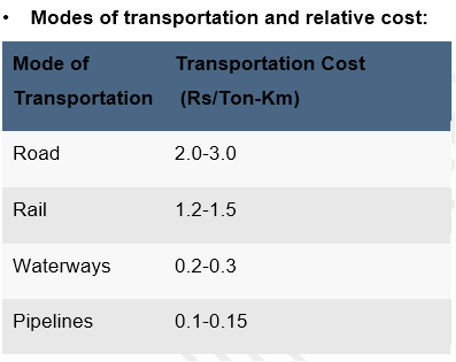 Source- Google
There are 12 Major ports in India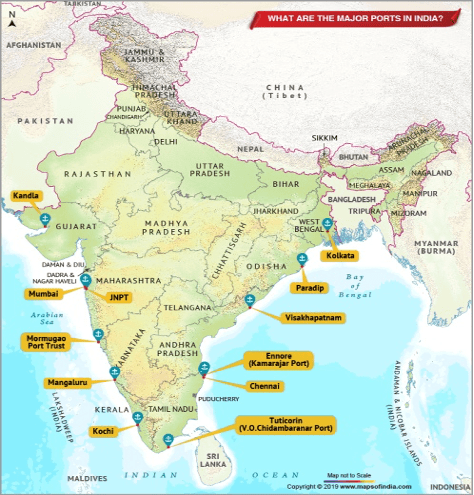 Source- Google
Click here  to get Prelims Foundation  2022 Course


Click here

 to get our all Courses


Click here

 to follow our latest updates


Click Here

to join our Civil Servies Test Series