Answer Writing Practice for UPSC 2021/2022 holds a crucial part in IAS Exam because the Mains part is descriptive and Analytical in nature. Unlike UPSC Prelims which is objective, UPSC Mains requires a lot of writing practice.

A Good Answer Writing Program is about continuous improvement by Practice. DIADEMY's 3 Level Answer Writing Cum Mains Test Series program comes with a unique approach of micro improvement, speed improvement and Real Exam Hall experience.
It provides right Guidance for improvement in framework & improve answer writing speed without compromising quality. Its intensive & laborious but definitely worth.
We are happy to share that more than 60% questions in UPSC Mains 2020 Paper were from our Advanced Plan of this course"
1) WHAT WILL BE DELIVERABLE IN DAILY ANSWER WRITING FOR UPSC
Program will take place in 3 levels Till Mains 

Level 1 – 2 questions daily for 2 months

Daily @ 8a.m. – 2 questions based on predefined plan which helps you to cover your syllabus comprehensively

Level 2 – 8 Sectional Tests after daily answer writing

Level 3 – 15 Full length tests after sectional Tests

Model answers will be provided for all Question.

Answer Evaluation: Live one to one Zoom Evaluation

Answer Submission – Daily Answers have to be submitted online but Sectional Tests and Full Length Tests can be written and submitted both Online as well as Offline.

Program is designed to cover the syllabus comprehensively of both static and current with the daily answer writing and Revise during the sectional tests. Full length Tests gives the Extra edge to cover things by giving you a real time exam experience.

Options– 2 Levels AWMT: Daily Answer Writing + Sectional Test = Rs 11,999/-

3 Levels AWMT: Daily Answer Writing + Sectional Tests + Full Tests = Rs 19,999.


Well experienced mentors for doubt clearance and guidance
Answer enriching tips, keywords, examples, case studies, statistics

 

Both static and current questions covered

Evaluation by experts within 72 hours (for daily answers) and within 4-5 days for weekend sectional test

"24 Hrs access to evaluation team through

direct telegram handle"

Answer to be submitted within 24 hrs only (for ensuring discipline)

Quality Model answer PDF

6 days a week (Monday to Saturday) questions

Live one to one Evaluation on Thursday and Sunday

Doubt asking during the live interactive discussion

Individual attention

NOTE – More than 20 students in UPSC 2020 qualified from this (daily answer writing for UPSC) program under the guidance of CA Rahul Kumar Sir including Rank 30, Rank 51 etc. 
"Online live interactive sessions for evaluations & discussions. The focus will be on perspective building rather than just giving information"
2) ENRICHMENT & VALUE ENRICHMENT MATERIAL:
Crux Notes of Most important topics

Powerful Quotes for Essay and Ethics

MINDMAPS – Flow Charts, Diagrams

Easy to use "Way forward and suggestions" guidance

Tips on making headings and subheadings
3) DAILY PROCESS & DETAILS FOR ANSWER WRITING
Questions will be uploaded on your personal dashboard every day at 8 am.

Students can download the PDF of Question-Cum-Answer Booklet

Write your answer on the hard copy.

Scan the pages of the answer by any mobile application

Upload the PDF answer in the given google drive folder.

You can download the modal answer PDF the next day.

Sectional and Full Length Tests can be written and submitted OFFLINE as well.
4) JOIN ANY OF THE COURSES GIVEN BELOW :
COURSE CODE

DAILY

WEEKEND

15 FULL MOCKS

DURATION

PRICE

(No of Q)

(Sectional Test)

(10 Ques.)

(YES/NO)

(No of Weeks)

2 Level AWMT

2 per day

Yes

No

14

11999

3 Level AWMT

2 per day

Yes

Yes

Till Mains 2022

19999

Mains Master 2021

2 per day

Yes

TILL MAINS 2021

11999
OUR OTHER FLAGSHIP PROGRAM
CLICK HERE

TO GET UPSC MAINS BOOSTER PROGRAM (900+ TOPICS)  75% DISCOUNT  GOING ON
CLICK HERE TO GET GS-3 ONLINE CLASSES (Mains 2021)
CLICK HERE

TO GET  GS-2 ONLINE CLASSES (Mains 2021)
DIADEMY IAS CSE 2020 TOPPERS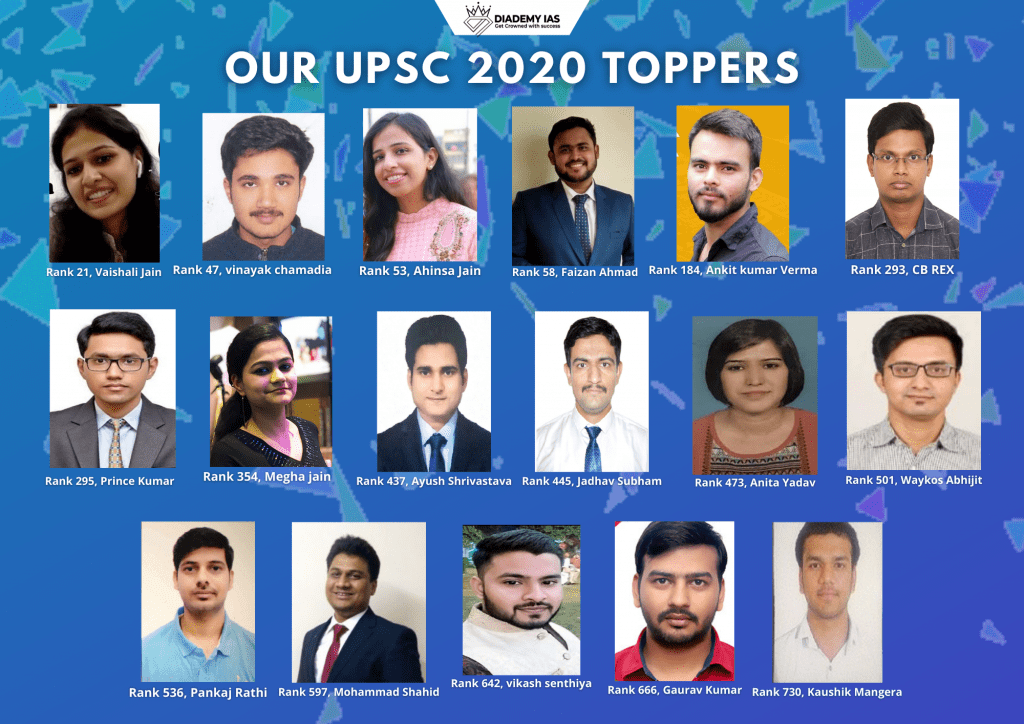 About the Faculty
Mr. Rahul Kumar is a Chartered Accountant. He appeared in UPSC interviews thrice. He has been a faculty of infamous Delhi civil institutes for many years. Lecture discussion and study material will reflect on his experience. He has experience working in government organizations for more than 8 years.
Certain areas like Ethics, International Relations, and Science & Technology will be taught by other faculties
How To Get Admission Into/ Subscribe To Course?
Email us at contact@diademy.com for getting the payment link of relevant courses

Make the payment

Please go through our Refund & Cancellation Policy by clicking on the link here before making the payment.

Please fill this form (Compulsory) Click Here so that we can give personal attention to you.

Once You Pay, Within 8 working Hrs (Working hours are from 10 AM to 6 PM), You will get a detailed email on how to access your personal dashboard

You, Will, Get Live Class Links, Recorded Lectures And Soft Copy Study Materials In Your Dashboard

A detailed course/lecture plan will be given after joining

You can download the Android app also to get access to your purchased course by clicking here

For Any Problem Please Drop An Email At   contact@diademy.com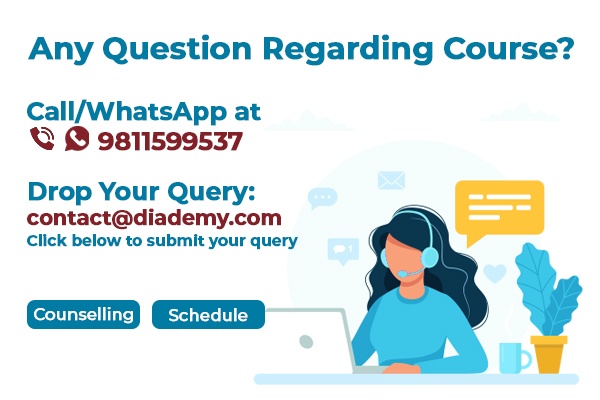 Student's Review