Context: The Prime Minister has lauded the completion of Arch closure of the Chenab Bridge, World's highest Railway Bridge in Jammu & Kashmir by Indian Railways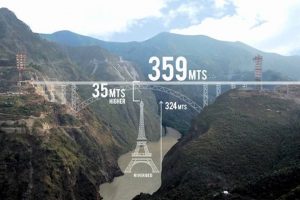 It connects Kashmir with the rest of India through a rail line. The 1.315 km long "engineering marvel" will link Bakkal in Katra and Kauri in Srinagar.
The Chenab bridge forms an important link in the 111 km long stretch between Katra and Banihal, which is a part of Indian Railways' Udhampur- Srinagar-Baramulla rail link project.
Once the development work of the bridge is completed, it will surpass the record of China's Beipan river Shuibai railway bridge (275 m).
The project was declared as a national project in the year 2002.
Chenab River
The Chenab is formed by the confluence of two streams, Chandra and Bhaga, in the western (Punjab) Himalayas in India's Himachal Pradesh state.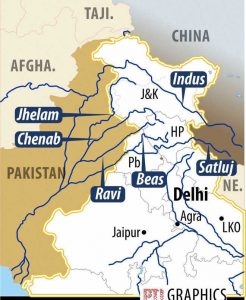 It flows west through Jammu and Kashmir union territory—between the steep cliffs of the Siwalik Range (south) and the Lesser Himalayas (north).
After receiving the Jhelum and the Ravi rivers, the Chenab empties into the Sutlej River, a tributary of the Indus River.
Its total length is about 605 miles (974 km), and it feeds several irrigation canals.
Click here to get Static Crux Notes of Standard Books


Click here

to get Free Study Materials for UPSC IAS 2021/22


Click here

 to follow our latest updates


Click here

to join our Civil Servies Test Series