Context: 20th anniversary of the destruction of the Bamiyan Buddhas.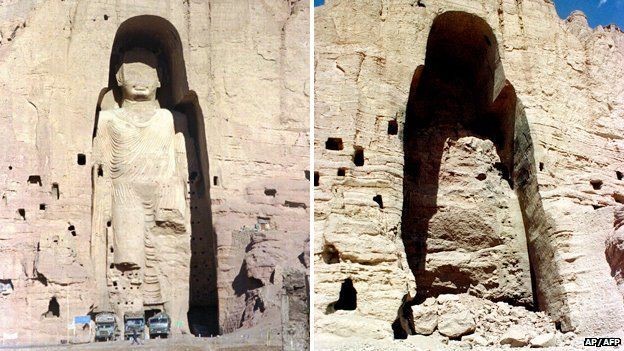 Analysis
In March 2001, the Taliban began blowing up two monumental Buddha statues in Afghanistan's Bamiyan Valley. 
Once among the tallest statues in the world, the ancient Bamiyan Buddhas were lost to the world forever. 
The legacy of the Bamiyan Buddhas
In their Roman draperies and with two different mudras, the Bamiyan Buddhas were great examples of a confluence of Gupta, Sassanian and Hellenistic artistic styles. 

They are said to date back to the 5th century AD and were once the tallest standing Buddhas in the world. 

Salsal and Shamama, as they were called by the locals, rose to heights of 55 and 38 metres respectively, and were said to be male and female. 

The statues were set in niches on either ends of a cliff side and hewn directly from the sandstone cliffs.
The significance of Bamiyan
Bamiyan is situated in the high mountains of the Hindu Kush in the central highlands of Afghanistan. 

The valley, which is set along the line of the Bamiyan River, was once integral to the early days of the Silk Roads, providing passage for not just merchants, but also culture, religion and language.

When the Buddhist Kushan Empire spread, Bamiyan became a major trade, cultural and religious centre. 

As China, India and Rome sought passage through Bamiyan, the Kushans were able to develop a syncretic culture.
Not the first attack 
While this year marks the 20th anniversary of the destruction of the Bamiyan Buddhas, the Taliban wasn't the first group to target the statues or the Bamiyan Valley. 

In the 17th century, the Mughal emperor Aurangzeb had the giant statues defaced using artillery.
Unfortunately, the event paved the way for similar attacks on cultural heritage, such as the ISIS' destruction of the

ancient city of Nimrud in 2016

, along with the murder of archaeologist Khaled al-Asaad, when he refused to disclose the location of

Palmyra's valuable artefacts, in 2015.
Following the fall of the Bamiyan Buddhas, UNESCO included the remains in its list of world heritage sites in 2003, with subsequent efforts made to restore and reconstruct the Buddhas in their niches with the pieces available. 
Click here

to get Current Affairs Comprehensive Notes only just 999/-


Click here

 to get our all Courses


Click here

 to follow our latest updates


Click Here

to join our Civil Servies Test Series