UPSC PRELIMS+MAINS 
A) Agriculture, Geography, Environment and Biodiversity
1. Cyclone Gati
Context

: Tropical Cyclone Gati struck the arid nation of Somalia as the equivalent of a Category 2 hurricane with 105 mph winds, making it

the strongest storm on record to hit the country.
Analysis
Its landfall was farther south than any major hurricane-equivalent cyclone on record in that part of the world as well.
Category 4 Kyarr was the strongest cyclone over the Arabian Sea in 12 years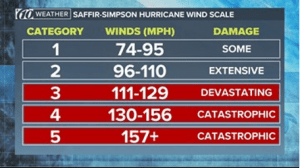 Rapid intensification
Gati is the latest storm globally to rapidly intensify, a term reserved for tropical cyclones that spike in strength by 35 mph or more in 24 hours.
Gati did so at double the rate needed to qualify for rapid intensification.
One storm in the Atlantic rivaled Cyclone Gati, as Hurricane Iota intensified at the astonishing rate of 80 mph in 24 hours before slamming into the coast of northeastern Nicaragua recently.
Scientists say rapid intensification is happening more frequently, as storms are given a turbo boost from rising ocean temperatures.
A contributor to Gati's rapid intensification was its small size, which allowed the storm to respond quickly to changes in the surrounding environment and hastily gain strength.
2. National Crisis Management Committee (NCMC) (PIB)
Context

: Union Cabinet Secretary a meeting of the National Crisis Management Committee (NCMC) to review the status of impending Cyclone through video conferencing with the Chief Secretaries of Andhra Pradesh, Tamil Nadu and Puducherry.
Analysis
India got relief from the second cyclone Gati (Arabian Sea) that is expected to move towards Somalia but another cyclone named Nivar that is gaining strength on the Bay of Bengal will have landfall at the southern Indian states of Tamil Nadu and Puducherry.
For effective implementation of relief measures in the wake of a natural calamity, the Cabinet may set up a committee.
On the constitution of such a committee of the Cabinet, the Agriculture Secretary shall provide all necessary information to and seek directions if any, of the Cabinet Committee in all matters concerning relief in the wake of natural calamity and take steps for effective implementation of its directions.
In the absence of such a Cabinet Committee, all matter relating to relief shall be reported to the Cabinet Secretary.
A National Crisis Management Committee (NCMC) has been constituted in the Cabinet Secretariat under the chairmanship of the Cabinet Secretary.
3. Environment Relief Fund (TH)
Context

: Over ₹800 cr. In Environment Relief Fund lying unutilised.
It is meant to provide relief for victims of accidents in the process of handling hazardous substances.
National Green Tribunal (NGT) called it a "travesty of justice" that the fund was lying unutilised even after 29 years of enactment of the legislation.
Analysis
Under what law was the Environment Relief Fund created?
The Environment Relief fund was founded under the Public Liability Insurance Act, 1991 as a means to provide relief to the victims of accidents involving hazardous substances.
No-fault liability principle is the basis of the fund, founded in a leading decision of the Supreme Court, M.C Mehta v. Union of India.
It was held that under the Public Liability Insurance Act, 1991, all industries dealing with hazardous substances have to compulsorily subscribe to Public Liability Insurance.
The Environment Relief Fund Scheme has been part of the Public Liability Act under 2008. The Fund was established by Ministry of Environment, Forest and Climate Change (MoEFCC) under the Environment Relief Fund Scheme, 2008.
This Fund Scheme makes it mandatory for companies which are regulated under the PLIA Act to deposit a sum of money equal to one premium of its insurance policy with a fund manager, which is presently United India Insurance Company Limited (UIICL).
The amount that is transferred by the owner as compensation for damage to the environment under National Green Tribunal Act.
Central Pollution Control Board (CPCB) under MoEFCC is to guarantee better implementation of Public Liability Insurance (PLI) Act, 1991.
What is the purpose of the fund?
The primary purpose of the fund is to provide relief to persons (except workmen) who are injured or have died or suffered damage to their property due to an accident that is attributable to the handling of the hazardous substances by the industry.
The liability of the owner to provide the relief is of a nature of no-fault liability.
Thus, it is not necessary for the claimants to establish any negligence, fault or wrongful act of the industry that has resulted in the death, injury or loss of property of the claimant.
Therefore, the Act requires the owner of an industry handling hazardous substances to subscribe to an insurance policy to insure against the liability arising out of such claims.
The process of disbursement of relief has been enunciated in the Environmental Fund Relief Scheme, 2008.
Are fines imposed under the Polluter Pays Principle credited to this Fund?
Yes, the money received through the fines imposed by the National Green Tribunals, specifically through 3 basic principles- the principles of sustainable development, the precautionary principle, and the polluter pays principle are transferred to the Environment Relief Fund. 
B) Polity, Bills, Acts and Judgments
4. Lok Adalats and Alternative Dispute Resolutions (ADRs) (PIB)
In the period of turbulence caused by the pandemic, Legal Services Authorities creatively adapted to the new normal and moved Lok Adalat to the virtual platform.
Online Lok Adalat popularly known as E -Lok Adalat is one of the innovative Legal Services Institutions where technology has been used to its maximum advantage and has become a platform to deliver justice at the doorstep of people.
E- Lok Adalats are also cost effective as it eliminates the need for organisational expenses.
Organised by Legal Services Authorities, Lok Adalats (State as well as National) are an

Alternative Dispute Resolution (ADR)

mode wherein pre-litigation and pending cases in the courts are disposed on the basis of amicable settlement without any expense on the part of litigants.
It is free of cost and expeditious method of bringing litigating parties on the same side and saving them from the rigours of trial under adversarial system of adjudication which is generally perceived to be time consuming, complex and costly.
Lok Adalats are also instrumental in reducing the burden on arrears of the court disposal of long pending litigation between the parties.
Note: Lok Adalats and Alternative Dispute Resolutions (ADRs) were covered comprehensively in 6th Nov file.
C) Science and Technology, Defence, Space
5. Explained: What is China's Chang'e-5 probe to the Moon about? (IE)
Context

: On November 24, China's Chang'e-5 lunar mission will become the first probe in over four decades to bring back samples of lunar rock from a previously unexplored portion of the Moon.
Analysis
Early in 2019, China's Chang'e-4 probe successfully transmitted images from the far side of the Moon, also referred to as the dark side.
This was the first probe to land in this portion of the Moon.
The first samples of rocks from the Moon were collected during the Apollo 11 mission.
NASA noted that lunar samples can help to unravel some important questions in lunar science and astronomy, including the Moon's age, the formation of the Moon, the similarities and differences between the Earth and the Moon's geologic features and history and to see if the Moon can give scientists information about the solar system itself.
For instance, the shape, size, arrangement and composition of individual grains and crystals in a rock can tell scientists about its history, while the radioactive clock can tell them the rock's age.
Further, tiny cracks in rocks can tell them about the radiation history of the Sun in the last 100,000 years.
Rocks found on the Moon are older than any that have been found on Earth and therefore they are valuable in providing information about the Earth and the Moon's shared history.
D) Schemes, Policies, Initiatives, Awards and Social Issues
6. India Time Use Survey, 2019 (TH)
Context

: The all India Time Use Survey, 2019 has just been published by the Government of India.
As a survey that has covered the entire country for the first time, the National Statistical Office (NSO), under the Ministry of Statistics & Programme Implementation, needs to be complimented for accomplishing the task.
The International Classification of Activities for Time-Use Statistics of the United Nations Statistics Division, was used for classification of activities.
Analysis
Time Use Survey (TUS) is an important source of information about the activities that are performed by the population and the time duration for which such activities are performed.
One distinguishing feature of Time Use Survey from other household surveys is that it can capture time disposition on different aspects of human activities, be it paid, unpaid or other activities with such details which is not possible in other surveys.
The primary objective of Time Use Survey (TUS) is to measure participation of men and women in paid and unpaid activities.
TUS is an important source of information on the time spent in unpaid caregiving activities, volunteer work, unpaid domestic service producing activities of the household members.
It also provides information on time spent on learning, socializing, leisure activities, self-care activities, etc., by the household members.
Features of the Survey
This survey covered both rural and urban households.
Information on time use was collected from each member of age 6 years and above of the selected households.
In this survey data on time use was collected through personal interview method.
Key developments
Two recent developments which have pushed up the demand for TUS globally are the commitment to achieving the Sustainable Development Goals (SDG) by 2030 (especially the SDG 5.4 on unpaid work), and the path-breaking Resolution of the 19th International Conference on Labour Statistics, on "Statistics of Work, Employment and Labour Underutilization — International Labour Organization 2013".
The Government of India is fully committed to the SDGs and has also indicated its inclination to implementing to implement the Resolution.
TUS data are also required for understanding and monitoring major socioeconomic concerns of countries.
Somehow, both these developments have not been incorporated in this first time use survey.
Defining work
The ILO's Resolution — referred to above — presents a new definition of work, new forms of work and a new labour force status classification.
It defines "work" as "any activity performed by persons of any sex and age to produce goods or provide services for use by others or own use".
"Work" is divided into five categories:
employment (production of goods and services for pay, profit or barter);
own use production of goods and services by households;
unpaid trainee work;
volunteer work; and
other work (compulsory work performed without pay to produce goods/services for others).
Unpaid domestic services and unpaid care are now formally recognised as "work" for the first time.
Clearly, the Resolution cannot be implemented without time use data.
A TUS collects data only for one or two days per person in a week, while according to the ILO, "a person is a worker if she/he has spent at least one hour on work in the reference week".
As informal work is frequently intermittent and irregular, the TUS information on one day's work (for less than one hour) or non-work cannot qualify the person to be a worker or non-worker.
It is quite likely that the person reporting as a non-worker on one day may be working on other days, or one reporting work may not work for one hour totally in the week.
Thus, the TUS cannot provide information on the workforce/employment status of persons.
It is necessary, therefore, to draw the TUS sample (which is always smaller) from the same sampling framework that is used by the labour force survey (EUS), with some common units.
The TUS can complement the labour force survey (LFS) information. The independent TUS cannot provide estimates of the workforce/labour force.
In short, the Indian TUS has missed two important opportunities — of implementing the SDG 5.4 and the ILO's important resolution.
7. Atal Innovation Mission (AIM) (PIB)
The Atal Innovation Mission (AIM) is a flagship initiative set up by the NITI Aayog to promote innovation and entrepreneurship across the country at school, university, research institutions, MSME and industry levels.
Partnering with the

Ministries of Road Transport and Highways, Housing and Urban Affairs, Agriculture and Family Welfare, Drinking Water & Sanitation and the Railway Board

, AIM will attempt to harness the potential of India's innovators.
Implementation framework
AIM has multiple programs to encourage and support innovation in the country.
Atal Tinkering Labs-Creating problem solving mindset across schools in India.
Atal Incubation Centers -Fostering world class startups and adding a new dimension to the incubator model.
Atal New India Challenges-Fostering product innovations and aligning them to the needs of various sectors/ministeries.
Mentor India Campaign– A national Mentor network in collaboration with public sector, corporates and institutions, to support all the intiatives of the mission.
Atal Community Innovation Center– To stimulate community centric innovation and ideas in the unserved /underserved regions of the country including Tier 2 and Tier 3 cities.

ARISE

–To stimulate innovation and research in the MSME industry.
Brief on activities carried out under Atal Innovation Mission
Atal Tinkering Laboratories
With a vision to 'Cultivate one Million children in India as Neoteric Innovators', NITI Aayog under the Atal Innovation Mission is establishing Atal Tinkering Laboratories (ATLs) in schools across India.
Young children will get a chance to work with tools and equipment to understand the concepts of STEM (Science, Technology, Engineering and Math).
The objective of this scheme is to:
foster curiosity, creativity and imagination in young minds; and
inculcate skills such as design mindset, computational thinking, adaptive learning, physical computing etc.
Till date, 2441 schools have been selected across the country to establish ATL.
ATL would contain educational and learning 'do it yourself' kits and equipment on – science, electronics, robotics, open source microcontroller boards, sensors and 3D printers and computers.
Other desirable facilities include meeting rooms and video conferencing facility.
Eligibility
Schools (minimum Grade VI – X) managed by Government, local body or private trusts/society to set up ATL.
Atal Incubators
It aims at promoting entrepreneurship in universities and industry.
At the university, NGO, SME and Corporate industry levels, AIM is setting up world-class Atal Incubators (AICs) that would trigger and enable successful growth of sustainable startups in every sector/state of the country, addressing both commercial and social entrepreneurship opportunities in India and applicable globally.
AIM is also providing scale up support to existing incubators for scaling up their operations.
AIM will provide a grant-in-aid of upto Rs. 10 crore for a maximum period of 5 years to cover the capital and operational expenditures to establish the AIC.
Requirements
The applicant would have to provide at least 10,000 sq. ft. of ready-to-use, built-up space, for the exclusive use of the AIC.
Atal New India Challenges and Atal Grand Challenges
These are to promote technology driven innovations and product creation for social and commercial impact.
Atal New India Challenges/Atal Grand Challenges are being launched in specific areas and sectors of national importance – such as Renewable Energies, Energy Storage, Climate-smart precision agriculture, Universal drinking water, Swaach Bharat, Transportation, Education, Healthcare using Robotic, IOT technologies, Artificial Intelligence, Block-chain, Augmented and Virtual reality, Battery Technologies etc.
Researchers have long talked of the 'Valleys of Death' at the early stage and commercialization stage in taking innovations to market.
The Atal New India Challenge aims to address the second Commercialization Valley of Death, in which innovators are unable to access resources for piloting, testing, and market creation.
The successful applicants will get a grant of upto Rs 1 crore for Atal New India Challenges and larger grants of upto Rs 30 crores for Atal Grand Challenges.
The vision of ANIC is two-fold:
help create products from existing technologies relevant for national and social causes (productization);
help new deep-tech products find markets and early customers (commercialization) in the context of India.
The programme is open to Indian companies registered under the Companies Act 1956/2013, primarily a Micro, Small and Medium Enterprises (MSME) as defined in the MSMED Act, 2006.
It is also open to:
Start-Ups, as defined by the Department of Industrial Policy and Promotion (DIPP),
Government or private R&D organizations (other than a Railway R&D organization),
academic institutions,
academicians, or even individual innovators are encouraged to apply, provided they partner with entities with appropriate manufacturing capabilities.
E) Art, Culture and History
8. Martyrdom Day of Guru Tegh Bahadur (PIB)
Context

: It was on 24th November 1675, Guru Tegh Bahadur, the ninth Guru of Sikhs, sacrificed his life to protect religion, human values, ideals and principles.
The martyrdom of Guru Tegh Bahadur is remembered as Shaheedi Divas every year.
Analysis
Guru Tegh Bahadur
Born in Amritsar, Guru Tegh Bahadur was the ninth of the ten Gurus who founded Sikhism.
He's honoured and remembered as the man who championed the rights for all religious freedom.
He founded the city of Anandpur which later became a centre of Sikhism.
He married Bibi Gujjari and they had one son: the tenth Guru, Guru Gobind Singh.
Contributions
He taught liberation from attachment, fear and dependence. Strength should be gained through truth, worship, sacrifice and knowledge.
He's also remembered for his poetry, much of which is included in the Guru Granth Sahib.
During the reign of Mughal Emperor Aurangzeb, Islam was imposed on the people (forced conversions).
Hindu temples were being demolished and turned into mosques, additional taxes were charged on non-Muslims (jizya tax) and the Emperor persecuted those who would not conform to Islamic law.
According to Sikh tradition, some Kashmiri Pandits fled these forced conversions and sought refuge with Guru Tegh Bahadur.

On the insistence of his son who would eventually be known as Guru Gobind Singh, the ninth guru travelled to Delhi to dissuade Aurangzeb from this religious imposition.
Aurangzeb asked the Hindus to bring forth someone willing to sacrifice himself for their religion and Guru Tegh volunteered himself.
Guru Tegh Bahadur spoke out amid this persecution. He refused to convert to Islam and in 1675, he was beheaded in Delhi. The site of his execution was later turned into an important Gurdwara (Gurdwara Sis Ganj Sahib).
F) Miscellaneous
9. ATAL Academy (PIB)
Union Education Minister inaugurated 46 online AICTE Training and Learning (ATAL) Academy Faculty Development Programmes (FDPs) to train teachers of higher education institutions associated with All India Council of Technical Education (AICTE) in thrust and emerging areas in technology.
The main objective of ATAL Academy is to provide quality technical education in the country and to promote research and entrepreneurship through training in various emerging fields. IITs, IIITs, NITs CU and research labs are organizing these ATAL FDPs.
10. Battle of Walong (TH)
The officers and men of the 6 Kumaon battalion fought the Battle of Walong during the 1962 Indo-China debacle, halting the Chinese from further advancing into Indian territory of Walong in Arunachal Pradesh.