UPSC PRELIMS+MAINS 
A) Schemes, Policies, Initiatives, Awards and Social Issues
1. National Startup Awards 2021 (PIB)
Context

: Department for Promotion of Industry and Internal Trade (DPIIT), Ministry of Commerce & Industry, is launching the second edition of the National Startup Awards (NSA) 2021. 
Analysis
Additional categories have been introduced to NSA 2021.
The awards for startups will be given in 49 categories classified into 15 broad sectors.
The 15 sectors are Agriculture, Animal Husbandry, Drinking Water, Education and Skill Development, Energy, Enterprise Systems, Environment, FinTech, Food Processing, Health and Wellness, Industry 4.0, Security, Space, Transport and Travel.
In addition, there are six special awards for startups from educational institutions, making impact in rural areas, women entrepreneurs, potential for import substitution, innovation for combatting COVID-19 and content delivery in Indic languages.
It will also reward exceptional incubator and accelerator as key building blocks of a robust startup ecosystem.
DPIIT had initiated the first ever National Startup Awards in 2019 with a view to recognize and reward outstanding startups and ecosystem enablers that are building innovative products or solutions and scalable enterprises, with high potential of employment generation or wealth creation, demonstrating measurable social impact.
The measure of success is not only the financial gains for the investors but also the contribution to the social good.
What is a Start-Up?
A start-up company means a private company incorporated under the Companies Act, 2013 and recognised as a "start-up" in accordance with the notification issued by the Department of Industrial Policy and Promotion, under the Ministry of Commerce and Industry.
The DIPP notification has defined a start-up as an entity that is incorporated or registered in India.
Furthermore, a company must meet the following criteria to be considered eligible for DPIIT start-up recognition.
Company Age
Period of existence and operations should not be exceeding 10 years from the Date of Incorporation.
Incorporated as a Private Limited Company, a Registered Partnership Firm or a Limited Liability Partnership.
Should have an annual turnover not exceeding Rs. 100 crore for any of the financial years since its Incorporation.
Entity should not have been formed by splitting up or reconstructing an already existing business.
Should work towards development or improvement of a product, process or service and/or have scalable business model with high potential for creation of wealth & employment
Startup India initiative
The Department for Promotion of Industry and Internal Trade (DPIIT) is mandated to coordinate implementation of Startup India initiative with other Government Departments.
Apart from DPIIT, the initiatives under Startup India are driven primarily by five Government Departments viz. Department of Science and Technology (DST), Department of Bio-technology (DBT), Ministry of Human Resource Development (MHRD), Ministry of Labour and Employment and Ministry of Corporate Affairs (MCA) and NITI Aayog.
Government of India has established Fund of Funds for Startups (FFS) with corpus of Rs. 10,000 crore, to meet the funding needs of startups.
DPIIT is the monitoring agency and Small Industries Development Bank of India (SIDBI) is the operating agency for FFS.
2. Green National Highways Corridor Project (PIB)
Context

: The Government of India and the World Bank today signed a $500 million project to build safe and green national highway corridors in the states of Rajasthan, Himachal Pradesh, Uttar Pradesh and Andhra Pradesh.
Analysis
The development objective of Green National Highways Corridor Project for India is to demonstrate safe and green National Highway corridors in selected States and enhance the institutional capacity of the Ministry of Road Transport and Highways in mainstreaming safety and green technologies.
This project has three components.
1) The first component, Green Highway Corridor Improvement and Maintenance, includes upgradation and maintenance for five years of about seven hundred and eighty-three kilometers of selected existing National Highways in the states of Rajasthan, Himachal Pradesh, Uttar Pradesh and Andhra Pradesh incorporating green technologies and demonstrating resource efficiency, climate resilience, green and safety aspects.
2) Institutional Capacity Enhancement
3) Road Safety
B) Economic Developments: India and World
3. Development Finance Institutions (DFIs) and National Infrastructure Pipeline (NIP) (TH)
Context

: The government plans to set up a Development Finance Institution (DFI) in the next three to four months with a view to mobilise the ₹111 lakh crore required for funding of the ambitious national infrastructure pipeline as infra financing needs patient capital, and banks are currently not suited for lending for long-term projects which do not generate any cash for years.
Analysis
Even deepening the bond market with regard to infrastructure financing was a matter receiving the Centre's attention and there was a need to do something more in order to have a robust bond market for infrastructure financing.
The DFI will be a catalyst, and would fund projects where others are not willing to enter because of the risks involved.
About 7,000 projects have been identified under the National Infrastructure Pipeline with projected investment of ₹111 lakh crore during 2020-25.
The DFI would have a key developmental role apart from the financing role.
Prior to liberalisation, India had DFIs engaged in development of industry.
ICICI and IDBI, in their previous avatars, were DFIs.
The country's oldest financial institution IFCI Ltd. too had acted as a DFI.
What are Development Finance Institutions (DFIs) Or Development Banks?
Development banks are financial institutions that provide long-term credit for capital-intensive investments spread over a long period and yielding low rates of return, such as urban infrastructure, mining and heavy industry, and irrigation systems.
Such banks often lend at low and stable rates of interest to promote long-term investments with considerable social benefits.
To lend for long term, development banks require correspondingly long-term sources of finance, usually obtained by issuing long-dated securities in capital market, subscribed by long-term savings institutions such as pension and life insurance funds and post office deposits.
Considering the social benefits of such investments, and uncertainties associated with them, development banks are often supported by governments or international institutions.
Such support can be in the form of tax incentives and administrative mandates for private sector banks and financial institutions to invest in securities issued by development banks.
Development banks are different from commercial banks which mobilise short- to medium-term deposits and lend for similar maturities to avoid a maturity mismatch — a potential cause for a bank's liquidity and solvency.
The capital market complements commercial banks in providing long-term finance.
IFCI, the Industrial Finance Corporation of India, was set up in 1949. This was probably India's first development bank for financing industrial investments.
In 1964, IDBI, the Industrial Development Bank of India, was set up as an apex body of all development finance institutions.
As the domestic saving rate was low, and capital market was absent, development finance institutions were financed by:
(i) lines of credit from the Reserve Bank of India (that is, some of its profits were channelled as long-term credit); and
(ii) Statutory Liquidity Ratio bonds, into which commercial banks had to invest a proportion of their deposits.
However, development banks got discredited for mounting non-performing assets, allegedly caused by politically motivated lending and inadequate professionalism in assessing investment projects for economic, technical and financial viability.
After 1991, following the Narasimham Committee reports on financial sector reforms, development finance institutions were disbanded and got converted to commercial banks.
The result was a steep fall in long-term credit from a tenure of 10-15 years to five years.

Some of the existing central public sector DFIs, are:
Power Finance Corporation Ltd (PFC),
Indian Renewable Energy Development Agency (IREDA),
National Housing Bank (NHB),
Housing and Urban Development Corporation Ltd (HUDCO) etc.
National Infrastructure Pipeline (NIP)
The National Infrastructure Pipeline aims to invest Rs 111 lakh crore between 2020-2025 in a range of projects spanning across sectors.
The share of the central government and the states in the projects would be 39% and 40%, respectively, while private sector would contribute 21%.
NIP includes both economic and social infrastructure projects.
NIP aims to attract both domestic & foreign investments into infrastructure.
This would be a significant increase over the last six years, when the Centre and States together spent ₹51 lakh crore on infrastructure.
The funds would come from budgetary and extra-budgetary resources, as well as funds raised from the market and internal accruals of the relevant state-owned companies.
Focus areas
Almost a quarter of the capital expenditure is going to the energy sector.
This is also the sector where the private sector has expressed the most interest.
The other major focus areas are roads (19%) and railways (13%), urban (16%) and rural (8%) infrastructure, and irrigation (8%).
Social infrastructure, including health and education, will get 3% of the capital expenditure, with digital communication and industrial expenditure each getting the same amount as well.
Agriculture and food processing infrastructure will get one per cent of the planned capital expenditure.
Recently, the National Infrastructure Pipeline (NIP) Online Dashboard was inaugurated. The dashboard is being hosted on the India Investment Grid (IIG).
India Investment Grid (IIG)
The Government of India has developed the India Investment Grid (IIG), an interactive portal that showcases a menu of investment opportunities from the public and private sector across India on a single platform.
IIG is an initiative of Department of Industrial Policy & Promotion (DIPP), Ministry of Commerce and Invest India, the National Investment Promotion and Facilitation Agency.
An initiative to enhance the ease of doing business, IIG allows investors to:
Search a pan-India database to identify investment opportunities across sectors, states, and government schemes;
Track the progress of preferred projects, and indicate their interest for the same;
Directly communicate with project promoters.
Invest India
Invest India is the National Investment Promotion and Facilitation Agency of India and act as the first point of reference for investors in India.
Invest India, set up in 2009, is a non-profit venture under the Department for Promotion of Industry and Internal Trade, Ministry of Commerce and Industry, Government of India.
IIG is an interactive and dynamic online platform that showcases updated & real-time investment opportunities in the country.
C) Indices, Reports, Surveys, Committees and Organisations
4. National Family Health Survey-5 (updated) (TH)
Context

: Union Minister of Health and Family Welfare released the factsheets of key indicators on population, reproductive and child health, family welfare, nutrition and others for 22 States/UTs of the first Phase of the 2019-20 National Family Health Survey (NFHS-5) on Universal Health Coverage Day on 12thDecember, 2020.
Analysis
These 22 Phase-I States/UTs are Andhra Pradesh, Assam, Bihar, Goa, Gujarat, Himachal Pradesh, Karnataka, Kerala, Maharashtra, Manipur, Meghalaya, Mizoram, Nagaland, Sikkim, Telangana, Tripura, West Bengal, Andaman Nicobar Island, Dadra and Nagar Haveli and Daman and Diu, Jammu & Kashmir, Ladakh and Lakshadweep.
The fieldwork in the remaining 14 (Phase-II) States/UTs is currently under progress.
The main objective of successive rounds of the NFHS is to provide reliable and comparable datasets on health, family welfare and other emerging issues.
Four rounds of NFHS (1992–93, 1998–99, 2005–06 and 2015–16) have been successfully completed in India.
All the rounds of NFHS have been conducted by the International Institute for Population Sciences (IIPS), Mumbai, as the national nodal agency.
Earlier the Health Ministry itself used to conduct District Level Health Survey (DLHS) and Annual Health Survey (AHS).
MoHFW has decided to conduct integrated NFHS with a periodicity of three years in lieu of different surveys from 2015-16 onwards to meet the evolving requirements for frequent, timely and appropriate data at the National, State and District levels.
The state factsheet released include information on 131 key indicators.
These important indicators on population, health and family welfare, nutrition and others will help track progress of Sustainable Development Goals (SDGs) in the country.
Many indicators of NFHS-5 are similar to those of NFHS-4, carried out in 2015-16 to make possible comparisons over time.
However, NFHS-5 that includes new focal areas such as expanded domains of child immunization, components of micro-nutrients to children, menstrual hygiene, frequency of alcohol and tobacco use, additional components of non-communicable diseases (NCDs), expanded age ranges for measuring hypertension and diabetes among all, aged 15 years and above.
The key results from the State/UT factsheets are as follows:
The Total Fertility Rates (TFR) has further declined since NFHS-4 in almost all the Phase-1 States and UTs.
The replacement level of fertility (2.1) has been achieved in 19 out of the 22 States/UTs and only 3 states viz. Manipur (2.2), Meghalaya (2.9) and Bihar (3.0) have TFR above replacement levels now.
Replacement Level Fertility is the average number of children born per woman at which a population exactly replaces itself from one generation to the next without migration.
TFR is defined as the total number of children born or likely to be born to a woman in her lifetime at the prevailing rate of age-specific fertility.
Population stabilisation is said to be achieved at a TFR of 2.1 because a population just replaces itself at that rate or begin to decline.
If women in a nation or a region or a group have fewer than 2.1 children each, its population will go down over time, while those whose women have more than that will see their population continue to rise.
For India, the effective replacement level fertility is slightly higher than the normal benchmark due to the skewed gender ratio and is at 2.15-2.2.
Overall Contraceptive Prevalence Rate (CPR) has increased substantially in most States/UTs and it is the highest in HP and WB (74%).
Use of modern methods of contraception has also increased in almost all States/UTs.
Unmet needs of family planning have witnessed a declining trend in most of the Phase-1 States/UTs.
The unmet need for spacing which remained a major issue in India in the past has come down to less than 10 per cent in all the States except Meghalaya and Mizoram.
The latest data from the National Family Health Survey-5 (NFHS-5) provides evidence of an uptake in the use of modern contraceptives in rural and urban areas, an improvement in family planning demands being met, and a decline in the average number of children borne by a woman, and prove that the country's population is stabilising and fears over a "population explosion" and calls for a "two-child policy" are misguided.
Experts draw attention to the rise in child marriages recorded by the Survey and appeal that policy makers should pay attention to this area to curb early pregnancies.
Full immunization drive among children aged 12-23 months has recorded substantial improvement across States/UTs/districts.
More than two-third of children are fully immunized in all the States and UTs except Nagaland, Meghalaya and Assam.
This can be attributed to the flagship initiative of Mission Indradhanush launched by the government since 2015.
Mission Indradhanush

: To accelerate the process of immunization by covering 5% and more children every year, Indradhanush mission was adopted.
Mission Indradhanush aims to ensure that at least 90% of the children under the age of two years and pregnant women, who are either unvaccinated, or are partially vaccinated against vaccine preventable diseases, are fully immunized with all available vaccines by 2020.
Mission Indradhanush does not target to reduce post-natal death rate but targets to reduce diseases and death due to vaccine preventable diseases.
Intensified Mission Indradhanush (IMI)- It is a supplemental aggressive action plan to cover all left outs and drop outs in select districts and urban areas with low routine immunization coverage to achieve the target of more than 90% coverage in a specific time-frame (December 2018).
Mission Indradhanush is under the Ministry of Health and Family Welfare.
There is increase in the per cent of women receiving the recommended four or more ANC (antenatal care contacts to reduce perinatal mortality) visits by health providers in many States/UTs. This percentage has increased in 13 States/UTs between 2015-16 to 2019-20.
Institutional births have increased substantially with over four-fifth of the women delivering in institutions in 19 States and UTs.
Along with an increase in institutional births, there has also been a substantial increase in C-section deliveries in many States/UTs especially in private health facilities.
Sex ratio at birth (SRB) has remained unchanged or increased in most States/UTs.
Majority of the states are in normal sex ratio of 952 or above. SRB is below 900 in Telangana, Himachal Pradesh, Goa, DNH & DD.
Child nutrition indicators show a mixed pattern across states.
While the situation improved in many States/UTs, there has been minor deterioration in others.
Drastic changes in respect of stunting and wasting are unlikely in a short period.
Anaemia among women and children continues to be a cause of concern.
More than half of the children and women are anaemic in 13 of the 22 States/UTs.
It has also been observed that anaemia among pregnant women has increased in half of the States/UTs compared to NFHS-4, in spite of substantial increase in the consumption of IFA tablets by pregnant women for 180 days or more.
For both women and men, there is a lot of variation in the high or very high random blood glucose levels across States/UTs.
Men are more likely to have slightly higher blood glucose levels in the range of high or very high compared to women.
The percentage of men with high or very high blood glucose is highest in Kerala (27%) followed by Goa (24%).
Prevalence of elevated blood pressure (hypertension) among men is somewhat higher than in women.
The percentage of households with improved sanitation facility and clean fuel for cooking has increased in almost all the 22 States/UTs over the last four years (from 2015-16 to 2019-20).
Women's empowerment indicators portray considerable improvement across all the States/UTs included in Phase 1.

Considerable progress has been recorded between NFHS-4 and NFHS-5 in regard to women operating bank accounts. 

More than 60 per cent of women in every state and UTs in the first phase have operational bank accounts.
It may also be stated that recurrent floods in Kerala during the time of survey as well as the previous year may have affected the utilization of maternal care services and hence, it may have some unusual/unexpected trend in some of maternal care indicators for some of the districts.
In Tripura from the 4 districts which were previously existing at the time of NFHS-4, 8 new districts were formed which were covered in NFHS-5.
This could have led to compositional changes of the population thereby, being one of the factors impacting negatively the levels of some of the indicators of the state.
Is India facing population explosion as the Prime Minister claimed?
The growth rate of the country's population has been falling since 1971.
India's population growth rate peaked between 1961 and 1971 and has been falling since.
The Census of 2011 counted 121 crore people in the country.
While Total Fertility Rate in rural areas remains higher than in urban areas, it has been declining at a faster rate than the latter, according to successive National Family Health Surveys.
Note

: Andhra Pradesh, Telangana and Uttarakhand were not considered as data was not available.
Limits to Growth (LTG)
The Limits to Growth (LTG) is a 1972 report on the computer simulation of exponential economic and population growth with a finite supply of resources.
It was funded by the Volkswagen Foundation and commissioned by the Club of Rome.
Conclusions
After reviewing their computer simulations, the research team came to the following conclusions:
Given business as usual, i.e., no changes to historical growth trends, the limits to growth on earth would become evident by 2072, leading to "sudden and uncontrollable decline in both population and industrial capacity".
Growth trends existing in 1972 could be altered so that sustainable ecological and economic stability could be achieved.
The sooner the world's people start striving for the second outcome above, the better the chance of achieving it.
D) Polity, Bills, Acts and Judgments
5. Summoning the sessions of a Legislative Assembly and the powers of the Governor (TH)
Context

: The Kerala government has not received the Governor's consent to convene the Assembly to "discuss and reject" the new Central farm laws.
Governor has reportedly asked the government to convince him of the "emergency" that warranted an extraordinary one-day session.
Chief Minister of Kerala has termed the Governor's action unconstitutional.
Analysis
Nabam Rabia and Banan Felix v. Deputy Speaker (2016)
In its judgment, the Supreme Court has made two points clear:
One, the governor has no discretion in the matter of summoning the house if the chief minister enjoys majority in the house and, therefore, is bound to act on the advice of the cabinet.
Two, in case the governor has reason to believe that the chief minister has lost his majority, the governor can use his discretion in fixing the date for summoning the assembly where the chief minister has to test his majority.
Constitutional position of Governor
The Constitution of India provides for a parliamentary form of government in the states as in the Centre.
Consequently, the governor has been made only a nominal executive, the real executive constitutes the council of ministers headed by the chief minister.
In other words, the governor

has to exercise his powers and functions with the aid and advise of the council of ministers headed by the chief minister

, except in matters in which he is required to act in his discretion (i.e., without the advice of ministers).
In estimating the constitutional position of the governor, particular reference has to be made to the provisions of Articles 154, 163 and 164. These are:
(a) The executive power of the state shall be vested in the governor and shall be exercised by him either directly or through officers subordinate to him in accordance with this Constitution (Article 154).
(b) There shall be a council of ministers with the chief minister as the head to aid and advise the governor in the exercise of his functions, except in so far as he is required to exercise his functions in his discretion (Article 163).
(c) The council of ministers shall be collectively responsible to the legislative assembly of the state (Article 164). This provision is the foundation of the parliamentary system of government in the state.
From the above, it is clear that constitutional position of the governor differs from that of the president in the following two respects:
1. While the Constitution envisages the possibility of the governor acting at times in his discretion, no such possibility has been envisaged for the President.
2. After the 42nd Constitutional Amendment (1976), ministerial advice has been made binding on the President, but no such provision has been made with respect to the governor.
The Constitution makes it clear that if any question arises whether a matter falls within the governor's discretion or not, the decision of the governor is final and the validity of anything done by him cannot be called in question on the ground that he ought or ought not to have acted in his discretion.
Constitutional discretion
The governor has constitutional discretion in the following cases:
1. Reservation of a bill for the consideration of the President.
2. Recommendation for the imposition of the President's Rule in the state.
3. While exercising his functions as the administrator of an adjoining union territory (in case of additional charge).
4. Determining the amount payable by the Government of Assam, Meghalaya, Tripura and Mizoram to an autonomous Tribal District Council as royalty accruing from licenses for mineral exploration.
5. Seeking information from the chief minister with regard to the administrative and legislative matters of the state.
Situational discretion
In addition to the above constitutional discretion (i.e., the express discretion mentioned in the Constitution), the governor, like the president, also has situational discretion (i.e., the hidden discretion derived from the exigencies of a prevailing political situation) in the following cases:
1. Appointment of chief minister when no party has a clear-cut majority in the state legislative assembly or when the chief minister in office dies suddenly and there is no obvious successor.
2. Dismissal of the council of ministers when it cannot prove the confidence of the state legislative assembly.
3. Dissolution of the state legislative assembly if the council of ministers has lost its majority.
E) Agriculture, Geography, Environment and Biodiversity
6. 'Fireflies' to shine a light for Great Indian Bustards (TH)
Context

: The Ministry of Environment Forest and Climate Change, along with the Wildlife Conservation Society, India, has come up with a unique initiative — a "firefly bird diverter" for overhead power lines in areas where Great Indian Bustard (GIB) populations are found in the wild.
Analysis
A report by the Ministry, submitted to the National Green Tribunal in 2019, pointed out that power lines, especially high-voltage transmission lines with multiple overhead wires, are the most important current threat for GIBs in the Thar region, and are causing unsustainably high mortality in about 15% of their population.
Firefly bird diverters are flaps installed on power lines. They work as reflectors for bird species like the GIB. Birds can spot them from a distance of about 50 metres and change their path of flight to avoid collision with power lines.
Smaller birds can change their direction [swiftly] but for larger bird species, it is difficult because of their body weight and other factors.
GIBs are one of the heaviest flying birds in India. Therefore, when they encounter these wires, they are unable to change the direction of their flight. Death in most cases is due to impact with the wires and not due to electrocution.
The diverters are called fireflies because they look like fireflies from a distance, shining on power lines in the night.
The selected stretch is opposite the Pokhran Field Firing Range, which offers a safe habitat to a breeding population of GIBs outside the Desert National Park Sanctuary in Jaisalmer.
Great Indian Bustard
It is listed in Schedule I of the Indian Wildlife (Protection) Act, 1972.
It is covered by the Convention on Migratory Species.
It is covered in Appendix I of the Convention on International Trade in Endangered Species of Wild Fauna and Flora (CITES).
It is listed as Critically Endangered on the IUCN Red List.
It has also been identified as

one of the species for the recovery programme under the Integrated

Development of Wildlife Habitats

of the Ministry of Environment and Forests, Government of India and the National Wildlife Action Plan (2002-2016).
Today, its population is confined mostly to Rajasthan and Gujarat.
Small population occur in Maharashtra, Karnataka and Andhra Pradesh.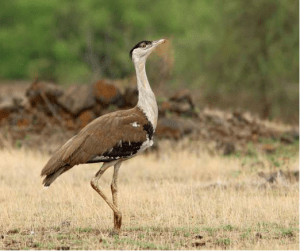 The Great Indian Bustard, one of the heaviest flying birds, can weigh up to 15 kg and grow up to one metre in height.
Less than 200 birds are left now, of which about 100 are in Rajasthan and if it is not protected, it would become the first mega species to disappear from India after Cheetah in recent times.
Alarmed by this, the Union Ministry of Environment and Forests (MoEF) prepared a species recovery programme for the Great Indian Bustard, the Lesser Florican and the Bengal Florican, three of the four bustard species found in India.
All the three birds have been endemic to the grasslands of India and are on the brink of extinction. The fourth one, Houbara, is a migratory species. 
They breed mostly during the monsoon season when females lay a single egg on open ground.
Males have a gular pouch around their neck, which helps produce a resonant booming mating call to attract females and can be heard up to a distance of 500 metres.
Males play no role in the incubation and care of the young, which remain with the mother till the next breeding season.
Rajasthan forest department, finally announced its own Project Great Indian Bustard. The bird also happens to be the state bird of Rajasthan.
The Plan involves constituting enclosures and securing inviolate areas to ensure successful breeding of birds in the Desert National Park.
A good number of birds are also found outside protected areas in Ajmer and Jaisalmer districts.
Habitat loss and degradation appear to be the primary causes of decline.
Integrated Development of Wildlife Habitats (IDWH)
The National Board for Wildlife (NBWL) recently added four species- the Northern River Terrapin (Critically Endangered), Clouded Leopard (Vulnerable), Arabian Sea Humpback Whale (Endangered), Red Panda (Endangered) – to a Recovery Programme for Critically Endangered Species.
It should be noted that all the animals listed under this programme are actually not critically endangered as per IUCN Red List.
The progamme is one of the three components of the centrally funded scheme, Integrated Development of Wildlife Habitats (IDWH).
Started in 2008-09, IDWH is meant for:
providing support to protected areas (national parks, wildlife sanctuaries, conservation reserves and community reserves except tiger reserves),
protection of wildlife outside protected areas and
recovery programmes for saving critically endangered species and habitats.
So far, 17 (now 21) species have been identified under the recovery programme.
These are the Snow Leopard (Vulnerable), Bustard (including Floricans – both Critically Endangered), Dolphin (Endangered), Hangul (Critically Endangered), Nilgiri Tahr (Endangered), Marine Turtles, Dugongs (Vulnerable), Edible Nest Swiftlet (Least Concern), Asian Wild Buffalo (Endangered), Nicobar Megapode (Vulnerable), Manipur Brow-antlered Deer (Endangered), Vultures, Malabar Civet (Critically Endangered), Indian Rhinoceros (Vulnerable), Asiatic Lion (Endangered), Swamp Deer (Barasingha – Vulnerable), and Jerdon's Courser (Critically Endangered).
Both Irrawaddy Dolphin and Ganges River Dolphin are

Endangered

.
Protected Areas, viz., National Parks, Sanctuaries, Conservation Reserves and Community Reserves covering important wildlife habitats have been created all over the country under the provisions of the Wild Life (Protection) Act, 1972 to conserve wild animals and their habitats. 
F) Clever Picks (Miscellaneous)
7. European Green Deal (TH)
In December 2019, the European Commission presented the European Green Deal, its flagship plan that aims to make Europe the first climate neutral continent by 2050.
This target will be reached through the European Climate Law that sets climate neutrality into binding EU legislation.
Currently, at least, five EU countries have set the target of climate neutrality in law: Sweden aims to reach net-zero emissions by 2045 and Denmark, France, Germany and Hungary by 2050.
HFCs, or hydrofluorocarbons, that were at one time seen as the panacea to fix the depletion of the ozone layer.
The depletion of the ozone layer has been fixed more or less, but HFCs are a potent threat from a climate change perspective since their global warming potential is a thousand times that of carbon dioxide.
8. Visva-Bharati University (PIB)
Prime Minister Shri Narendra Modi will address the centenary celebrations of the Visva-Bharati University, Shantiniketan on24th December 2020.
Founded by Rabindranath Tagore (the first non-European Nobel Laureate) in 1921, Visva-Bharati is also the oldest Central University in the country.
In May 1951, Visva-Bharati was declared to be a Central University and "an Institution of National Importance" by an Act of Parliament.
It is the only Central University in West Bengal and the only to have the Prime Minister as its Chancellor.
Click here to get Current Affairs Booster Course
Click here to get our all Courses
Click here to follow our latest updates
If you find this post helpful, then do share your thoughts with us by commenting