UPSC PRELIMS+MAINS
A) Polity/Bills/Acts/Judgments
1. Right to Recall Vs Right to Reject (TH)
Context

: The Haryana Assembly passed a Bill which provides the right to recall members of panchayati raj institutions to those who elected them and gives women 50 per cent reservation in these rural bodies.
The Bill allows the recall of village sarpanches and members of the block-level panchayat samitis and district-level zila parishads if they fail to perform.
Analysis
Right to Recall
The right to recall means that the electorate can ask for their representative to be removed and fresh elections held.
Some states such as Chhattisgarh, Madhya Pradesh and Bihar have processes to recall corporators.
However, these states have restrictive conditions. In Chhattisgarh, the process can be initiated only after three-fourths of fellow councillors ask for a recall election.
The argument for a recall system
There is no system for the people to hold the representative accountable during the term of office. The recall system provides an opportunity to do so.
The arguments against the recall system
First, the recall system may deter policy decisions that provide positive results over a medium- to long-term horizon.
Having the leeway of a longer-term permits representatives to take a long-term view without the fear of being recalled.
Indeed, many governments take tough decisions in their first couple of years.
Second, the recall can work for a person with a very specific role.
For example, a corporator is a directly elected executive position, and has a defined role in ensuring delivery of services.
The role of an MP or an MLA is much broader. They are part of a larger body with the primary role of making laws and holding the central and state governments accountable. It is difficult to set clear performance targets and hold them accountable.
Most votes in our Parliament and state assemblies are voice votes. There is no record of how an individual MP or MLA voted, or even whether he was present in the House at the time of voting.
A mechanism that requires votes to be recorded can provide information to the electorate on the voting pattern of their representative.
Even in that case, the MP (or MLA) may justify his vote as a response to the party whip and the anti-defection law.
It is necessary to revoke the anti-defection law (except for the confidence vote) and for parties to use the whip sparingly before any MP or MLA can be held accountable for their votes in the house.
In sum, the right to recall may be workable for the directly elected executive posts, but is difficult to implement for a legislative role.
Right to Reject
The right to reject proposal stems from the fact that the first-past-the-post (FPTP) system allows a candidate with a minority of votes to win the election.
The FPTP system also gives a disproportionate share of seats to the larger parties.
The proportional representation system allots seats to parties based on their overall vote share.
However, in the absence of geographical constituencies, this system breaks the link between the MP and the electorate.
It also strengthens the power of the party leaderships with respect to their members.
The legislatures of some countries such as Germany and Scotland have a combination of members elected by the FPTP system, and those by a proportional representation system.
The British Parliament had recently proposed another system called the 'alternative vote', which ensures that the elected candidate is among the higher preferences of the majority of voters.
States having 50% reservation for women in Panchayati Raj Institutions
'Panchayat', being "Local government", is a State subject and part of State list of Seventh Schedule of Constitution of India.
Clause (3) of Article 243D of the Constitution ensures participation of women in Panchayati Raj Institutions by mandating not less than one- third reservation for women out of total number of seats to be filled by direct election and number of offices of chairpersons of Panchayats.
As per the information available with the Ministry of Panchayati Raj, 20 States namely Andhra Pradesh, Assam, Bihar, Chhattisgarh, Gujarat, Himachal Pradesh, Jharkhand, Karnataka, Kerala, Madhya Pradesh, Maharashtra, Odisha, Punjab, Rajasthan, Sikkim, Tamil Nadu, Telangana, Tripura, Uttarakhand and West Bengal have made provisions of 50% reservation for women in Panchayati Raj Institutions in their respective State Panchayati Raj Acts.
Further, in terms of clause (4) of Article 243D of the Constitution, the offices of the Chairpersons in the Panchayats at the village or any other level shall be reserved for the Scheduled Castes (as nearly as may be in proportion to their population in the State), the Scheduled Tribes (as nearly as may be in proportion to their population in the State) and women in such manner as the Legislature of a State may, by law, provide, provided further that not less than one-third of the total number of offices of Chairpersons in the Panchayats at each level shall be reserved for women.
2. SC reserves order on GST on lotteries (TH)
Context

: The Supreme Court has reserved its judgment on the constitutional validity of imposing Goods and Services Tax (GST) on sale of lotteries across the country.
Analysis
Petitions filed by lottery dealers argued that the Central GST Act of 2017 and notifications wrongly viewed lotteries as "goods" while they were only "actionable claims".
The SC Bench would primarily heard and pronounce the verdict on charges of discrimination raised against the law for imposing 12% GST on lotteries sold within the same State and 28% GST for sale of tickets from other States.
In the earlier tax regime, no VAT was levied on lotteries, but service tax was levied, the rate of tax was 1.28% or.82% on the face value of the lottery tickets depending on the prize money payout.
Thus, the Legislature never intended to tax the prize money component in the lottery trade, as it did not form part of the income of lottery traders, but payable to the winner of the ticket prize.
However, the notifications levy GST on the face value of the tickets without adjusting or taking into account the prize money component.
B) Agriculture, Geography, Environment and Biodiversity
1. Biodiversity Heritage Sites (TH)
Context

: The Karnataka Biodiversity Board has decided to declare four more areas in the State as biodiversity heritage sites, namely,
Antaragange Betta in Kolar;
Aadi Narayana Swamy Betta in Chickballapur;
Mahima Ranga Betta in Nelamangala, Bengaluru; and
Urumbi area on the Kumaradhara river basin in Dakshina Kannada.
Biodiversity heritage sites are considered unique and fragile ecosystems that can be marine ecosystems, coastal and inland waters, or terrestrial areas.
For Biodiversity Heritage Sites of India refer to 11th Oct file.
2. Glacial Lake Outburst Floods (GLOF) (TH)
Context

: Using remote sensing data, researchers from Germany have mapped the evolution of Gya glacial lake that outburst in 2014 and note the cause of the flood.
Most interesting was finding the cause of the flood —here the flooding did not happen due to the spillovers due to an avalanche or landslide, rather there was a thawing of the ice cores in the moraine [a field of dirt and rocks that have been pushed along by the glacier as it moves] which drained through the subsurface tunnels.
Analysis
As glaciers retreat, the formation of glacial lakes takes place behind moraine (glacial debris left behind after the ice has retreated), rock or ice dam.
In particular moraine dams, which is the most common dam type in the Himalayan region, are potentially weak and can breach suddenly, leading to a discharge up to millions of cubic meters of water and debris.
Glacial Lake Outburst Floods (GLOF) is a term used to describe a sudden release of water retained in a glacial lake that can be located in front, at the side, underneath, within, or on top of a glacier.
Large lakes located in front of the glacier are mainly dammed by loose moraine and these lakes are generally considered to be potential flood sources.
Different types of lakes may have different levels of hazard potential.
For instance, moraine-dammed lakes located at the snout of a glacier have a high probability of breaching and thus may have high hazard potential, whereas rock dam's lakes have little chances of breaching and thus have a lower hazard potential.
Much of the damage caused during GLOF events are associated with large amounts of debris / boulders that accompany the floodwaters.
Continued climate change is expected to alter and potentially increase the likelihood of lake outbursts in the future, as:
glacial lakes grow in size and number,
stability of steep slopes is weakened due to changes in thermal and mechanical conditions, and
heavy rainfall increases landslide activity.
In total, there are about 9,575 glaciers in the Indian Himalayan Region (IHR), spread across 6 states and union territories i.e., Jammu-Kashmir, Ladakh, Himachal Pradesh, Uttarakhand, Sikkim and Arunachal Pradesh.
In some cases, cloudbursts can also trigger glacial lake outburst flood events like in the Kedarnath disaster in 2013.
While these events have been regarded as a major risk in the central Himalayan region including Sikkim, the arid Trans-Himalayan regions of Ladakh have received attention only recently.
Here the glaciers are located at high altitudes not lower than 5,200 m and most glaciers are of small size. Likewise, the glacial lakes are quite small in size.
GLOFs are recognized in the National Disaster Management Plan (NDMP) 2019 of India as a potential climatological disaster.
Early Warning Systems (EWS) has a prominent role in the international policy agenda and is aligned directly with Priority 4 of the Sendai Framework on Disaster Risk Reduction (DRR), and UN Sustainable Development Goal (SDG) 13 on Climate Action.
Four key elements of Early Warning Systems, according to the UNISDR are:
i) Risk Knowledge;
ii) Monitoring and Warning Service;
iii) Dissemination and Communication; and
iv) Response Capability.
C) International Relations
1. Months after starting Chabahar rail project without India, Iran seeks help (TH)
Context

: India is not a part of the Chabahar-Zahedan railway at present, but as Iran begins the second phase of the 628-km project, Tehran hopes New Delhi will help it procure equipment to run the rail line from the Chabahar port to the Afghan border that it has had difficulty in procuring them directly due to the U.S.-imposed sanctions.
Analysis
Delays due to sanctions have also taken a toll on the Indian interest in developing the Farzad-B gas field, where ONGC Videsh made a discovery in 2008.
New Delhi is also watching negotiations on a 25-year strategic cooperation agreement between China and Iran believed to be worth $400 billion, which could fund other parts of the Chabahar development, including a free trade zone along the Makran coast, and oil infrastructure projects.
Chabahar port and Delaram-Zaranj Highway Delaram-Zaranj Highway
Iran's Chabahar port is located on the Gulf of Oman and is the only oceanic port of the country.
The port gives access to the energy-rich Persian Gulf nations' southern coast and India can bypass Pakistan with the Chabahar port becoming functional.
Delaram-Zaranj Highway
In 2003, a trilateral agreement was signed among India, Iran and Afghanistan.
Under this agreement,
Iran was to build a highway from Chabahar (a Port City of Iran) upto Afghanistan border.
India was to build a road about 200km in length connecting Delaram (border city of Afghanistan) to Zaranj (Capital of Nimruz province of Afghanistan)
Border Roads Organization (BRO) of India has constructed this highway.
Construction started in 2005, and in 2009 the road was opened for public use.
2. Crisis in Yemen (TH)
Context

: The Supreme Court has sought the government's response on an urgent plea from a 33-year-old Tirunelveli resident to rescue her husband and other Indian workers held "captive" by Houthi rebels in Yemen.
Analysis
Yemen Crises: The Timeline
April 2020: Yemen separatists declare self-rule in south
Yemen's main southern separatist group announced that it would establish self-rule in areas under its control, which the Saudi-backed government warned would have "catastrophic consequences".
The move threatens to renew conflict between the UAE-backed separatist Southern Transitional Council (STC) and the Saudi-backed government, allies in Yemen's war.
The STC is one of the main groups fighting against the Houthis as part of a coalition led by Saudi Arabia. But the separatists have clashed with government forces in the past.
September 2019: Bombing of oil field in Saudi Arabia
In September 2019, the Houthis, a rebel Shia group of Yemen that is backed by Iran, bombed the Abqaiq plant as well as the Khurais oil field in Saudi Arabia.
Saudi Aramco describes Abqaiq as "the largest crude oil stabilization plant in the world," and the Khurais is considered Saudi Arabia's second-largest oil field (see map below):
In recent months, the Houthi rebels have carried out a spate of cross-border missile and drone attacks targeting Saudi air bases and other facilities in what they say is retaliation for a long-running Saudi-led bombing campaign on rebel-held areas in Yemen.
The latest attack, 

executed by drones

, meant that Saudi Aramco, the state-owned oil company, had to not only suspend the production of almost 6 million barrels per day (about 6 per cent of global oil supply) but also restrict the use of 2 mbd of spare capacity.
This is the largest-ever disruption in crude oil production in Saudi Arabia, which supplies 10 per cent of global world supply and is the world's largest crude oil exporter.
India is world's third largest crude importer after China and U.S. (with Saudi Arabia supplying nearly a fifth of India's imports).
Iraq was India's primary source of crude oil between January and July 2019; Saudi Arabia was a close second.
The Yemen Crisis: Background
Yemen crisis: Who is fighting whom?
Yemen, one of the Arab world's poorest countries, has been devastated by a civil war.
Failed political transition following an Arab Spring uprising that forced its long-time authoritarian president, Ali Abdullah Saleh, to hand over power to his deputy Abdrabbuh Mansour Hadi, in 2011.
President Hadi struggled to deal with a variety of problems, including
attacks by al-Qaeda,
a separatist movement in the south,
the continuing loyalty of many military officers to Mr Saleh, as well as
corruption, unemployment and food insecurity.
The Houthi

movement

(by Yemen's Zaidi Shia Muslim minority) took advantage of the new president's weakness by taking control of their northern heartland of Saada province and neighbouring areas and later forcing Mr Hadi to flee to Riyadh where he currently heads an 'internationally recognised' but largely ineffective government of Yemen.
Yemen's internationally-backed government of Abdrabbuh Mansur Hadi, the Saudi ally, is controlling the south, though Mr. Hadi is running the purported administration from Saudi Arabia.
Disillusioned with the transition, many ordinary Yemenis – including Sunnis – supported the Houthis.
Alarmed by the rise of Houthis – believed to be backed militarily by regional Shia power Iran, Saudi Arabia and other mostly Sunni Arab states (UAE, Bahrain, Kuwait, Qatar, Jordan, Sudan, Egypt- mostly Sunni powers) began an air campaign ("Operation Decisive Storm") aimed at restoring Mr Hadi's government.
The coalition received logistical and intelligence support from the US, UK and France.
Four years on, the civil war has ground to a stalemate, with the al-Houthis hunkering it out in the north.
The United Nations has described Yemen to be currently in the grip of the world's worst humanitarian catastrophe, with over 11,000 deaths and 3 million internally displaced.
A three-way conflict
The UAE-backed Southern Transitional Council (STC), which was formed in mid-2017, calls for an independent South Yemen and is vehemently against the presence of Islamists in Yemen such as Islah party (member of Saudi-led coalition), al-Qaeda in the Arabian Peninsula and the Islamic State.
Recently, the Southern Transitional Council (STC), a militia group that was fighting the Houthis as part of the Saudi-led coalition, turned against their masters and captured the presidential palace in Aden as well as the city's main port.
In return, Saudi jets targeted STC fighters before a tenuous ceasefire set in. It now looks like a three-way conflict.
The

STC wants the south to be an independent entity

, like it was till the Yemeni unification in 1990.
Other related aspects
Island of Socotra – a UNESCO world Heritage Site where UAE, coalition partner of Saudi Arabia had deployed its security forces.
Operation Golden Victory
A large-scale ground operation to liberate Yemen's Hodeidah city and its main port west of the country.
It has been launched by Yemen forces supported by the Arab coalition led by Saudi Arabia.
Operation Rahat
It was launched by India to evacuate its citizens from Yemen in 2015 after an Arab coalition led by Saudi Arabia and UAE intervened in Yemen.
India has also teamed up with the United Arab Emirates in providing major humanitarian and post-traumatic medical support to the soldiers of Yemen who were injured in the ongoing war against the rebels of that country.
So far, India has treated victims from Iraq and Syria on a bilateral basis.
However, this is the first time that such an operation is being conducted through support from a third country – the UAE.
Forward defence doctrine
Iran has adopted a 'forward defence' doctrine which involves empowering militias and proxies in other countries, such as the Hezbollah in Lebanon, mobilisation units in Iraq and Syria, and the Houthis in Yemen.
Yemen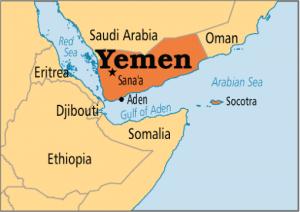 Yemen borders both Saudi Arabia and Oman.
Yemen borders both Red Sea and Gulf of Aden.
While almost all Yemenis are Muslims, the population in the north is mostly Zaidi which is closer to the Shia sect followed in Iran.
The southerners are mostly Sunnis akin to a majority of the Gulf Cooperation Council (GCC) citizens.
Bab al-Mandeb Strait is a geo-strategic choke point connecting the Arabian Sea with the Red Sea onwards to the Suez Canal.
Most of India's west-bound sea trade passes through Bab al Mandeb.
D) Economy
1. Indian pepper has suffered a sharp erosion in domestic prices (TH)
Indian pepper has suffered a sharp erosion in domestic prices as unrestricted dumping of Vietnamese pepper — via Nepal and Sri Lanka — has gained momentum in the last couple of years.
In recent years, there has been a surge in Vietnam's pepper exports to India via Nepal. Something that started with just 48 tonnes in 2015 has reached 5,930 tonnes in 2019, which clearly suggests the plausibility of routing pepper through Nepal.
Under the FTA, Sri Lanka can export up to 2,500 tonnes per year at zero duty, while the duty is 8% under the SAARC agreement and 50% under the ASEAN pact.
E) Science and Technology/Defence/Space
1. Myopia or shortsightedness (TH)
Context

: Myopia or shortsightedness is turning out to be an epidemic across India, and indeed even more in Southeast Asia.
It occurs because of the potential role of myopic genes and also local environmental conditions such as the prolonged 'near work' and/or less sunlight exposure, and not because of any infection due to harmful germs.
Analysis
What is myopia?
Myopia occurs when the eyeball becomes longer, relative to the focusing power of the cornea and the lens; this leads to focus not on the surface of the retina, but at a point before it.
This leads you to find it difficult to focus distant objects clearly, though you can see close-up objects such as while reading and using the computer use.
Less time spent outdoors is a risk factor for myopia
Ambient levels of light during daytime tend to be over 10 to 100 times brighter than that indoors.
There are various ways in which such outdoor brightness helps protect the human eye from becoming myopic.
(1) If you are in an open space, and not performing any 'near work', the stress on the eye is reduced.
(2) Outdoor environment provides equal optical stimuli to various parts of the peripheral retina (the posterior part of the eye) and also enables exposure to different colours (the so called VIBGYOR) equally well, while indoor lighting using artificial sources that cut off specific wavelengths.
(3) Upon bright illumination in sunlight, the pupil reduces its size and reduces blur, and increase the depth of focus.
(4) Sunlight exposure helps the biology of the eye, helping it to produce more vitamin D.
(5) Exposure to bright light releases the hormone dopamine, which controls the length of the eye ball; the shorter it is, myopia might set in.
Years of study have identified a number of risk factors for myopia, such as family history, genetics, urban living environment.
Recent studies also indicate that shorter sleep duration and poorer sleep quality are associated with the development of myopia.
They disturb the circadian rhythm of the body, particularly in the brain, and also strain the retina.
Thus, early to bed and deep sleep are preventive measures against the onset of myopia.
2. Lady of Bietikow (TH)
Context

: German researchers are piecing together the life of a prehistoric woman who died more than 5,000 years ago in the Neolithic period, after her skeleton was found when excavating for wind turbines.
Analysis
The "Lady of Bietikow," as she has been named, was found near a village of the same name in northeastern

Germany's Uckermark region

.
She lived during the same period as Oetzi the Iceman, the stunningly preserved corpse found by tourists in the Alps in the 1990s.
It was during the Neolithic period that humans first introduced grains into their diet, since they could be stored more easily than meat and could also be used as a means of payment.
However, this led to a deterioration in people's general health.
After death however, teeth become the most durable part of the body, which explains why they are often found with ancient skeletons.
Dental remains are a common feature in archaeological digs, although often many teeth are missing – they may have been lost prior to death, dropped out or they may have been lost in the excavation process.
The burial site can also play a role – skeletons preserved in very dry or very wet conditions tend to survive well.
When in your mouth teeth are always surrounding by saliva which provides constant microbes; as you consume refine sugar substance or sticky sugar substance that retain on the groove on your teeth.
Now the bacteria present in your mouth thrive on the auger present in groove on your teeth they consume the sugar and digest it by glycolysis which ultimately produces acid. This acid can now dissolve the minerals present in the enamel leading to dental caries.
When person dies the body undergo necrosis in which the microbes that take part are anerobic bacteria that do not require any other substance; they slowly degrade the body.
But they cannot destroy the enamel of the tooth easily as the organic content of the enamel is 4% other 96% are inorganic content that is minerals.
How different are the brains of birds from those of mammals? (TH)
The cognitive skills of mammals are related to the cerebral cortex.
But birds don't have this cerebral cortex, they have a region called the pallium, and studies on this region have now revealed new information on its architecture.
The brains of the birds have an organisation similar to mammalian brains. The fibres arranged horizontally and vertically, just like in the neocortex region of the mammal brain.
The study addresses how mammals and birds show such similar perceptual and cognitive feats.
Ultralow temperatures (TH)
Most of the COVID-19 vaccines, the RNA vaccines in particular, that are in the advanced stage of Phase-3 trials require –70 degrees C to –80 degree C cold-chain.
The Ebola vaccine, too, requires the same kind of cold storage.
This kind of storage was difficult to establish in West Africa, but was managed on the scale needed for Ebola — which is in the hundred thousand doses range.
But when we need tens and hundreds of millions of doses, do not know how feasible that will be in the U.S. or UK, let alone in India.
3. India successfully launches earth observation satellite EOS-01 (TH)
Context

: India successfully launched its latest earth observation satellite EOS-01 and nine international customer spacecraft on board a Polar rocket from the spaceport, in its first mission this year amid the COVID-19 pandemic.
Analysis
The Indian Space Research Organisation's (ISRO) workhorse Polar Satellite Launch Vehicle (PSLV-C49), in its 51st flight, injected EOS-01, intended for applications in agriculture, forestry and disaster management support, and other satellites, one by one in orbit, around 20 minutes after lift-off from the Satish Dhawan Space Centre (SDSC), about 110 km from Chennai.
'Unusual for ISRO'
ISRO Chairman K. Sivan described the mission as a "success" and termed it "unusual" for ISRO as a rocket launch cannot happen like "work from home" and all engineers and technicians had to travel from different centres and work together at Sriharikota for rocket launches.
What Is a Satellite?
A satellite is a moon, planet or machine that orbits a planet or star.
For example, Earth is a satellite because it orbits the sun.
Likewise, the moon is a satellite because it orbits Earth.
Usually, the word "satellite" refers to a machine that is launched into space and moves around Earth or another body in space.
Earth and the moon are examples of natural satellites.
Thousands of artificial, or man-made, satellites orbit Earth.
Sputnik 1 was the first satellite in space. The Soviet Union launched it in 1957.
A group of more than 20 satellites make up the Global Positioning System, or GPS.
Satellites also can see into space better than telescopes at Earth's surface.
That's because satellites fly above the clouds, dust and molecules in the atmosphere that can block the view from ground level.
Before satellites, TV signals didn't go very far.

TV signals only travel in straight lines

. So, they would quickly trail off into space instead of following Earth's curve. Sometimes mountains or tall buildings would block them.
With satellites, TV signals and phone calls are sent upward to a satellite. Then, almost instantly, the satellite can send them back down to different locations on Earth.
How Do Satellites Orbit Earth?
A satellite orbits Earth when its speed is balanced by the pull of Earth's gravity.
Without this balance, the satellite would fly in a straight line off into space or fall back to Earth.
Satellites orbit Earth at different heights, different speeds and along different paths.
The two most common types of orbit are "geostationary" and "polar."
A geostationary satellite travels from west to east over the equator.
It moves in the same direction and at the same rate Earth is spinning.
From Earth, a geostationary satellite looks like it is standing still since it is always above the same location.
Polar-orbiting satellites travel in a north-south direction from pole to pole.
As Earth spins underneath, these satellites can scan the entire globe, one strip at a time.
Why Don't Satellites Crash Into Each Other?
Collisions are rare because when a satellite is launched, it is placed into an orbit designed to avoid other satellites.
In February 2009, two communications satellites – one American and one Russian – collided in space.
Click here to get Current Affairs Booster Course
Click here to get our all Courses
Click here to follow our latest updates
If you find this post helpful, then do share your thoughts with us by commenting