UPSC PRELIMS+MAINS
A) International Relations
1. Resignation of Kosovo President and the International Criminal Court (ICC) (TH)
Context

: Kosovo's President Hashim Thaci, a guerrilla leader during Kosovo's war for independence from Serbia in the 1990s, resigned and will face charges for war crimes at a special court in The Hague.
Analysis
Kosovo Dispute
Kosovo is a self-declared independent country in the

 

Balkans region

of Europe.
Although the United States and most members of the European Union (EU) recognized Kosovo's declaration of independence from Serbia in 2008, Serbia, Russia, and a significant number of other countries—including several EU members—did not.
Balkans, also called Balkan Peninsula, is the

easternmost

of Europe's three great southern peninsulas

(the other two are from west to east are – Iberian Peninsula and Italian Peninsula).

The Balkans are usually characterized as comprising Albania, Bosnia and Herzegovina, Bulgaria, Croatia, Kosovo, Macedonia, Montenegro, Romania, Serbia, and Slovenia—with all or part of each of those countries located within the peninsula.
The International Criminal Court
The International Criminal Court (ICC), governed by the Rome Statute, is the first permanent, treaty-based, international criminal court.
Earlier international criminal courts were established to try crimes committed only within a specific time-frame and during a specific conflict.
The ICC is an independent international organisation, and

is not part of the United Nations system.

Its seat is at The Hague in the Netherlands.
Although the Court's expenses are funded primarily by States Parties to the Rome Statute, it also receives voluntary contributions from governments, international organisations, individuals, corporations and other entities.
It is mandated with investigating and prosecuting (four) crimes of genocide, crimes against humanity, crime of aggression, and war crimes.
The Court may exercise jurisdiction over such international crimes only if they were committed on the territory of a State Party or by one of its nationals.
Matters referred to ICC by the United Nations Security Council, whose resolutions are binding on all UN member states, are also tried
ICC can initiate an investigation or prosecution in three different ways: "
States Parties to the Statute of the ICC can refer situations to it
United Nations Security Council can request ICC to launch an investigation
It may initiate investigations proprio motu (on its own initiative) on the basis of information received from reliable sources.
No immunity is granted to any person acting in an official capacity as a head of state, member of government or parliament or as an elected representative or public official
In no way, ICC exempts a person from prosecution or criminal responsibility.
However, the ICC cannot prosecute persons who were under the age of 18 at the time a crime was allegedly committed.
For the first time in the history of international criminal justice, victims have the right to participate in proceedings and request reparations.
This means that they may not only testify as witnesses, but also present their views and concerns at all stages of the proceedings
The Rome Statute is the founding treaty of the International Criminal Court. Rome Statute then took effect in 2002, upon ratification by 60 States
The ICC has jurisdiction over the most serious crimes of concern to the international community as a whole, namely genocide, crimes against humanity and war crimes, when committed after 1 July 2002.
Each of these crimes is clearly defined in the Rome Statute and other relevant texts.
Under the Rome Statute, the International Criminal Court (ICC) can only investigate and prosecute for international crimes in situations where states are "unable" or "unwilling" to do so themselves; the jurisdiction of the court is complementary to jurisdictions of domestic courts.
This fundamental principle is known as the principle of complementarity.
The court has jurisdiction over crimes only if they are committed in the territory of a state party or if they are committed by a national of a state party.
The ICC has jurisdiction over the gravest instances of atrocity crimes and targets only the highest priority perpetrators of these crimes.
The ICC prosecutes individuals, not organizations or governments.
The ICC is not part of the United Nations.
The UN Security Council is empowered, under the Rome Statute, to refer complaints against non-member nations to the International Criminal Court.
Cases are referred to the court by national governments or the United Nations Security Council.
The 18 judges of the Court serve nine-year terms.
The governing body of ICC, the Assembly of States Parties (ASP), currently consists of 123 countries that have ratified and acceded to the Rome Statute: largest number of countries are from the Africa region.
Kiribati recently became the latest country to ratify Rome Statute in November 2019.
Burundi withdrew from the ICC effective October 2017, and the Philippines gave notice of withdrawal in March 2018, which goes into effect one year later.
An effort by the government of Kenya – at a time when its president and deputy president were facing charges before the court – to lead a mass withdrawal of African states from the treaty failed to materialize.
Burundi is the first member-country to leave the ICC because, in September 2017, a UN commission investigating violence for over two years under President Pierre Nkurunziza recommended a criminal investigation by the court.
Some notable countries like United States, Russia, India, China, Israel, Qatar, Iraq, and Libya – aren't part of the ICC.
The Rome Statute has been signed by 139 countries, and 123 have ratified it through their Parliaments and internal process.
Although the U.S. was part of the founding movement to build the ICC to try cases of genocide and war crime, especially after the courts in Rwanda failed, it decided not to ratify the Statute in 2002.
Countries like Russia, China and India, however, were never in favour of the Rome Statute or the ICC, and never signed on.

For India, the decision was based on a number of principles.

To start with, the ICC is a criminal court, unlike the International Court of Justice (which adjudicates on civil matters), and arrogates to itself the right to prosecute matters against countries that aren't even signatories.
"India said that the Statute gave to the UN Security Council a role in terms that violates international law by giving the power to refer cases to the ICC, the power to block such references and the power to bind non-State parties to such decisions," former Indian envoy to the UN Asoke Mukerji told The Hindu, explaining that India based its objections on the basis of the Vienna Convention on the Law of Treaties.
India also objected to the omission of cross-border terror, use of nuclear arms and weapons of mass destruction from the areas the ICC would institute its investigations.
2. Tigray Emergency (TH)
Context

: Ethiopian lawmakers endorsed a six-month state of emergency in the northern region of Tigray, a day after Prime Minister Abiy Ahmed, ordered military operations against Tigray in an escalation of a long-running feud.
The move is part of an attempt by Mr. Abiy, winner of last year's Nobel Peace Prize partly for making peace with Eritrea, to assert federal control over a region whose ruling party has openly defied him for months and brands him as illegitimate.
Analysis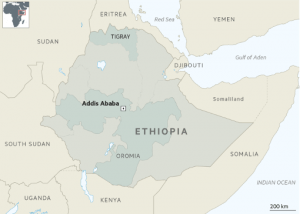 Tigray, the northernmost region of Ethiopia, Africa's second-most populous nation, is home to the Tigrayan people who make up an estimated 6 percent of the country's population.
Despite its small numbers, the Tigrayan ethnic group has for almost three decades enjoyed disproportionate power and influence in government affairs.
Anti-government protests propelled Mr. Abiy into the prime minister's office in 2018.
Soon after, members of the Tigray ethnic group were purged from positions of power and arrested in corruption and security-related crackdowns — opening a deep chasm between the Tigray region, governed by the Tigray People's Liberation Front, or T.P.L.F., and the federal government.
Abiy has said that he wants to unify the country by increasing the federal government's power and minimizing the autonomy of the regional governments.
But Tigray has openly resisted, and other regions and ethnic groups are uneasy with Mr. Abiy's centralization push.
Besides battling the pandemic and working to boost a debt-laden economy, Mr. Abiy is confronting disaffection within his own Oromo ethnic community, many of whom say they do not see much progress despite his promises of change.
The violence in Tigray could draw in nearby Eritrea, which is now allied with Ethiopia's federal government and has a long-established resentment toward the T.P.L.F.
Many veterans from the T.P.L.F. who participated in the Ethiopian-Eritrean war between 1998 and 2000 are now part of the Tigray region's paramilitary forces.
Tigray has a paramilitary force and a local militia thought to number about 250,000 troops, according to the International Crisis Group.
Abiy is also engaged in a high-profile standoff with Egypt over a hydroelectric dam that Ethiopia is building on the Nile, which will be the largest in Africa when completed.
The

Grand Ethiopian Renaissance Dam (GERD)

, formerly known as the Millennium Dam, is under construction in the Benishangul-Gumuz region of Ethiopia, on the Blue Nile River.
Horn of Africa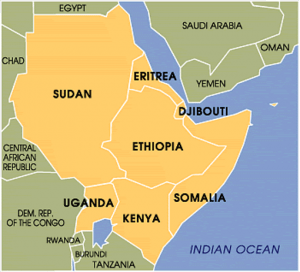 Horn of Africa is the easternmost extension of African land and is defined as the region that is home to the countries of Djibouti, Eritrea, Ethiopia, and Somalia, whose cultures have been linked throughout their long history.
Other definitions of the Horn of Africa are more restrictive and exclude some or all of the countries of Djibouti, Eritrea, and Ethiopia.
There are also broader definitions, the most common of which include all the countries mentioned above, as well as parts or all of Kenya, Sudan, South Sudan, and Uganda.
Part of the Horn of Africa region is also known as the Somali peninsula; this term is typically used when referring to lands of Somalia and eastern Ethiopia.
B) Indices/Committees/Reports/Organisations
1. Software Technology Parks of India (STPI) (TH)
Context

: The Software Technology Parks of India (STPI) is investing up to ₹400 crore in setting up office and connectivity infrastructure across several cities, offering small technology firms a 'plug-and-play' facility.
Analysis
Software Technology Parks of India (STPI) was set up in 1991 as an autonomous society under the Ministry of Electronics and Information Technology (MeitY).
STPI's main objective has been the promotion of software exports from the country.
STPI acts as 'single-window in providing services to the software exporters.
STPI has been implementing the Software Technology Park (STP) scheme and the Electronics Hardware Technology Park (EHTP) scheme for the promotion of IT/ITES industry.
STP Scheme is a unique scheme, designed to promote the software industry and growth of startups and SMEs without any locational constraints.
BPO Schemes
India BPO Promotion Scheme and North East BPO Promotion Scheme
STPI is the nodal agency for implementation of India BPO Promotion Scheme (IBPS) and North East BPO Promotion scheme (NEBPS) under Digital India Initiative.
The objectives of the schemes are to create around 1.5 lakhs job opportunities for the local youths of smaller towns and to attract investments in the respective regions for all round development.
The schemes provide financial support along with several special incentives like encouraging employment to women and physically disabled persons, setting up operations at other than State Capitals, promoting local entrepreneurs etc. up to 1 lakh/ seat in the form of Viability Gap Funding (VGF).
Semiconductor Measurement Analysis & Reliability Test (SMART) Lab
STPI in collaboration with Govt. of Karnataka has setup a STPI Semiconductor Measurement Analysis & Reliability Test (SMART) Lab at Bangalore.
A first of its kind initiative driven by STPI enabling start-ups and semiconductor companies to test their chip designs locally and reduce product design cycle and operation costs.
FabLab
STPI in collaboration with Fab Foundation has set up FabLab at Bhubaneswar in 2019 to provide access to the tools, the knowledge and the financial means to educate, innovate and invent using technology and digital fabrication to allow anyone to make anything, and thereby creating opportunities to improve lives and livelihoods in India.
Electropreneur Park
Electronic System Design and Manufacturing (ESDM) is one of the fastest growing sectors of the Indian economy.
In order to support the new entrepreneurs of this industry, STPI in association with University of Delhi and Indian Electronics and Semiconductor Association (IESA) has set up an Electropreneur Park in the Delhi University campus in 2016.
The initiative will support 50 startups in ESDM space and aims to create at least 5 global companies over a period of five years.
Centre of Excellences (CoEs):
In order to build leadership and to build next wave of budding entrepreneurs in the emerging sectors of technology like Internet of things (IoT), Blockchain, FinTech, Artificial Intelligence (AI), Augmented & Virtual Reality (AR/VR), ESDM, Data Science & Analytics, Medical Electronics & Healthcare, Gaming & Animation, Machine Learning, Cyber Security, DroneTech, LegalTech etc., STPI has embarked on launching CoEs in specific domains pan-India.
2. Organisation for Security and co-operation in Europe (OSCE) (TH)
Context

: The observers from the

Organisation for Security and co-operation in Europe (OSCE)

, of which the United States is a member, has described U.S. President Donald Trump's claims of voter fraud as "baseless allegations", asserting that such remarks harm public trust in democratic institutions.
Analysis
With 57 participating States in North America, Europe and Central Asia, including Russia (but not India), the OSCE – the Organization for Security and Co-operation in Europe –

is the world's largest regional

security-oriented intergovernmental organization.
Its mandate includes issues have an impact on common security, such as arms control and the promotion of human rights, freedom of the press and fair elections, terrorism, good governance, energy security, human trafficking, democratization, and national minorities.
The OSCE works for stability, peace and democracy through political dialogue.
The organization uses a comprehensive approach to security that encompasses the politico-military, economic and environmental, and human dimensions.
Through this approach, and with its inclusive membership, the OSCE helps bridge differences and build trust between states by co-operating on conflict prevention, crisis management and post-conflict rehabilitation.
C) Geography, Environment and Biodiversity
1. Discovery of palm fossils in Himalayas (IE)
Context

: Noted geologist Ritesh Arya has discovered a 20 million-year-old, four-foot-long fossil of palm leaves from the fragile rocks of Ladakh — a finding that reinforces the theory that the towering peaks of Himalayas have emerged from the Tethys ocean.
Fig. Rare 20 million-year-old palm fossil found in Ladakh
Analysis
Tethys was once separating India from Tibet in geological history till 20 million years ago.
The presence of fossils of palm from the sediments of Indus molasse in Ladakh clearly shows Ladakh Himalayas were once below the sea.
Probably the area till sediments from where the fossils were found were below the sea. Palm fossils represent near-coastal environment. He said this plant was not found anywhere in the Himalayas.
Arya added the large size of the actual specimens of fossils showed that conditions at the time of deposition would have been hot and humid, similar to equatorial climatic conditions.
Fossils of palm leaves were found in Kasauli by Medlicott in 1864, which were named Sabal Major.
Other evidences of near coastal faces for Kasauli formation have been established by Arya on the basis of fossils of garcinia, gluta, combretum and syzygium, which were discovered by him in 1994.
2. Air quality monitoring in India (TH)
Context

: Severely polluted days in Delhi are again started to increase as the winter are coming.
Analysis
SAFAR
SAFAR envisages a research-based management system where strategies of air pollution mitigation go hand in hand with nation's economic development to target a win-win scenario.
Under the plan scheme "Metropolitan Advisories for Cities for Sports and Tourism (Metropolitan Air Quality and Weather Services),

Ministry of Earth Sciences (MoES)

, has introduced a major national initiative, "System of Air Quality and Weather Forecasting and Research" known as "SAFAR"

for greater metropolitan cities of India

to provide location specific information on air quality in near real time and its forecast 1-3 days in advance for the first time in India.
It has been combined with the early warning system on weather parameters.
The system, first of its kind in the country, was developed indigenously in record time by Indian Institute of Tropical Meteorology, Pune, along with India Meteorological Department (IMD) and National Centre for Medium Range Weather Forecasting (NCMRWF). and operationalized by India Meteorological Department (IMD).
The implementation of SAFAR is made possible with an active collaboration with local municipal corporations and various local educational institutions and governmental agencies in that Metro city.
In addition to regular air quality parameters like PM2.5, PM10, Sulfur Dioxide, Ozone, Nitrogen Oxides, Carbon Monoxide, the system will also monitor the existence of Benzene, Toluene and Xylene.
This mission model project SAFAR is implemented in four cities of India – Delhi, Pune, Mumbai and Ahmedabad as an operational service.
Through SAFAR we can know the air quality not only over all city pollution but also location specific air quality.
The ultimate objective of the project is to increase awareness among general public regarding the air quality in their city well in advance so that appropriate mitigation measures and systematic action can be taken up for betterment of air quality and related health issues.
Recently, the government unveiled a state-of-the-art Air Quality and Weather Forecast System– SAFAR (System of Air Quality and Weather Forecasting) at Chandni Chowk in Delhi.
The giant true colour LED display gives out real-time air quality index on 24×7 basis with colour coding along with 72-hour advance forecast.
SAFAR has been coming out with daily bulletins on Delhi's air quality and it also has the percentage contribution of stubble burning in neighbouring States to Delhi's air pollution. The contribution has ranged from 0% to 9% from October 9-16.
SAFAR takes into account the number of fires that is happening in Delhi's neighbouring States from four different satellites (of which only two are Indian so that it will be more accurate) and calculates the amount of PM2.5 based on it.
This data is fed to a Chemistry Transport Forecast Model, which is basically a software, that will take into consideration different factors such as wind speed, temperature and rain among others to find how much of the PM2.5 generated would reach Delhi.
National Clean Air Programme 
It has been launched by the Ministry of Environment, Forest and Climate Change.
It is a medium term(five-year action plan with 2019 as the first year) national level strategy to tackle the increasing air pollution problem across the country.
It aims to reduce particulate matter (PM) pollution by 20-30% in at least 102 most polluted cities by 2024.
It includes both monitoring network across the country besides ensuring comprehensive management plan for prevention, control and abatement of air pollution.
Integral components of the strategy framework:
increasing number of existing manual and continuous monitoring stations,
introducing rural monitoring stations
identifying alternative technology for real-time monitoring network
augmenting capabilities of existing monitoring stations to measure PM2.5 concentration
an Air Information Centre as well as an Air Quality Forecasting system
both city-specific source apportionment studies as well as a national-level emission inventory.
While the document (NCAP) mentions emission reduction targets, nowhere does it actually quantify these targets. 
City level action plans of around 102 cities had been approved by the Central Pollution Control Board (CPCB) to meet the NCAP target of 20% to 30% reduction in PM 2.5 (respirable pollution particles) concentrations over 2017 annual concentration.
Some of the important measures that are to be taken by the Centre under NCAP include:
setting up a web-based system for monitoring of compliance with NCAP targets;
a comprehensive regional plan to be formulated by incorporating inputs from regional source apportionment studies, such as a regional plan for the Indo-Gangetic plain region;
compliance by all thermal power plants with the emission norms by December 2022;
switch over to gaseous fuels in industries, including small and medium enterprises by December 2022;
enforcement of new and stringent sulphur dioxide (SO2)/ oxides of nitrogen (NOx) / PM2.5 standards for industries using solid fuels by 2020;
mandatory waste segregation at source and state level air pollution action plan, among others.
National Air Quality Index (AQI)
The air quality index (AQI) is an index for reporting air quality on a daily basis.
The purpose of the AQI is to help people know how the local air quality impacts their health.
The Central Pollution Control Board (Ministry of Environment, Forest and Climate Change) calculates the AQI
AQI is an initiative under 'Swachh Bharat'
It is to act as 'One Number- One Colour-One Description' to judge the Air Quality for Common Man.
There are six AQI categories, namely Good, Satisfactory, Moderately polluted, Poor, Very Poor, and Severe.
The Air Quality Index (AQI) is the weighted average of different pollutants.
A lower value of AQI means better air quality.
It considers eight pollutants [PM10, PM5, Nitrogen dioxide (NO2), Sulphur dioxide (SO2), Carbon monoxide (CO), Ozone (O3), Ammonia (NH3) and Lead (Pb)] for which short-term (up to 24-hourly averaging period) National Ambient Air Quality Standards are prescribed.
National Air Quality Monitoring Programme (NAMP)
Executed nation-wide by Central Pollution Control Board through a network of operating stations covering cities/towns in twenty six (26) states and four (4) Union Territories. (Not all states)
The objectives of the N.A.M.P. are
to determine status and trends of ambient air quality;
to ascertain whether the prescribed ambient air quality standards are violated;
to Identify Non-attainment Cities;
to understand the natural cleansing process undergoing in the environment through pollution dilution, dispersion, wind-based movement, dry deposition, precipitation and chemical transformation of pollutants generated.
Four air pollutants are being monitored
Sulphur Dioxide (SO2)
Oxides of Nitrogen as NO2
Respirable Suspended Particulate Matter (RSPM / PM10)
Fine Particulate Matter (PM2.5)
The monitoring is being carried out with the help of:
Central Pollution Control Board;
State Pollution Control Boards;
Pollution Control Committees;
National Environmental Engineering Research Institute (NEERI), Nagpur.
Clean Air India Initiative
India in collaboration with the Netherlands has launched the 'Clean Air India Initiative' which aims to curb air pollution in Indian cities by promoting partnerships between Indian start-ups and Dutch companies and build a network of entrepreneurs working on business solutions for cleaner air.
D) Economy
1. National Payments Corporation of India (NPCI) and its Product and Services

(TH)
Context

: WhatsApp unveiled payments services in India following approval by the National Payments Corporation of India (NPCI) after a wait that extended for more than two years.
However, not all users in India — one of the biggest markets for the unit of Facebook —

would be able to access the feature as NPCI had mandated expansion of WhatsApp's UPI user base 'in a graded manner

starting with a maximum registered user base of 20 million.'
Analysis
National Payments Corporation of India (NPCI)
It is an umbrella organisation for operating retailpayments and settlement systems in India.
It is an initiative of Reserve Bank of India (RBI) and Indian Banks' Association (IBA) under the provisions of the Payment and Settlement Systems Act, 2007.
It has been incorporated as a "Not for Profit" Company under the provisions Section 8 of Companies Act 2013, with an intention to provide infrastructure to the entire Banking system in India for physical as well as electronic payment and settlement systems.
The ten core promoter banks are State Bank of India, Punjab National Bank, Canara Bank, Bank of Baroda, Union Bank of India, Bank of India, ICICI Bank, HDFC Bank, Citibank N. A. and HSBC.
In 2016, the shareholding was broad-based to 56 member banks to include more banks representing all sectors.
Roles & Responsibilities of NPCI
NPCI owns and operates the Unified Payments Interface (UPI) platform.
NPCI prescribes rules, regulations, guidelines, and the respective roles, responsibilities and liabilities of the participants, with respect to UPI.
This also includes transaction processing and settlement, dispute management and clearing cut-offs for settlement.
NPCI approves the participation of Issuer Banks, PSP Banks, Third Party Application Providers (TPAP) and Prepaid Payment Instrument issuers (PPIs) in UPI.
NPCI provides a safe, secure and efficient UPI system and network.
NPCI provides online transaction routing, processing and settlement services to members participating in UPI.
NPCI can, either directly or through a third party, conduct audit on UPI participants and call for data, information and records, in relation to their participation in UPI.
NPCI provides the banks participating in UPI access to system where they can download reports, raise chargebacks, update the status of UPI transactions etc.
Payment system by NPCI: RuPay
RuPay is an Indigenously developed Payment System – designed to meet the expectation and needs of the Indian consumer, banks and merchant eco-system.
RuPay supports the issuance of debit, credit and prepaid cards by banks in India and thereby supporting the growth of retail electronic payments in India.
Product and Services of NPCI
A) National Financial Switch (NFS)
The National Financial Switch is the largest interconnected network of automated Teller Machines (ATMs) in India.
This system was developed by Institute of Development and Research in Banking Technology (IDRBT), Hyderabad in 2004.
It is run by the National Payments Corporation of India (NPCI).
It is through the National Financial Switch that the transactions made at any ATM could be routed to the connected banks.
The NPCI has allowed any bank offering the core banking services round the clock

with or without ATM

can be a part of this National Financial Switch through a sponsor bank.
The objective behind such a move is to enable the non-scheduled cooperative banks and other regional rural banks to access the wide network of ATMs in the country. Thereby, enabling the customers of such banks to access banking services through any ATM of a connected bank.
B) Immediate Payment Service (IMPS)
IMPS is an innovative real time payment service that is available round the clock.
This service is offered by National Payments Corporation of India (NPCI) that empowers customers to transfer money instantly through banks and RBI authorized Prepaid Payment Instrument Issuers (PPI) across India.
C) Cheque Truncation System
Truncation is the process of stopping the flow of the physical cheque issued by a drawer at some point by the presenting bank en-route to the paying bank branch.
In its place an electronic image of the cheque is transmitted to the paying branch through the clearing house.
D) RuPay Card
RuPay is a new card payment scheme launched by the National Payments Corporation of India (NPCI).
Features:
The orange and green arrows indicate a nation on the move and a service that matches its pace.
The colour blue stands for the feeling of tranquility which is the people must get while owning a card of the brand 'RuPay'.
The bold and unique typeface grants solidity to the whole unit and symbolizes a stable entity.
Advantages of RuPay Card
Lower cost and affordability as the transaction processing will happen domestically.
Customized product offering: RuPay, being a domestic scheme is committed towards development of customized product and service offerings for Indian consumers.
Protection of information related to Indian consumers: Transaction and customer data related to RuPay card transactions will reside in India.
Provide electronic product options to untapped/unexplored consumer segment: Right pricing of RuPay products would make the RuPay cards more economically feasible for banks to offer to their customers. In addition, relevant product variants would ensure that banks can target the hitherto untapped consumer segments.
Inter-operability between payment channels and products.
Is RuPay Card accepted internationally?
UAE is the first country in the Gulf where Indian RuPay card has been launched.
RuPay Global card with Discover, Diners & Pulse Network logos is accepted at over 39.3 million POS locations and over 1.88 million ATM locations in 185 countries/territories worldwide!
E) Unified Payment Interface (UPI)
UPI is a payment system that allows money transfer between any two bank accounts by using a smartphone, without requiring details of the beneficiary's bank account.
UPI allows a customer to pay directly from a bank account to different merchants, both online and offline, without the hassle of typing credit card details, IFSC code, or net banking/wallet passwords.
How safe is UPI?
It is safe as the customers only share a virtual address and provide no other sensitive information.
What kind transactions can be performed via UPI?
Merchant payments, remittances, bill payments among others.
Is there a per transaction limit?
The per transaction limit is Rs.1 lakh.
Recently, an upgraded version of the Unified Payments Interface (UPI), UPI 2.0, was launched.
Here are key features of UPI 2.0:
Linking of overdraft account

: In addition to current and savings accounts, customers can link their overdraft account (An overdraft occurs when money is withdrawn from a bank account and the available balance goes below zero) to UPI.

One-time mandate

: UPI mandate could be used in a scenario where money is to be transferred later by providing commitment at present.

Invoice in the inbox

: This feature is designed for customers to check the invoice sent by merchant prior to making payment.

Signed intent and QR

: It notifies the user with information to ascertain whether the merchant is a verified UPI merchant or not.
F)

Bharat QR
In an attempt to encourage more and more people to use less cash and make digital payments instead, the RBI authorized a few card payment networks to implement an interoperable solution for such QR Code operated mechanisms.
As a result, Visa, MasterCard and NPCI partnered to launch Bharat QR – a QR Code-based digital payment mechanism that merchant establishments, eCommerce and mCommerce websites are already using.
What is a QR Code?
The QR Code is a two-dimensional version of the barcode.
"QR" stands for "Quick Response", which refers to the instant access to the information hidden in the Code.
QR Codes are gaining popularity because the technology is "open source", i.e. available for everyone.
Significant advantages of QR Codes over conventional barcodes are larger data capacity and high fault tolerance.
For the scanner to recognize a QR Code as such, the Code must always be square.
What happens if a QR Code is damaged?
To ensure that the information contained in the QR Code can be read even if it is damaged, the data keys include duplications (redundancies).
Because of this, up to 30% of the Code structure can be destroyed without affecting the readability of the Code.
What can be stored in a QR Code?
Up to 7089 digits or 4296 characters, including punctuation marks and special characters, can be entered in one Code.
In addition to numbers and characters, words and phrases (e.g. Internet addresses) can be encoded as well.
G) Bharat Bill Payment System (BBPS)
Bharat Bill Payment System is offering one-stop bill payment solution for all recurring payments with 200+ Billers in the categories Viz. Electricity, Gas, Water, Telecom, DTH, Loan Repayments, Insurance, FASTag Recharge, Cable etc. across India.
Click here to get Current Affairs Booster Course
Click here to get our all Courses
Click here to follow our latest updates
If you find this post helpful, then do share your thoughts with us by commenting