UPSC  PRELIMS+MAINS 
A) Polity/Bills/Acts/Judgments
Election Campaign Expenditure in India: Trends and Challenges (TH)
Context: The Law Ministry has increased the ceiling on poll expenditure for Assembly and Lok Sabha elections by 10% by amending the Conduct of Election Rules 1961.
The move follows a recommendation by the Election Commission in view of curbs imposed during the coronavirus [COVID-19] pandemic.
Analysis
The current expenditure limit for State and Parliament elections differs from State to State.
The ceiling on poll expenditure varies across States, with candidates in Assembly elections in bigger States like Bihar, Uttar Pradesh, and Tamil Nadu now allowed to spend up to ₹30.8 lakhs as against ₹28 lakhs earlier.
For a candidate contesting a Lok Sabha poll in these States, the revised ceiling on poll expenditure is now ₹77 lakhs instead of the earlier amount of ₹70 lakhs.
Goa, Arunachal Pradesh, Sikkim and a few Union Territories, based on the size of their constituencies and population, have a lower ceiling on poll expenditure. Here while the enhanced ceiling for a Lok Sabha candidate is now ₹59.4 lakhs those contesting an Assembly can spend up to ₹22 lakhs.
The notification that amended the Conduct of Elections Rules 1961, however, does not mention that the limit has been increased in the wake of the pandemic or if it is only for the COVID-19 period.
For the first time, the ECI suspended the recognition of a political party (National People's Party) for failing to submit its Lok Sabha expenditure statement incurred in 2014 which prompted the party to duly file its statement.
There isn't anything inherently problematic about the rising costs of election campaigns over the years, given that:
A vibrant election campaigns can engage citizens and initiate a democratic dialogue between parties and voters.
It strengthens political parties and candidates, and provide chances to compete on more equal terms.
The following factors have added to the costs borne by parties and candidates to run a successful poll campaign in recent years:
the growing size of constituencies,
fierce political competition,
the predominance of social media,
the emergence of political consultants/campaign managers
the intensifying need for ambitious large-scale election campaigns.
The introduction of anonymous Electoral Bonds that were on sale for extra days during the general elections 2019 may have also contributed to increased election expenditure.
The chance of winning of a candidate is observed to be closely related to his/her financial background.
ADR analysis also found that the chance of winning of a crorepati candidate in the 2019 Lok Sabha elections was 21% whereas chance of winning for a candidate with assets less than Rs. 1 crore was a mere 1%.
Election Expenditure Monitoring Framework
By virtue of Article 324 of the Constitution of India, the Election Commission is responsible for the superintendence, direction and control of Parliamentary and Assembly elections.
It is upon the Commission to ensure that the level playing field for all stakeholders inclusive of candidates and political parties is not disturbed and the electoral process does not fall prey to misuse of money power.
It is mandatory for every candidate to the House of People or a State Legislative Assembly under section 77(1) of the Representation of the People Act, 1951 to maintain a s

eparate

and correct account of all expenditure incurred or authorised by him or by his election agent between the date of his nomination and the date of declaration of the election result, both dates inclusive.
The failure to maintain such an account is an electoral offence.
While Indian law stipulates no limit on election expenditure by political parties, there is a threshold for how much a candidate can spend on an election campaign.
An attempt was made by Supreme Court in its judgment in Kanwar Lal Gupta Vs. Amar Nath Chawla in 1974 for party spending on behalf of a candidate to be included in calculating the candidate's expenses.
However, the judgment was nullified by an amendment introduced to the RPA in Parliament.
As of today, the expenditure incurred by the leaders of a political party on account of travel by air/other means of transport for propagating the party's program and the political parties or their supporters for generally propagating the party's program shall not be deemed to be an expenditure in connection with the election incurred or authorized by a candidate of that political party under Section 77, RPA.
Parties and candidate supporters are allowed unlimited expenditure in the name of general party propaganda that makes no reference to any particular candidate.
Parties attribute a large amount of their expenditure to their leaders/star campaigners whose travel expenditures fall under the exempted category.
The law on candidates' expenditure limits only covers the period between the date of nomination and the date of declaration of result, exempting the expenditure incurred outside of this window from any scrutiny.
There is a legal requirement for candidates/parties to lodge their expenditure statements within 30/90 days of declaration of result.
ECI's transparency guidelines lack any statutory authority and there is no legal consequence for political parties failing to submit their expenditure statements on time.
Expenditure incurred towards social media advertising (Facebook Live, Facebook & Video promotion, WhatsApp messaging, social media posts etc.) is defined under electronic media and is reported under the sub-head of 'Media Advertisement', under Publicity.
Spreading party poll agenda using the medium of cinema/biopics and through dedicated TV channels which cannot be directly linked to a party/candidate continue to remain outside the purview of any accounted election expenditure.
The EC mandates pre-certification of all political advertisements on social media platforms.
The campaign expenses on social media are required to be accounted in expenditure statements and the Model Code of Conduct (MCC) applied to social media content by parties/candidates.
Conclusion and Recommendations
(means these provisions do not exist and so can be framed as a wrong statement in prelims; otherwise use them as recommendations for your Mains answer)
There must be reasonable and enforceable limits on expenditures incurred by political parties during elections.
The ceiling must also be applicable on parties before the announcement of elections when widespread electioneering and public mobilization is in full swing.
The 255th Law Commission Report recommends amending Section 77 to extend the imposition of a ceiling on the election expenses of the candidate to the period before date of nomination.
Third party campaigners who intend to incur expenditure for any party/candidate beyond a prescribed limit should register with ECI.
Third party expenditure on specific candidates should be included within that candidate's ceiling.
ADR's petition on election expenditure monitoring of political parties proposes for parties to submit election expenditure statements one year prior to the date of announcements of elections (Lok Sabha and Assembly elections); submission of expenditure statements during the election period should be done at regular intervals: once a month before declaration of elections and at least once a week during the election period.
The EC should be given powers to countermand polls on the grounds of large scale of vote-buying and suggested to make it a cognizable offence during elections.
The EC has proposed for making paid news an electoral offence under the Representation of the People Act.
As of now political parties are not regulated by any law; a comprehensive bill regulating political parties, dealing with party constitution, organization, internal elections, candidate selection etc. is the need of the hour.
For political parties to be truly accountable and transparent in their functioning, it is vital that they comply by the CIC's 2013 order declaring them public authorities under the Right to Information Act, 2005.
The ECI should be suitably empowered to take enforcement action.
At present, the ECI can only review the status of political parties if parties fail to contest elections for six years successively.
However, it has no power to order deregistration of political parties as penalty.
B) Geography, Environment and Biodiversity
2.Kaleshwaram lift irrigation system (TH)
Context: Declaring the environmental clearance (EC) granted to the Kaleshwaram lift irrigation system in Telangana as ex post facto (retroactive, after it is done) and illegal, the National Green Tribunal has directed the Telangana government to stop all work, except the drinking water component of the project, until further orders.
Analysis
The Tribunal's principal bench in New Delhi also directed the state government to obtain forest clearance before moving ahead with the project.
The Kaleshwaram Multipurpose Lift Irrigation Project, the

world's largest irrigation and drinking water system

, was inaugurated last year in Telangana.
The project was earlier called Dr B R Ambedkar Pranahita Chevella Sujala Sravanthi Project, a multipurpose project, involving the States of Maharashtra and Telangana.
The petition, filed in February 2018 before the NGT, stated that while the Kaleshwaram Project was a lift irrigation system, the state government wrongly claimed, until the grant of environmental clearance, that the project was not for lift irrigation, but only for drinking water supply.
A project which does not propose any hydroelectric power generation component nor any irrigation component and thus has no command area and is purely a drinking water supply scheme, does not attract the provisions of the EIA notification 2006 and its subsequent amendments.
Kaleshwaram Project
The Kaleshwaram Project is a

lift irrigation project

being implemented in Telangana.
The source of the water is the river Godavari.
Why Kaleshwaram irrigation project is unique?
It has many unique features, including the longest tunnel to carry water in Asia, running up to 81 km.
The project would also utilise the highest capacity pumps, up to 139 MW, in the country to lift water.
By the time the water reaches Kondapochamma Sagar, the last reservoir in the system about 227 kms away,

the Godavari water would have been lifted to a height of 618 metres

from its source at Medigadda.
The project had to be built at such a size and scale because while the Godavari flows at 100 metres below Mean Sea Level, Telangana is located at 300 to 650 metres above MSL.
Water-sharing agreement between Telangana, Maharashtra
In March 2016, the Telangana government had entered into an agreement with the Maharashtra State government, putting an end to the decades-old differences and objections over the issue.
Benefits of the Project
Once the project reaches its full operational capacity, it is expected to make Telangana an economic power because farmers will be able to sow two crops, and thousands of crores worth of fishing industry would flourish in the fresh water in this project alongside tourism and water sports.
Godavari
The Godavari River rises in the Trimbakeshwar in the Nashik district of Maharashtra, only about 50 miles (80 km) from the Arabian Sea, and flows for most of its course generally eastward across the broad plateau of the Deccan (peninsular India).
It passes through Maharashtra, Telangana (and, for a short stretch, forms the border with Madhya Pradesh state to the north) and Andhra Pradesh.
In the Bay of Bengal, it empties via its two mouths: the Gautami Godavari to the north and the Vasishta Godavari to the south.
It is the 4th largest river of India after Indus, Brahmaputra and Ganga.
It has the 3rd largest river basin after Ganga and Indus and is followed by Krishna and Brahmaputra.
The geographical landscape through which it flows
From its source to the Eastern Ghats, the Godavari River flows through gentle monotonous terrain, along the way receiving the Darna, Purna, Manjra, Pranhita, and Indravati rivers.
Upon entering the Eastern Ghats region, however, the river flows between steep and precipitous banks, known as the
Having passed through the Eastern Ghats, the river widens again, traversing wide lowland plains.
The low islands in its stream being used to grow a variety of crops, notably tobacco.
The Jayakwadi Dam in Maharashtra is planned on Godavari.
The upper reaches of the Godavari are dry in winter and spring, making it virtually useless for irrigation.
At its mouths, however, the development of a navigable irrigation-canal system, linking its delta with that of the Krishna River to the southwest, has made the land one of the richest rice-growing areas of India.
Polavaram Project
Polavaram is a multi-purpose irrigation project located on river Godavari in Andhra Pradesh.
Polavaram project dam being built on River Godavari can help divert and utilize Godavari water to Krishna and other rivers.
Decreasing order of the lengths of some important Indian Rivers
Indus
Brahmaputra
Ganga
Godavari
Narmada
Krishna
Mahanadi
Kaveri
Aldabra's coral reefs (DTE)
Context: Aldabra's coral reefs recovered faster from bleaching, finds new research
Analysis
Ocean warming and associated coral bleaching are one of the foremost causes of coral loss across the world.
Record-breaking high ocean temperatures, which occurred between 2014 and 2017, resulted in a prolonged and widespread coral bleaching, with the hottest temperature recorded (36.3 degrees Celsius) in early April 2016.
Coral reefs in the lagoon of Seychelles' Aldabra atoll, however, recovered faster after the 2015-2016 bleaching event due to tolerance to heat stress.
The results of the research showed that rapid reef recovery of coral reefs is possible.
It highlighted that reducing local stressors to coral reefs can enhance their resilience against climate change.
Bleaching is a process where corals lose their vivid colour and turn white.
This happens when the zooxanthellae algae, which is in a symbiotic relationship with corals and provide them with food, die due to ocean warming and acidification.
If bleaching continues for an extended period of time, corals eventually die.
Coral bleaching and mortality exacerbated by climate change are one of the biggest threats to oceanic biodiversity.
Aldabra — one of the world's largest atolls — is a UNESCO (United Nations Educational, Scientific and Cultural Organization) World Heritage Site in Seychelles and located in the Indian Ocean.
It is home to a population of endemic giant Aldabra tortoises.
All about coral reefs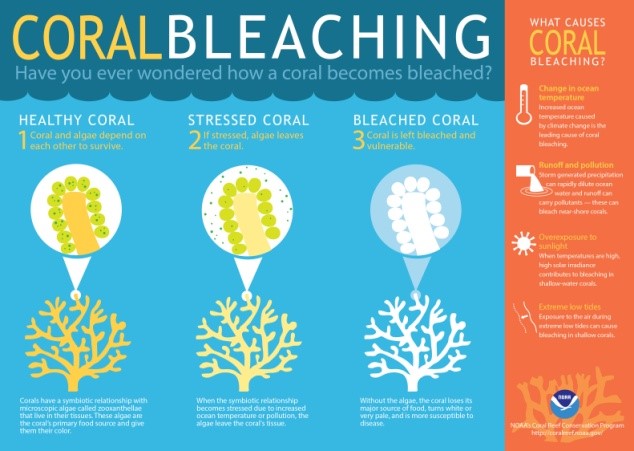 Almost all corals are colonial organisms. They are composed of hundreds to hundreds of thousands of individual animals, called polyps.
In corals food is taken and waste is expelled through the same opening.
Most corals feed at night.
To capture their food, corals use stinging cells called
These cells are located in the coral polyp's tentacles and outer tissues.
If you've ever been "stung" by a jellyfish, you've encountered nematocysts.
A coral's prey ranges in size from nearly microscopic animals called zooplankton to small fish, depending on the size of the coral polyps.
Most reef-building corals contain photosynthetic algae, called zooxanthellae, that live in their tissues.
Coral polyps, which are animals, have a mutualistic relationship with zooxanthellae.
The coral provides the algae with a protected environment and compounds they need for photosynthesis.
In return, the algae produce oxygen and help the coral to remove wastes.
Most importantly, zooxanthellae supply the coral with glucose, glycerol, and amino acids, which are the products of photosynthesis.
The coral uses these products to make proteins, fats, and carbohydrates, and produce calcium carbonate.
Zooxanthellae are also responsible for the unique and beautiful colours of many stony corals.
Sometimes when corals become physically stressed, the polyps expel their algal cells and the colony takes on a stark white appearance.
This is commonly described as "coral bleaching" which may also lead to death of corals in the long term.
Because their algal cells need light for photosynthesis, reef corals require clear water.
For this reason, they are generally found only in waters with small amounts of suspended material, i.e., in water of low turbidity and low productivity.
This leads to an interesting paradox—coral reefs require clear, nutrient-poor water, but they are among the most productive and diverse marine environments.
How Do Coral Reefs Form?
Coral reefs begin to form when free-swimming coral larvae attach to submerged rocks or other hard surfaces along the edges of islands or continents.
As the corals grow and expand, reefs take on one of three major characteristic structures —fringing, barrier or atoll.
Fringing reefs, which are the most common, project seaward directly from the shore, forming borders along the shoreline and surrounding islands.
Barrier reefs also border shorelines, but at a greater distance.
They are separated from their adjacent land mass by a lagoon of open, often deep water.
An Atoll is formed when a fringing reef around an island continues to grow while the volcano subsides completely below sea level while.
Atolls are usually circular or oval, with a central lagoon.
In addition to being some of the most beautiful and biologically diverse habitats in the ocean, barrier reefs and atolls also are some of the oldest. It can take up to 10,000 years for a coral reef to form from a group of larvae.
Where Are Reef Building Corals Found
Reef-building corals cannot tolerate water temperatures below 18° Celsius.
Many grow optimally in water temperatures between 23° and 29° C, but some can tolerate temperatures as high as 40° C for short periods.
Most also require very saline (salty) water ranging from 32 to 42 parts per thousand, which must also be clear so that a maximum amount of light penetrates it.
The corals' requirement for high light also explains why most reef-building species are restricted to the euphotic zone, the region in the ocean where light penetrates to a depth of approximately 70 meters.
Importance of Coral Reefs
Coral reefs support more species per unit area than any other marine environment. 25% of the marine life thrive around corals despite of the fact that corals form less than 1% of marine environment.
This biodiversity is considered key to finding new medicines for the 21st century.
Coral reefs act as barriers against storm surge and tsunamis.
Coral reefs are climatologically important because they provide an accurate long-term record of the climate change and help in extending our knowledge of seasonal climate variability in many remote tropical oceans.
Anthropogenic Threats to Corals
Human-caused, or anthropogenic activities are major threats to coral reefs. Pollution, overfishing, destructive fishing practices using dynamite or cyanide, collecting live corals for the aquarium market and mining coral for building materials are some of the many ways that people damage reefs all around the world every day.
When some pollutants enter the water, nutrient levels can increase, promoting the rapid growth of algae and other organisms that can smother corals.
Petroleum spills do not always appear to affect corals directly because the oil usually stays near the surface of the water, and much of it evaporates into the atmosphere within days.
However, if an oil spill occurs while corals are spawning, the eggs and sperm can be damaged as they float near the surface before they fertilize and settle.
Natural Threats to Coral Reefs
Corals growing in very shallow water are the most vulnerable to environmental hazards.
Large and powerful waves from hurricanes and cyclones can break apart or flatten large coral heads.
Corals exposed during daylight hours are subjected to the most ultraviolet radiation, which can overheat and dry out the coral's tissues.
Reefs also are threatened by tidal emersions. Long periods of exceptionally low tides leave shallow water coral heads exposed, damaging reefs.
Increased sea surface temperatures, decreased sea level and increased salinity from altered rainfall can all threaten coral reefs.
In addition to weather, corals are vulnerable to predation. Fish, marine worms, barnacles, crabs, snails and sea stars all prey on the soft inner tissues of coral polyps.
Deep-Sea Corals
Corals are not just warm-water creatures. They also live at depths of 40m down to 2,000m, in water temperatures as low as 4ºC.
There are also soft corals and deep water corals that live in dark cold waters.
Unlike tropical corals, cold-water corals don't have symbiotic algae living in their polyps so they don't need sunlight to survive.
They feed solely by capturing food particles from the surrounding water.
Their polyps tend to be much bigger than tropical corals.
Cold-water coral reefs are commonly found where current flow is accelerated.
They are found on the continental shelf, and also in deep-sea areas with topographic highs, such as seamounts, mounds, ridges, and pinnacles.
Deep-sea corals grow slowly in comparison to shallow-water tropical reefs.
Deep-sea coral reefs are made up of only a few coral species and also exhibit less species diversity than shallow-water tropical reefs in terms of important spawning and nursery grounds.
Corals in India
Coral reefs are present in the areas of Gulf of Kutch, Gulf of Mannar, Andaman & Nicobar, Lakshadweep Islands and Malvan.
Coral Triangle is a triangular area of the tropical marine waters of Indonesia, Malaysia, Papua New Guinea, Philippines, Solomon Islands and Timor- Leste that contain at least 500 species of reef-building corals in each ecoregion.
All coral species are protected under Schedule-I of the Indian Wildlife Protection Act (1972).
Coral IVF
It is a coral fertility treatment designed to heal damaged parts of Australia's Great Barrier Reef.
It is designed to help reefs repopulate faster to help speed up the recovery time after a bleaching event.
The Great Barrier Reef — a UNESCO World Heritage Site — lost around half of its coral in the past few years after two mass bleaching events in 2016 and 2017, a pattern repeated on coral reefs around the world.
Bleaching hits world's southernmost coral reef
The world's southernmost coral reef, t

he corals off Lord Howe Isla

nd

— some 600 km offshore from Sydney, has been hit by bleaching this summer, despite escaping severe bleaching that damaged the Great Barrier Reef in 2016 and 2017, highlighting the fact that rising sea temperatures from climate change were affecting even the most isolated ecosystems.
Scientists noted that increasing baseline temperatures caused by climate change, and local factors such as elevated temperatures in the area this summer, caused the bleaching to occur.
Different Types and Aspects of Symbiosis
Mutualism: Both organisms involved benefit.
Mutualistic interaction patterns occur in three forms.
Obligate mutualism is when one species cannot survive apart from the other.
Diffusive mutualism is when one organism can live with more than one partner.
Facultative mutualism is when one species can survive on its own under certain conditions.
On top of these, mutualistic relationships have three general purposes.
Trophic mutualism refers to the transfer of energy and nutrients between two species and is exemplified in lichens, which consist of fungi and either algae or cyanobacteria. The fungi's partners provide sugar from photosynthesis and the fungi provide nutrients from digesting rock.
Defensive mutualism is when one organism provides protection from predators while the other provides food or shelter: an example is ants and aphids.
Dispersive mutualism is when one species receives food in return for transporting the pollen of the other organism, which occurs between bees and flowers.
Commensalism: One organism benefits while the other is neither helped nor harmed.
Amensalism: One organism is harmed while the other is neither helped nor harmed.
Parasitism: One organism benefits and the other organism is harmed, but not always killed.
  4.Fluorescence Vs. Bioluminescence Vs. Biophosphorescence (TH)
Fluorescence is the emission of electromagnetic radiation, usually visible light, caused by excitation of atoms in a material, which then re-emit almost immediately.
It is a form of luminescence.
In most cases, the emitted light has a longer wavelength, and therefore lower energy, than the absorbed radiation.
Fluorescence occurs frequently in nature in some minerals and in various biological states in many branches of the animal kingdom.
A fluorescent lightbulb is coated on the inside with a powder and contains a gas; electricity causes the gas to emit ultraviolet radiation, which then stimulates the tube coating to emit light.
The pixels of a television or computer screen fluoresce when electrons from an electron gun strike them.
The addition of a fluorescing agent with emissions in the blue region of the spectrum to detergents causes fabrics to appear whiter in sunlight.
X-ray fluorescence is used to analyze minerals.
Fluorescence is also a very important tool used in the biotechnology.
Fluorescent molecules can be used directly or attached to other molecules to determine:
the locations of certain structures within the cell,
the presence of certain membrane constituents on the cell exterior (for the identification of cell type), or
used by themselves to verify a certain activity within the cell (such as enzyme activity).
When fluorescence occurs in a living organism, it is sometimes called biofluorescence.
Bioluminescent means production of their own light through a series of chemical reactions or host bacteria that do.
It's a separate process from biofluorescence, in which blue light hits the surface of an animal and is reemitted as a different color, usually orange, red, or green.
Fluorescence causes the light that is emitted to be a different color than the light that is absorbed.
Mechanism
Stimulating light excites an electron, raising energy to an unstable level.
This instability is unfavorable, so the energized electron is returned to a stable state almost as immediately as it becomes unstable.
This return to stability corresponds with the release of excess energy in the form of fluorescence light.
This emission of light is only observable when the stimulant light is still providing light to the organism/object and is typically yellow, pink, orange, red, green, or purple.
Fluorescence is often confused with the different forms of biotic light, bioluminescence and biophosphorescence.
Pumpkin toadlets that live in the Brazilian Atlantic forest are fluorescent.
Bioluminescence
Bioluminescence differs from fluorescence in that it is the natural production of light by chemical reactions within an organism, whereas fluorescence is the absorption and re-emission of light from the environment.
The phenomenon of bioluminescence occurs sporadically in a wide range of animals, from bacteria and fungi to insects, marine invertebrates, and fish, b

ut it is not known to exist naturally in true plants or in amphibians, reptiles, birds, or mammals.

Bioluminescence results from a chemical reaction in which the conversion of chemical energy to radiant energy is direct and virtually 100 percent efficient; i.e., very little heat is given off in the process.
Examples:
Glow of bacteria on decaying meat or fish,
Shimmering radiance of protozoans in tropical seas
Anglerfish (whose females sport a lure of glowing flesh that acts as bait for any prey close enough to be snatched) and flickering signals of fireflies.
Phosphorescence
Both fluorescence and phosphorescence are spontaneous emissions of electromagnetic radiation.
The difference is that the glow of fluorescence stops right after the source of excitatory radiation is switched off, whereas for phosphorescence, an afterglow with durations of fractions of a second up to hours can occur.
Biophosphorescence is also similar to fluorescence in its requirement of light wavelengths as a provider of excitation energy.
The difference here lies in the relative stability of the energized electron.
Unlike with fluorescence, in phosphorescence the electron retains stability, emitting light that continues to "glow-in-the-dark" even after the stimulating light source has been removed.
Glow-in-the-dark stickers are phosphorescent, but there are no truly phosphorescent animals known.
 C) Science and Technology/Defence/Space
5.Param Shivay

: 

the first supercomputer assembled indigenously (PIB)
India is fast expanding its supercomputer facilities and developing the capacity to manufacture its own supercomputers in the country.
With the infrastructure planned in National Super Computing Mission (NSM) Phase-I already installed and much of Phase-II in place, the network of supercomputers through the country will soon reach to around 16 Petaflops (PF).
Phase-III, to be initiated in January 2021, will take the computing speed to around 45 Petaflops.
NSM is jointly steered by the Ministry of Electronics and IT (MeitY) and Department of Science and Technology (DST) and implemented by the Centre for Development of Advanced Computing (C-DAC), Pune and the Indian Institute of Science (IISc), Bengaluru.
Param Shivay, the first supercomputer assembled indigenously, was installed in IIT (BHU), followed by Param Shakti and Param Brahma at IIT-Kharagpur and IISER, Pune, respectively.
India has developed an Indigenous server(Rudra), which can meet the High-Performance Computing (HPC) requirements of all governments and PSUs.
This is the first time that a server system was made in India, along with the full software stack developed by C-DAC.
The National Super Computing Mission (NSM) has been covered in detail in 13th October file.
FELUDA Test: An indigenous coronavirus detection test will be commercially available (TH)
Context: The Feluda test, a coronavirus detection test developed by the Council of Scientific and Industrial Research (CSIR) and to be commercialised by Tata Sons, will be commercially available in laboratories this month.
The test still requires a nasal swab to be collected and sent to a lab, promises to be quicker than the gold-standard test (RT-PCR) because it does not need the expensive RT-PCR (reverse transcription-quantitative polymerase chain reaction) machine.
Analysis
FELUDA, that stands for FNCAS9 Editor-Limited Uniform Detection Assay, is not an antigen test.
It uses a CRISPR-Cas9 based system for detection and is therefore more accurate in detecting the virus.
A smaller, cheaper and more portable machine called a thermocycler, which costs around ₹25,000, is employed and once the viral RNA is extracted from nasal swab, it takes anywhere from 45 minutes to an hour to confirm presence of the virus.
CRISPR-Cas9 method
CRISPR-Cas9 is a genome-editing tool whose discovery won the Nobel Prize for chemistry this year.
Though initially conceived to treat sickle cell disease,

it can be used to hone in on a specific sequence of DNA (in this case unique to the coronavirus) and thereby infer its presence

.
Click

here

 to get our all Courses
Click here to follow our latest updates
If you find this post helpful, then do share your thoughts with us by commenting.