UPSC PRELIMS+MAINS
A) Agriculture, Geography, Environment and Biodiversity
1. Saffron bowl of India extends to the North East (PIB)
Context

: The saffron bowl, which was so far confined to Kashmir, may soon expand to the North East of India.
Analysis
Plants transported from Kashmir to Sikkim and acclimatized there are now flowering in Yangyang in the Southern part of Sikkim.
The matching of climatic and geographical conditions (soil and actual pH conditions) between Pampore (Kashmir) and Yangyang (Sikkim) led to the successful sample farming of Saffron in Yangyang.
Pampore region, in India, commonly known as Saffron bowl of Kashmir, is the main contributor to saffron production, followed by Budgam, Srinagar, and Kishtiwar districts.
Pampore's saffron is considered to be of superior quality because of the presence of a higher concentration of crocin.
Its crocin content – which gives the saffron its darker colour and medicinal value – is even higher as compared to the Iranian variety.
The Palampur-based Council of Scientific and Industrial Research (CSIR)-Institute of Himalayan Bioresource Technology (CSIR-IHBT) is already using tissue culture technology for production of disease free, healthy and flowering sized saffron corms in the trials it has been conducting in what it calls "non-traditional areas of (Bharmour) Himachal Pradesh, Uttarakhand, Leh, North East and hilly regions of Tamil Nadu".
A corm is a short, vertical, swollen underground plant stem that serves as a storage organ that some plants use to survive winter or other adverse conditions such as summer drought and heat.
As saffron growing was confined to very specific areas in Kashmir, its production remained limited.
The annual demand of the saffron in India is 100 tonnes per year, but its average production is about 6-7 tonnes per year.
Knocked by the change in climate, poor irrigation, and imports of the cheaper Iranian variety, saffron production in the valley has declined rapidly.
Kashmir saffron, which is cultivated and harvested in the Karewa (highlands) of Jammu and Kashmir, has been given the Geographical Indication (GI) tag by the Geographical Indications Registry.
According to Article 22 (I) of the World Trade Organisation Agreement on Trade-Related Aspects of Intellectual Property Rights Agreement, GI tags are "indications which identify a product as originating in that territory, where a given quality, reputation or characteristic of the product is essentially attributable to its geographic origin".
Climatic and geographical conditions
For saffron, a crop which is dependent on moisture for a good yield, irrigation is essential.
Temperate climate with sunny days during the flowering period is favourable for good yield.
Rains during September are favourable to initiate timely growth of roots and floral/aerial vegetative shoots.
Localities covered with snow during winter at an altitude ranging from 1500 to 2400 m provide necessary chilling for commercial cultivation of saffron.
Saffron requires medium textured soil with good drainage capacity. Soil with neutral reaction is best suited for saffron cultivation.
B) Schemes/Policies/Initiatives/Awards/Social Issues
1. Pradhan Mantri Kisan Urja Suraksha evam Utthan Mahabhiyan (PM-KUSUM) Scheme (PIB)
Context

: The Ministry of New and Renewable Energy has issued an order for the scale-up and expansion of the Pradhan Mantri Kisan Urja Suraksha evam Utthan Mahabhiyan (PM-KUSUM) Scheme.
Analysis
The target now is to achieve enhanced solar capacity of 30.8 gigawatt (GW) by 2022.
The scheme had aimed to add a solar capacity of 25,750 MW by 2022.
The scheme aims providing financial and water security to farmers.
The scheme now consists of three components.
The first is 10,000 MW of decentralised ground mounted grid connected renewable power plants up to 2 MW.
The second is installation of 20 lakh (up from 17.50 lakh) stand-alone solar powered agriculture pumps.
The third component is solarisation of 15 lakh (up from 10 lakh) grid-connected solar powered agriculture pumps.
Other Measures to increase Solar Energy Generation
Announcement of a target of installing 100 GW of solar energy capacity by December, 2022.
Waiver of Inter State Transmission System (ISTS) charges and losses for inter-state sale of solar power for projects to be commissioned up to December, 2022.
Permitting Foreign Direct Investment (FDI) up to 100 percent under the automatic route.
Notification of standard bidding guidelines to enable distribution licensees to procure solar and wind power at competitive rates in cost effective and transparent manner.
Declaration of trajectory for Renewable Purchase Obligation (RPO) up to year 2022.
Implementation of Green Energy Corridor project to facilitate grid integration of large-scale renewable energy capacity addition.
India Solar Cities Programme
Solar City aims at minimum 10% reduction in projected demand of conventional energy at the end of five years, through a combination of enhancing supply from renewable energy sources in the city and energy efficiency measures.
At least one city in each State to a maximum of seven cities in a State may be supported by the Ministry.
The cities may have population between 0.5 to 50 lakh.
Suryamitra Programme 
The Suryamitra Skill Development Programme is designed with the objective to develop skilled and employable workforce (Suryamitras) catering to the needs of Solar PV industries.
Solar Pumps
Solar pumps convert solar energy into electricity and fed to a pump that circulates water.
There are two main types of solar pumps:
Surface pumps to move water through pipes.
Submersible solar water pumps are used to move water from inside wells to the surface.
Solar Pumps vs. Wind Pumps
Solar pumps have some distinct advantages over wind pumps:
Solar-power systems collect energy even when it's cloudy outside, while wind systems rely on gusty conditions for peak efficiency.
Solar-power systems also often cost less than wind systems, and are

less expensive to maintain

.
Solar systems are also more mobile than wind systems.
When sunlight falls on the solar panels it produces direct current (DC) which then feeds the motor to pump out the water.
Difference between AC and DC current
In direct current(DC), the electric charge (current) only flows in one direction. Electric charge in alternating current (AC), on the other hand, changes direction periodically.
We tend to get less losses to resistance when distributing AC over long distances.
We can use thinner wires for AC which means they're cheaper to make and suspend.
2. 2nd National water Awards (PIB)
Context

: Department of Water Resources, River Development and Ganga Rejuvenation, Ministry of Jal Shakti, is organising the 2nd National Water Awards (NWAs) for the year 2019.
Analysis
The awards are given to motivate individuals/ organizations who are doing commendable work in the field of water resources conservation and management.
Also, it strives to create awareness among the people about the importance of water and motivate them to adopt the best water usage practices.
The entries for National Water Awards are invited in 13 categories which are as follows:
Best State,
Best District,
Best Village Panchayat,
Best Urban Local Body,
Best Research/ Innovation/ New Technology,
Best Education/ Mass Awareness effort,
Best TV show,
Best Newspaper,
Best School,
Best Institution/ RWA/ Religious Organisation,
Best Industry,
Best Water Regulatory Authority,
Best Water Warrior,
Best NGO,
Best Water User Association, and
Best Industry for CSR Activity.
Within the Best District category, three awards each will be given in North, South, East, West, North- East and Aspirational district sub-categories for encouragement of officials at the district level.
C) International Relations
1. New UN alliance to stave off 'catastrophic food crisis' in the wake of COVID-19 (DTE)
Context

: COVID-19 could add up to 132 million more people to the ranks of the world's undernourished in 2020, according to the State of Food Security and Nutrition in the World report, 2020.
Taking cognisance of the catastrophic food crisis and the urgency to tackle it, Food and Agriculture Organization (FAO) of the United Nations launched a Food Coalition on November 5, 2020.
Analysis
Proposed by Italy and led by FAO, the global alliance aims to help countries get back on track to achieve the UN-mandated Sustainable Development Goals by 2030, especially the ones on ending hunger and poverty.
The alliance would work as a network of networks and a multi-stakeholder coalition for a unified global action to support measures to ensure food access and increase the resilience of agricultural food systems in response to COVID-19.
Global food prices continued to rise in October for the fifth successive month, according to the FAO Food Price Index.
Even though the forecast for global cereal production was low, the output for 2020 was still expected to reach an all-time high.
The State of Food Security and Nutrition in the World is an annual flagship report jointly prepared by FAO, IFAD, UNICEF, WFP and WHO to inform on progress towards ending hunger, achieving food security and improving nutrition and to provide in depth analysis on key challenges for achieving this goal in the context of the 2030 Agenda for Sustainable Development.
Food and Agriculture Organization (FAO) was covered in detail in 17th Oct file.
2. 20th Summit of SCO Council of Heads of State (PIB)
Context

: 20th Summit of SCO Council of Heads of State was chaired by the President of the Russian Federation Mr. Vladimir Putin.
Analysis
India reiterated its firm commitment towards strengthening connectivity in the region with initiatives like International North-South Transport Corridor, Chabahar Port and Ashgabat Agreement.
India also extended full support to observing the 20th anniversary of SCO in 2021 as the "SCO Year of Culture" and spoke of its own initiatives to hold the first SCO exhibition on Shared Buddhist Heritage to be organized by National Museum of India, SCO Food Festival in India next year and the translation of Ten regional language literary works into Russian and Chinese.
India has also proposed to set up a Special Working Group on Innovation and Startups and a Sub Group on Traditional Medicine within SCO.
India congratulated President Emomali Rahmon of the Republic of Tajikistan for assuming the chairmanship of SCO next year and assured full cooperation from India.
Analysis
Chabahar port and Delaram-Zaranj Highway Delaram-Zaranj Highway
Iran's Chabahar port is located on the Gulf of Oman and is the only oceanic port of the country.
The port gives access to the energy-rich Persian Gulf nations' southern coast and India can bypass Pakistan with the Chabahar port becoming functional.
Delaram-Zaranj Highway
In 2003, a trilateral agreement was signed among India, Iran and Afghanistan.
Under this agreement,
Iran was to build a highway from Chabahar (a Port City of Iran) upto Afghanistan border.
India was to build a road about 200km in length connecting Delaram (border city of Afghanistan) to Zaranj (Capital of Nimruz province of Afghanistan)
Border Roads Organization (BRO) of India has constructed this highway.
Construction started in 2005, and in 2009 the road was opened for public use.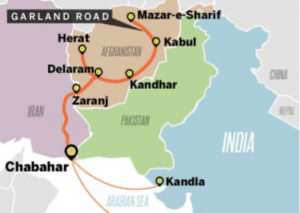 International North South Transport Corridor (INSTC)
It is a multi-modal transportation encompassing ship, rail and road routes.
It was established in Sep 2000 in St. Petersburg, by Iran, Russia and India for the purpose of promoting transportation cooperation among the Member States.
This corridor connects India Ocean and Persian Gulf to the Caspian Sea via Islamic republic of IRAN, then is connected to St. Petersburg and North European via Russian Federation.

The INSTC was expanded to include eleven new members, namely

: Republic of Azerbaijan, Republic of Armenia, Republic of Kazakhstan, Kyrgyz Republic, Republic of Tajikistan, Republic of Turkey, Republic of Ukraine, Republic of Belarus, Oman, Syria, Bulgaria (Observer).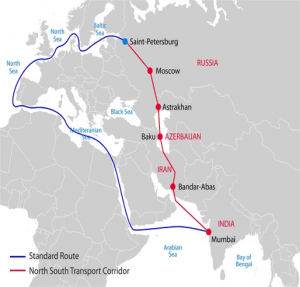 Ashgabat Agreement
In 2018, India joined the Ashgabat Agreement, which was instituted in April 2011 to establish an international multimodal transport and transit corridor between Central Asia and the Persian Gulf.
The Agreement was first signed by Uzbekistan, Turkmenistan, Iran, Oman and Qatar.
While Qatar subsequently withdrew from the agreement in 2013, Kazakhstan and Pakistan joined the grouping in 2016.
The Ashgabat Agreement came into force in April 2016.
Its objective is to enhance connectivity within the Eurasian region and synchronize it with other regional transport corridors, including the International North–South Transport Corridor (INSTC).
The Iran-Turkmenistan-Kazakhstan (ITK) railway line will be the major route under the Ashgabat Agreement.
The Lapis Lazuli Corridor seeks to foster transit and trade cooperation between Afghanistan, Turkmenistan, Azerbaijan, Georgia and Turkey by reducing barriers facing transit trade.
Persian Gulf
The countries that border the Persian Gulf include Iraq, Oman, Iran, Saudi Arabia, the United Arab Emirates, Bahrain, Qatar, and Kuwait.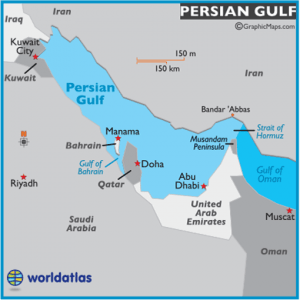 The Persian Gulf has several islands, and one of them is the state of Bahrain.
Qeshm in the Hormuz Strait is the largest island in the Persian Gulf. The island belongs to Iran.
The Persian Gulf also has the Bubiya Island of Kuwait, Tarout Island of Saudi Arabia, and Dalma Island of the UAE.
Pearl-Qatar located in Doha and the World Islands in Dubai are some artificial islands in the Persian Gulf.
It is only 35 miles wide at the Strait of Hormuz, its narrowest part.
The waters of the Tigris-Euphrates river system drain into the Persian Gulf forming a massive river delta at the mouth.
The area in and around the Persian Gulf is a rich reservoir of oil and natural gas.
The coastal area around the Gulf is the largest source of crude oil in the world.
Al-Safaniya, the world's biggest offshore oil field, operated and owned by Saudi Arabian Oil Company Aramco, is also located in the Persian Gulf.
The gulf also supports commercial fisheries.
Shanghai Cooperation Organisation | A counter-coalition of Eurasian powers was covered in detail in 12th Sep file. 
D) Science and Technology/Defence/Space
1. What is an mRNA vaccine? (TH)
Context

: India's very own mRNA (or messenger ribonucleic acid) vaccine could be ready by March.
The novel m-RNA vaccine candidate of the Pune-based Gennova Biopharmaceuticals was approved for funding as early as July by the Department of Biotechnology (DBT).
However, being a biological product that requires genetic manipulation, it needs to be cleared by the Review Committee on Genetic Manipulation (RCGM), a DBT body, before it can approach the Drug Controller General of India for human trials.
The mRNA-1273 vaccine is supported by the Coalition for Epidemic Preparedness Innovations (CEPI), a not-for-profit grouping of foundations and countries.
India is a member of CEPI.
Analysis
What are vaccines? How are these made?
Vaccines are one of the most effective tools to prevent diseases.
A vaccine is a substance that resembles the disease-causing agent (also called pathogen) but does not cause the disease.
It trains the body's immune system to recognise and kill the pathogen, and creates a memory for the future.
Vaccines are available to protect us against many life-threatening diseases such as polio, influenza, meningitis, typhoid, tetanus, diphtheria, and certain types of cancers.
Vaccines have also been responsible for eradication (or near eradication) of deadly diseases such as smallpox and polio.
There are multiple ways to make vaccines. For a killed vaccine, the pathogen can be grown outside the body, purified and inactivated with chemicals.
An example of this is the injectable polio vaccine.
Alternatively, the pathogen can be weakened by repeated culture or by genetic means.
An example of this would be the oral polio vaccine — the kind used in the 'Pulse Polio Programme'.
One of the proteins on the pathogen surface can also be produced artificially and used to raise immunity.
An example of this would be the Hepatitis B vaccine.
What vaccines are being developed against COVID-19?
According to the World Health Organization, over 40 different candidate vaccines for COVID-19 are in development.
These include an inactivated vaccine being developed in China (Sinovac) using purified COVID-19 virus killed with formaldehyde (a chemical).
A live attenuated vaccine being developed by Codagenix, a U.S.-based company in partnership with the Serum Institute of India (Pune), uses a genetically engineered COVID-19 virus that replicates very poorly.
There are multiple other vaccine candidates under development that use DNA, RNA, viral vector and subunit protein platforms.
What is the mRNA vaccine?
The genetic blueprint (or code) in living organisms is stored in a double-stranded molecule called DNA (deoxyribonucleic acid), which makes proteins that are responsible for nearly every function in the human body.
The conversion of DNA code into proteins requires a single-stranded molecule called the mRNA (messenger ribonucleic acid).
In an analogy with computers, one may think of the DNA as the hardware, the mRNA as the software and proteins as the applications.
The mRNA-1273 is a piece of RNA that carries the code to make the COVID-19 virus Spike protein when introduced into cells.
This protein present on the virus surface is critical for its entry into cells.
Immunity (antibodies) to the Spike protein can block virus entry and its multiplication, and thus ameliorate the disease.
While simple to engineer, mRNA can degrade easily. Therefore, it has to be protected with a coating that can also target it to the cells of choice when injected into the body.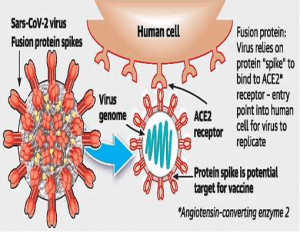 Is a virus needed to develop a vaccine against it?
With modern molecular tools and technologies, isolating a virus is not required to make a vaccine against it.
The genetic sequence can be obtained directly from infected patients and this can be converted into proteins using various platform technologies.
This makes it possible to have vaccines ready for hundreds of pathogens that have not yet infected humans, but have the potential to do so in future.
What makes the use of messenger-RNA (mRNA) for the vaccine different from the conventional vaccines and how does it work?
Most of the vaccines we know are based on a whole organism (bacteria or virus, living or dead) or a part of an organism.
Usually these organisms cause disease, but to make vaccines, the organism are manipulated by heat, chemical or other biological approaches to ensure that their pathogenicity has been removed.
These vaccines, when given to a person, act like an infection, but without producing disease.
The parts of the organism which are recognised by the immune response are called antigens, and when they are recognised, an immune response is made, as either antibodies or activated immune cells that protect from disease when the same infection is seen again.
Unlike a usual vaccine, RNA vaccines work by the introduction of an mRNA sequence into the host's cells.
This mRNA codes for a disease-specific antigen. Once inside a cell, the mRNA instructs the cell to produce the antigen, which is recognised by the immune system which makes an antibody or cellular response.
How has it become possible to develop an mRNA vaccine in just about three months?
In part, reseachers were able to quickly develop mRNA-1273 because of prior studies of related coronaviruses that cause SARS and MERS.
We have incredible genome sequencing capacity

now

, and got the SARS-CoV-2 sequence in early January 2020.
The mRNA can be made synthetically.
Is it necessary to have the virus to develop the vaccine?
No, the virus is not required, but the genome sequence [of the virus] is needed.
Main Virus Protease
Main virus protease is an enzyme that processes proteins critical to virus development.
An antiviral that blocks this enzyme, as in the case of drugs used against HIV virus, effectively prevents the virus from replicating.
Main virus protease is one of the best characterised drug targets among coronaviruses.
The inhibitor against the main protease targets a specific region of the enzyme.
And any antiviral that targets this region of the enzyme will be specific to the virus and will not be toxic to human cells.
2. Thirty Meter Telescope (TMT) Project (PIB)
Context

: 2020 Physics Nobel Laureate Prof. Andrea Ghez had worked closely with Indian astronomers on the design of back-end instruments and possible science prospects of the Thirty Meter Telescope (TMT) project being installed at Maunakea in Hawaii, which can revolutionized the understanding of the universe and the enigmas in it.
Ghez's remarkable contribution in the discovery of a super massive compact object at the center of our Galaxy along with Prof. Roger Penrose and Prof. Reinhard Genzel for which they shared the Nobel prize in physics.
The Thirty-meter telescope (TMT) project is an international partnership between CalTech, Universities of California, Canada, Japan, China, and India; through the Department of Science and Technology (DST) and Department of Atomic Energy (DAE).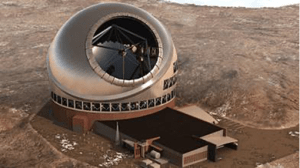 Analysis
Thirty-Meter Telescope (TMT)
It is a joint venture of five countries: India, Canada, U.S., Japan, and China.
With its 30 m prime mirror diameter, TMT will be three times as wide, with nine times more area, than the largest currently existing visible-light telescope in the world.
This will provide unparalleled resolution with TMT images more than 12 times sharper than those from the Hubble Space Telescope.
It can observe in wavelengths ranging from the ultraviolet to the mid-infrared.
What will TMT Explore?
Its adaptive optics and spectroscopic capabilities will allow astronomers to explore the mysterious period in the life of the universe when the first stars and galaxies were formed, providing information about the nature of

"first-light"

objects

and their effects on the universe's evolution.
TMT will also observe the formation and development of the large-scale structures by looking at faint distant galaxies and the intergalactic medium, providing information on the physics of the early universe and the nature of dark matter that are inaccessible using any other techniques.
TMT's high resolution will extend scientists' capability to detect and investigate black holes that reside in the center of many distant galaxies, as well as study in detail the black hole in the center of our own Milky Way.
TMT will also play a very important role in advancing our knowledge of the physical processes that lead to star and planet formation.
TMT will be able to characterize and study the properties of exoplanets leading us closer to finding out if life exists beyond the Earth.
India wants Thirty-Metre Telescope shifted out of Hawaii
Once it is built, the Thirty-Meter Telescope (TMT) will become one of the world's largest general-purpose observatories.
The problem is that it is not getting built because the proposed site for the TMT, atop the dormant Mauna Kea volcano in Hawaii, is a sacred location for the island's native population, and also has too many observatories for one more such massive establishment to come up.
India, who has committed 10% of the project's resources, wants the observatory to be shifted to a different site, away from Mauna Kea.
The telescope needs 492 precisely polished mirrors and India is to contribute 83 of them.
The level of contribution determines the amount of viewing time, or slots, that the member-countries' scientists get on the machine.
Thus India, in a given year, stands to get 10% of the available slots; any downtime could potentially eat into those.
Prior to picking Mauna Kea, the international collaboration had prepared a shortlist of five sites, including one in Hanle, Ladakh, where the Indian Astronomical Observatory is also located.
Mauna Kea came out on top because it offers better viewing conditions for astronomers, its stable weather, and also because it has the necessary infrastructure to manage telescopes, already being host to several telescopes; on the other hand, Hanle is located close to the India-China border and is a high-security area with tightly controlled access.
The next most favourable location on the shortlist is the Roque de los Muchachos Observatory in the Canary Islands, which belong to Spain.
India too has its problems with hosting ambitious science projects.
The Indian Neutrino Observatory, proposed to come up in Theni, Tamil Nadu, has also been stalled due to protests against the project in the State.
How do Telescopes Work?
A telescope is a tool that astronomers use to see faraway objects.
Telescopes observe visible light (a type of electromagnetic radiation) from far off objects and uses that light to create an image.
Galileo is most commonly associated with the first telescopes though he is not the inventor.
He was, however, the first person to use a telescope to view the night sky which is how he discovered the Milky Way.
Several kinds telescopes exist and are used to observe different types of electromagnetic radiation.
Optical, Radio, and X-ray telescopes (to name a few) have all been beneficial to science.
Most telescopes, and all large telescopes, work by using curved mirrors to gather and focus light from the night sky.
Early telescopes focused light using pieces of curved, clear glass, called lenses. However, most telescopes today use curved mirrors to gather light from the night sky.
Because mirrors are lighter, and they are easier than lenses to make perfectly smooth.
The shape of the mirror or lens in a telescope concentrates light. That light is what we see when we look into a telescope.
The bigger the mirrors or lenses, the more light the telescope can gather. Light is then concentrated by the shape of the optics (The mirrors or lenses in a telescope are called the "optics.").
The optics of a telescope must be almost perfect.
They can't have any spots, scratches or other flaws. If they do have such problems, the image gets warped or blurry and is difficult to see.
It's hard to make a perfect mirror, but it's even harder to make a perfect lens.
Why Mirrors work better than Lenses
A telescope made with lenses is called a refracting telescope.
A telescope that uses mirrors is called a reflecting telescope.
Heavy lenses are hard to make and difficult to hold in the right place. Also, as they get thicker the glass stops more of the light passing through them.
Unlike a lens, a mirror can be very thin. A bigger mirror does not also have to be thicker. Light is concentrated by bouncing off of the mirror. So, the mirror just has to have the right curved shape.
It is much easier to make a large, near-perfect mirror than to make a large, near-perfect lens.
Also, since mirrors are one-sided, they are easier than lenses to clean and polish.
But mirrors have their own problems. Have you ever looked into a spoon and noticed your reflection is upside down? The curved mirror in a telescope is like a spoon: It flips the image. Luckily, the solution is simple. We just use other mirrors to flip it back.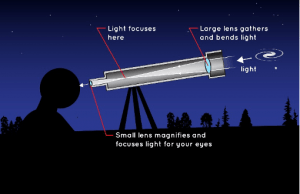 Fig. A simple refracting telescope uses lenses to make images bigger and more visible.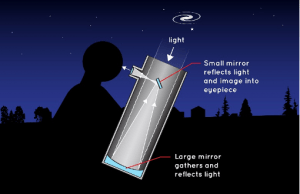 Fig. A simple reflecting telescope uses mirrors to help us see faraway objects.
The number-one benefit of using mirrors is that they're not heavy. Since they are much lighter than lenses, mirrors are a lot easier to launch into space.
Space telescopes such as the Hubble Space Telescope and the Spitzer Space Telescope have allowed us to capture views of galaxies and nebulas far away from our own solar system.
The Biggest Telescopes in the World (in descending order)
Gran Telescopio Canarias
The Gran Telescopio Canarias in the Canary Islands it the largest telescope in the world.
Keck 1 and Keck 2
These are located at Mauna Kea Observatory in Hawaii, US.
South African Large Telescope (SALT)
It is located on the Northern Cape of South Africa at the South African Astronomical Observatory.
Though not the largest in the world, it is the largest in the southern hemisphere.
Due to its location, the SALT can capture images that its northern hemisphere fellows cannot.
This telescope represents an international effort and receives funding from Germany, Poland, the United Kingdom, New Zealand, India, South Africa, and the US.
Large Binocular Telescope (LBT)
It was located at the Mount Graham Observatory in Arizona, US.
Unfortunately, its location was the cause of heated debate when the San Carlos Apache Tribe contested its use on Mount Graham. The natives revere the mountains as a sacred site.
Environmentalists were also concerned about the destruction of the Mount Graham Red Squirrel habitat. The US Congress passed an act permitting its destruction.
Subaru
The fifth largest telescope in the world is the Subaru.
This instrument is located in Hawaii, like the Keck 1 and Keck 2 telescopes, at the Mauna Kea Observatory.
Telescopes in Chile
Interestingly, the remaining largest telescopes of the world are all located in Chile in South America.
This is because of the Atacama Desert which provides clear skies and dry air.
The telescopes located at the Paranal Observatory are all 323 inches in diameter (almost 30 feet) and include the: Antu, Kueyen, Melipal, and Yepun.
Future Plans
One telescope planned for 2020 is the Giant Magellan Telescope, which will measure 80 feet in diameter and promptly take the place of the largest telescope on earth.
This telescope will also be located in Chile and is expected to provide a direct view of the planets in other solar systems, a first for astronomy.
Click here to get Current Affairs Booster Course
Click here to get our all Courses
Click here to follow our latest updates
If you find this post helpful, then do share your thoughts with us by commenting