UPSC PRELIMS+MAINS
A) International Relations
OPEC Vs OPEC+ (TH)
Context: Oil prices jumped by close to 10% for its biggest daily gain in almost six months after news of a highly effective vaccine against COVID-19 and Saudi Arabia's assurance that an OPEC+ oil output deal could be adjusted to balance the market.
Oil prices also found support from a weaker U.S. dollar on the back of Joe Biden's victory.
Analysis
OPEC+ is a group of 23 oil-producing nations, made up of the 13 members of the Organization of Petroleum Exporting Countries (OPEC), and 10 other non-OPEC members.
The OPEC bloc is nominally led by Saudi Arabia, the group's largest oil producer, while Russia is the biggest player among the non-OPEC countries.
The format was born in 2017 with a deal to coordinate oil production among the countries in a bid to stabilize prices.
Since then, the group has reached deals for members to voluntarily cut and ramp-up production in response to changes in global oil prices.
OPEC accounts for around one-third of the world's oil supply, with the non-OPEC members bringing the total share of global oil covered by the deal to just under half.
The world's largest energy producer, the U.S., is not part of the deal, nor is China or other leading Western producers such as the U.K., Canada and Norway.
OPEC: Member Countries
The Organization of the Petroleum Exporting Countries (OPEC) was founded in Baghdad, Iraq, in 1960 by five countries namely Islamic Republic of Iran, Iraq, Kuwait, Saudi Arabia and Venezuela.
They were to become the Founder Members of the Organization.
These countries were later joined by

Qatar (1961),

Indonesia (1962),

Libya (1962), the United Arab Emirates (1967), Algeria (1969), Nigeria (1971),

Ecuador (1973),

Gabon (1975), Angola (2007), Equatorial Guinea (2017) and Congo (2018).
Ecuador suspended its membership in December 1992, but rejoined OPEC in October 2007, but decided to withdraw its membership of OPEC effective 1 January 2020.
Indonesia suspended its membership in January 2009, reactivated it again in January 2016, but decided to suspend its membership once more at the 171st Meeting of the OPEC Conference on 30 November 2016.
Gabon terminated its membership in January 1995. However, it rejoined the Organization in July 2016.
Qatar terminated its membership on 1 January 2019.
This means that, currently, the Organization has a total of 13 Member Countries.
The OPEC Statute distinguishes between the Founder Members and Full Members – those countries whose applications for membership have been accepted by the Conference.
The Statute stipulates that "any country with a substantial net export of crude petroleum, which has fundamentally similar interests to those of Member Countries, may become a Full Member of the Organization, if accepted by a majority of three-fourths of Full Members, including the concurring votes of all Founder Members."
The Statute further provides for Associate Members which are those countries that do not qualify for full membership but are nevertheless admitted under such special conditions as may be prescribed by the Conference.
Non-OPEC Members
Azerbaijan, Bahrain, Brunei, Kazakhstan, Malaysia, Mexico, Oman, Russia, South Sudan and Sudan.
BRICS and New Development Bank (NDB) (PIB)
Context: India participated in the 1stBRICS Finance Ministers and Central Bank Governors (FMCBG) meeting under the BRICS Russian Chairmanship. The agenda of the meeting included discussions on:
the outcomes of G20 (of which all BRICS countries are members) Saudi Presidency in 2020,
Russia's initiative to develop a digital platform to encourage infrastructure investments and
expansion of the membership of the New Development Bank.
Analysis
BRICS
BRICS is a group of five countries –

 Brazil, Russia, India, China and South Africa 

–with rapidly developing economies that cooperate on trade, finance, technology and other areas of mutual interest.
As a formal grouping, BRIC started after the meeting of the Leaders of Russia, India and China in St. Petersburg on the margins of G8 Outreach Summit in 2006.
The grouping was formalized during the 1st meeting of BRIC Foreign Ministers on the margins of UNGA in New York in 2006.
The 1st BRIC Summit was held in Yekaterinburg, Russia, on 16 June 2009.
It was agreed to expand BRIC into BRICS with the inclusion of South Africa at the BRIC Foreign Ministers' meeting in New York in September 2010.
Accordingly, South Africa attended the 3rd BRICS Summit in Sanya, China in April 2011.
BRICS now brings together five economies accounting for 42% of the world's population, 23% of the global GDP and an around 17% share of world trade.
The BRICS cooperation has two pillars —
consultations on issues of mutual interest through meetings of leaders and ministers, and
cooperation through meetings of senior officials in areas including trade, finance, health, education, technology, agriculture, and IT.
China introduced the "BRICS Plus" format at the 9th Xiamen summit in 2017 by inviting a few countries from different regions.
11th BRICS Summit
In November 13-14, 2019, Brasilia hosted the 11th BRICS Summit under its chairmanship.
The main pillars of cooperation — political, economic and humanitarian.
The group accounts for almost a third of global GDP at purchasing power parity.
BRICS even outperformed the G7 on this indicator.
The New Development Bank (NDB) created by the BRICS countries is one of the promising multilateral development institutions.
The BRICS Contingent Reserve Arrangement (CRA) has a total capital of $100 billion and is to be a guarantor of the BRICS financial stability in case of crisis.
Recently, India also put forward a proposal to host a BRICS workshop on digital forensics in India.
Brazil has also made terrorism one of the priorities for its presidency.
Following up on the decisions taken at the previous summit, operationalization of the Partnership on New Industrial Revolution is underway.
It is focused on cooperation in digitalization, industrialization, innovation, inclusiveness and investment.
In 2020, Russia took the helm of BRICS and India in 2021.
The 11th BRICS Summit in Brasilia was an opportunity for India to lay the groundwork for hosting the 2021 Summit scheduled in India.
The last Summit took place in Goa in 2016.
India will also be mindful of the fact that the G20 Summit to be hosted in India will take place in 2022, and this will be an opportunity to synergize the two agendas from New Delhi's lens as well.
Where BRICS has failed its founders is in the vision of interdependence between the five countries; despite their combined population accounting for 40% of humanity, intra-BRICS trade still makes up just 15% of world trade.
Going forward, it is greater connectivity and more trade that will allow the BRICS countries to claim their rightful space, and provide the leadership and energy that the global economic order needs urgently.
BRICS Network University
The BRICS Network University (BRICS NU) is a network of the BRICS member countries' higher education institutions engaged in cooperation and joining the BRICS NU.
The network university is devoted to the creation of masters and PhD programmes.

Six agreed priority areas

– Computer science and information science, energy, BRICS studies, economics, ecology and climate change and water resources and pollution treatment.
New Development Bank (NDB)
The New Development Bank (NDB) is a multilateral financial institution established in 2015 by the BRICS countries (Brazil, Russia, India, China and South Africa).
Its purpose is to fund infrastructure and sustainable development projects in BRICS and other emerging market economies and developing countries.
The Bank has an initial authorized capital of 100 billion dollars, and an initial subscribed capital of 50 billion dollars.
The NDB is not meant to challenge the Western banks, but rather to complement them.
The Bank has its headquarters in Shanghai, China and an Africa Regional Centre is being established in Johannesburg, South Africa and one regional centre in Brazil.
Fortaleza Declaration
During the sixth BRICS Summit in Fortaleza (2014), the leaders signed the Agreement establishing the New Development Bank (NDB).
How is the NDB governed?
The NDB was founded by the five BRICS countries, though membership is open to any member of the United Nations.
The Bank is governed by a Board of Governors made up of the

finance ministers of the five BRICS countries

, and a Board of Directors.
Voting power within the Board is based on each country's shares in the bank.
While new members can join the NDB, the five BRICS countries will retain a minimum of 55% of total shares and hence of voting power.
At present, all the BRICS nations have equal share-holding and equal voting rights.
The NDB's management includes a

presidency that rotates among BRICS membe

rs, and four vice presidents who are selected from the remaining BRICS countries.
As of now, NDB's approved loan proportion to India is 28%, the

second-highest after Chi

na amongst the BRICS countries.
NDB aims to provide local currency financing options in its member countries and it is expected that NDB will be able to provide rupee financing in India soon.
NDB aims to support the Indian public and private sector for infrastructure development through innovative means such as

loans in local currency

, guarantees, credit enhancement and equity investments. Global Housing Technology Challenge-India.
B) Indices/Committees/Reports/Organisations
3.CBI and 'General Consent' granted to Investigate Cases in the State (TH)
Context: Many State governments have recently withdrawn the 'general consent' granted to the Central Bureau of Investigation (CBI) to investigate cases in their States.
Therefore, CBI will now have to take permission from such State governments on a case-to-case basis.
Section 6 of the Delhi Special Police Establishment Act (DSPE Act) provides that a member of the Delhi Special Police Establishment cannot exercise powers and jurisdiction under the Act in any area in a State without the consent of the Government of that State.
Analysis
During the period of World War II, a Special Police Establishment (SPE) was constituted in 1941 in the Department of War of the British India

to enquire into allegations of bribery and corruption in the war related procurements.

Later on,

it was formalized as an agency of the Government of India to investigate into allegations of corruption in various wings of the Government of India by enacting the

 Delhi Special Police Establishment (DSPE) Act, 1946.
In 1963, the Central Bureau of Investigation (CBI) was established by the Government of India with a view to investigate
serious crimes related to Defence of India,
corruption in high places,
serious fraud,
cheating and embezzlement
social crime particularly of hoarding, black-marketing and profiteering in essential commodities, having all-India and inter-state ramifications.
CBI derives its legal powers to investigate crime from the DSPE Act, 1946.
CBI and Delhi Special Police Establishment (DSPE) Act, 1946
In exercise of powers under the Delhi Special Police Establishment (DSPE) Act, 1946, the Central Government constitutes a Special Police Force for investigation in any Union Territory.
The power and jurisdiction of this Special Force can be extended to any other areas/State not being Union Territory for investigation of any offences or classes of offences notified by the central government under the DSPE Act, 1946 with the consent of the Government of that State.
The Central Government can authorize CBI to investigate such a crime in a State but only with the consent of the concerned State Government.
The Supreme Court and High Courts, however, can order CBI to investigate such a crime anywhere in the country without the consent of the State.
The powers and jurisdiction of members of the DSPE (CBI) may extend for investigation in the state only:
Once general or specific consent is granted under Section 6 of DSPE Act, 1946 by the State Government where the case is registered;
Or when the case is entrusted to them by the Constitutional courts
Withdrawal of consent, if any, by a State Government can be effected prospectively and not retrospectively.
Further, in the cases which are referred by the Constitutional Courts, the entry of CBI cannot be denied by that State as these do not require the consent of the State.
Director CBI
The CBI is headed by a Director.
The Central Government shall appoint the Director on the recommendation of the Committee consisting of—
(a) the Prime Minister — Chairperson;
(b) the Leader of Opposition recognized — Member (as such in the House of the People or where there is no such Leader of Opposition, then the Leader of the single largest Opposition Party in that House)
 (c) the Chief Justice of India or Judge of the Supreme — Member.
For appointment as the Director, the person is chosen from amongst officers belonging to the Indian Police Service on the basis of
seniority,
integrity and
experience in the investigation of anti-corruption cases
Director continues to hold office for a period of not less than two years from the date on which he assumes office.
Can CBI take over the investigation of a criminal case registered by the State Police?
Though,

Law and Order is a State subjec

t and the basic jurisdiction to investigate crime lies with State Police. But in the following situations it can undertake investigations:
(i) The concerned State Government makes a request to that effect and the Central Government agrees to it (Central Government generally seeks comment of CBI before deciding upon the request of the State)
(ii) The State Government issues notification of consent under section 6 of the DSPE Act and the Central Government issues notification under section 5 of the DSPE Act
(iii) The Supreme Court or High Courts orders CBI to take up such investigations. 
Who exercises supervision over CBI?
The superintendence of CBI related to the investigation of offenses under the Prevention of Corruption Act, 1988lies with the Central Vigilance Commission (CVC).
In other matters supervision lies with the Department of Personnel & Training (DOPT) in the Ministry of Personnel, Pension & Grievances of the Government of India.
What types of Crime CBI investigate today?
CBI has grown into a multidisciplinary investigation agency over a period of time. Today it has the following three divisions for investigation of crime:
(i) Anti-Corruption Division – for investigation of cases under the Prevention of Corruption Act, 1988 against Public officials and the employees of Central Government, Public Sector Undertakings, Corporations or Bodies owned or controlled by the Government of India and Central Financial Institutions – it is the largest division having presence almost in all the States of India.
(ii) Economic Offences Division – for investigation of major financial scams and serious economic frauds, including bank frauds, financial frauds, Import Export & Foreign Exchange violations, large-scale smuggling of narcotics, antiques, cultural property and smuggling of other contraband items, crimes relating to Fake Indian Currency Notes, Cyber Crime etc.
(iii) Special Crimes Division – for investigation of serious, sensational and organized crime under the Indian Penal Code and other laws on the requests of State Governments or on the orders of the Supreme Court and High Courts such as cases of terrorism, bomb blasts, sensational homicides, kidnapping for ransom and crimes committed by the mafia/the underworld.
What is the difference between the nature of the cases investigated by the National Investigation Agency (NIA) and the CBI?
The NIA has been constituted after the Mumbai terror attack in November 2008 mainly for investigation of incidents of terrorist attacks, funding of terrorism and other terror related crime, whereas CBI investigates crime of corruption, economic offences and serious and organized crime other than terrorism.
Can CBI suo-moto take up investigation of any crime anywhere in the Country?
CBI can suo-moto take up investigation of offences notified in section 3 only in the Union Territories.
Taking up investigation by CBI in the boundaries of a State requires prior consent of that State as per Section 6 of the DSPE Act.
 C) Science and Technology/Defence/Space
4.Mission Shakti and the issue of Space Debris (PIB)
Context: A model of Anti Satellite (A-SAT) Missile installed inside the DRDO Bhawan premises was unveiled.
'Mission Shakti' was the country's first-ever Anti-Satellite (ASAT) Missile Test successfully conducted in March 2019 from Dr AP J Abdul Kalam Island in Odisha, where a fast-moving Indian orbiting target satellite in Low Earth Orbit (LEO) was neutralized with pinpoint accuracy.
The successful conduct of Mission Shakti made India the fourth nation in the world with the capability to defend its assets in outer space.
Analysis
Mission Shakti
Defence Research and Development Organisation (DRDO) successfully conducted an Anti-Satellite (A-SAT) missile test 'Mission Shakti' from the Dr AP J Abdul Kalam Island in Odisha.
A DRDO-developed and a modified version of Ballistic Missile Defence (BMD) Interceptor Missile successfully engaged a live Indian orbiting target satellite in Low Earth Orbit (LEO) in a 'Hit to Kill' mode.
Until now, only US, Russia, and China could claim to have such capability. India is the fourth country to achieve this feat.
The US first tested ASAT technology in 1958, the USSR followed in 1964 and China in 2007.
India's interceptor missile used in the ASAT test has the capability to neutralize satellites up to 1,000 km in space.
Significance of Mission Shakti for India
India has for the first time tested and successfully demonstrated its capability to intercept a satellite and shoot it down in space based on complete indigenous technology.
The test demonstrates India's capability to safeguard her space assets.
The test also sends a strong message of deterrence to countries like China, that carried out a similar exercise first time in 2007 and the latest one last year.
Targeting and destroying satellites of the enemy can completely halt the communication systems of a country and during a conflict, this would mean the enemy could fail to use its missiles or drones.
The technological capability for intercepting such a high velocity moving target at a higher altitude has a direct bearing on Phase-II of the BMD program which envisages intercepting missiles traveling with a similar or lesser speed at a greater distance.
Issues of concern: Space Debris
Space debris encompasses both natural (meteoroid) and artificial (man-made) particles.
Meteoroids are in orbit about the sun, while most artificial debris is in orbit about the Earth.
Hence, the latter is more commonly referred to as orbital debris.
Much of the debris is in low Earth orbit, within 2,000 km (1,200 miles) of Earth's surface.
However, some debris can be found in geostationary orbit 35,786 km (22,236 miles) above the Equator.
How long a piece of space debris takes to fall back to Earth depends on its altitude.
Objects below 600 km (375 miles) orbit several years before re-entering Earth's atmosphere.
Objects above 1,000 km (600 miles) orbit for centuries.
Space shuttle windows often had to be replaced because of damage from collisions with man-made debris smaller than 1 mm (0.04 inch).
When in orbit, the space shuttle flew tail-forward to protect the forward crew compartment.
Any collision in space creates a cloud of debris, with each piece moving at about 17,500 mph.
That's roughly the speed required to keep a satellite in low-Earth orbit and more than 10 times as fast as a bullet shot from a gun.
India's anti-satellite (ASAT) missile test was done in a low orbit of less than 300 kilometers and at a particular angle to ensure that minimal debris were disbursed above into space to avoid damage to other satellites or the International Space Station (ISS).
All the debris created by India's test would take about 45 days to decompose by coming under the influence of earth's gravity.
Kessler Syndrome
A situation in the context of space where one collision would create a cloud of debris that leads to other collisions, which in turn would generate even more debris, leading to a runaway effect called a "collision cascade" with the result that low Earth orbit would become unusable.
Steps taken to mitigate the problem of space debris
To forestall such a build-up in debris, space agencies have begun taking steps to mitigate the problem, such as:
burning up all the fuel in a rocket stage so it does not explode later or
saving enough fuel to de-orbit a satellite at the end of its mission.
The British satellite RemoveDEBRIS, which was launched in 2018 and deployed from the ISS, has tested two different technologies for removing space debris,

capture with a net and capture with a harpoon, and will test a drag sail

, which will slow down a piece of debris so it re-enters the atmosphere.
For satellites orbiting closer to Earth, operators lower the orbit of a decommissioned satellite so that it will naturally re-enter the atmosphere within 25 years (known as the "25-year Rule").
As the satellite begins to fall back toward Earth, the heat from air friction will burn up the satellite, causing it to disintegrate before it ever reaches the surface.
Satellites in geostationary earth orbit (GEO) that are near the end of their missions are sometimes moved to a "graveyard" orbit 300 km (200 miles) higher, well out of the way of the busier operational orbits below.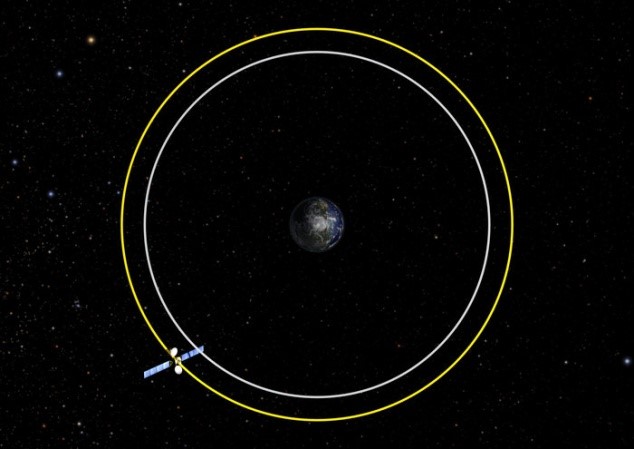 Fig: GRAVEYARD ORBIT 300 KM ABOVE GEO
Airbus's future "Space Tug," planned for 2023, is being built to grab old satellites and push them down to 125 miles (200 kilometers) above Earth so they burn up.
International Treaties
No International treaty has been envisaged yet regarding particularly ASAT testing.
UN Transparency and Confidence Building Measures (TCBMs) – It includes registering space objects with the UN register, pre-launch notifications etc. India is signatory of this treaty.
UN Outer Space Treaty 1967: It prohibits weapons of mass destruction in outer space but no restraining
on ordinary weapons. India ratified it in 1982.
Inter-Agency Space Debris Coordination Committee (IADC) is an international forum for the worldwide coordination of activities concerning with issuance of man-made and natural debris in space. India participates in IADC.
India has supported UN resolution on No First Placement of Weapons on Outer Space.
Outer Space Treaty
The United Nations' (U.N.) Outer Space Treaty

provides the basic framework on international space law, saying that space should be reserved for peaceful uses.
Salient Features:
States shall not place nuclear weapons or other weapons of mass destruction in orbit or on celestial bodies or station them in outer space in any other manner;
The Moon and other celestial bodies shall be used exclusively for peaceful purposes;
Astronauts shall be regarded as the envoys of mankind;
States shall be responsible for national space activities whether carried out by governmental or non-governmental entities;
States shall be liable for damage caused by their space objects; and
States shall avoid harmful contamination of space and celestial bodies.
Do you know?
US and Israel have consistently opposed the United Nations General Assembly's resolutions calling the Prevention of Outer Space Arms Race.
While existing space treaties prohibit placing weapons of mass destruction in space, they do not explicitly prohibit the placing of other types of weapons.
Space Force
S. has recently announced the creation of a 'space force' or a sixth branch of the American armed forces.
The Moon Agreement
The Moon Agreement is also known as the Agreement Governing the Activities of States on the Moon and Other Celestial Bodies.
The Agreement reaffirms and elaborates on many of the provisions of the Outer Space Treaty as applied to the Moon and other celestial bodies, providing:
that those bodies should be used exclusively for peaceful purposes,
that their environments should not be disrupted,
that the United Nations (Secretary-General) should be informed of the location and purpose of any station established on those bodies,
that establishment of military bases, installations and fortifications, the testing of any type of weapons and the conduct of military manuvres on the moon shall be forbidden.
In addition, the Agreement provides that the Moon and its natural resources are the common heritage of mankind and that an international regime should be established to govern the exploitation of such resources when such exploitation is about to become feasible.
The treaty applies to the Moon and to other celestial bodies within the Solar System, other than Earth, including orbits around or other trajectories to or around them.
The provisions of this Agreement relating to the moon shall also apply to other celestial bodies within the solar system, other than the earth.
This Agreement does not apply to extraterrestrial materials that reach the surface of the earth by natural means.
The use of military personnel for scientific research or for any other peaceful purposes shall not be prohibited.
States Parties may establish manned and unmanned stations on the moon.
Declares that for any samples obtained during research activities, the state that obtained them must consider making part of it available to all countries/scientific communities for research.
Bans any state from claiming sovereignty over any territory of celestial bodies.
Bans any ownership of any extraterrestrial property by any organization or person, unless that organization is international and governmental.
In practice, it is a failed treaty because it has not been ratified by any state that engages in self-launched manned space exploration or has plans to do so (e.g. the United States, the larger part of the member states of the European Space Agency, Russia (former Soviet Union), People's Republic of China and Japan) since its creation in 1979, and thus has a negligible effect on actual spaceflight.
India is signatory to this treaty but is yet to ratify it.
The Liability Convention
It provides that a launching State shall be absolutely liable to pay compensation for damage caused by its space objects on the surface of the Earth or to aircraft, and liable for damage due to its faults in space.
The Convention also provides for procedures for the settlement of claims for damages.
Low Earth Orbits
A low Earth orbit (LEO) is, as the name suggests, an orbit that is relatively close to Earth's surface.
It is normally at an altitude of less than 1000 km but could be as low as 160 km above Earth – which is low compared to other orbits, but still very far above Earth's surface.
By comparison, most commercial aeroplanes do not fly at altitudes much greater than approximately 14 km, so even the lowest LEO is more than ten times higher than that.
Unlike satellites in geosynchronous orbit, or GEO for short, that must always orbit along Earth's equator, LEO satellites do not always have to follow a particular path around Earth in the same way – their plane can be tilted.
This means there are more available routes for satellites in LEO, which is one of the reasons why LEO is a very commonly used orbit.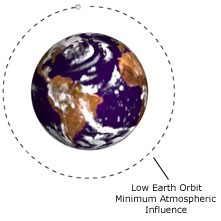 Advantages and Disadvantages of LEO
LEO's close proximity to Earth makes it useful for several reasons. It is the orbit most commonly used for satellite imaging, as being near the surface allows it to take images of higher resolution.
It is also the orbit used for the International Space Station (ISS), as it is easier for astronauts to travel to and from it at a shorter distance.
Satellites in this orbit travel at a speed of around 7.8 km per second; at this speed, a satellite takes approximately 90 minutes to circle Earth, meaning the ISS travels around Earth about 16 times a day.
However, individual LEO satellites are less useful for tasks such as telecommunication, because they move so fast across the sky and therefore require a lot of effort to track from ground stations.
Instead, communications satellites in LEO often work as part of a large combination or constellation, of multiple satellites to give constant coverage.
Most satellites, the International Space Station, the Space Shuttle, and the Hubble Space Telescope are all in Low Earth Orbit (commonly called "LEO").
There are two disadvantages to having things so close, however.
The first is that there is still some atmospheric drag.
Even though the amount of atmosphere is far too little to breath, there is enough to place a small amount of drag on the satellite or other object.
As a result, over time these objects slow down and their orbits slowly decay.
Simply put, the satellite or spacecraft slows down and this allows the influence of gravity to pull the object towards the Earth.
The second disadvantage has to do with how quickly a satellite in LEO goes around the Earth.
As you can imagine, a satellite traveling 18,000 miles per hour or faster does not spend very long over any one part of the Earth at a given time.
For instance, a weather satellite wouldn't be very effective for us in India if it didn't have a long dwell time over us.
There are two ways to accomplish this. One solution is to put a satellite in a highly elliptical orbit and the other is to place the satellite in a geosynchronous orbit.
Highly Elliptical Orbits
Remember Kepler's second law: an object in orbit about Earth moves much faster when it is close to Earth than when it is farther away.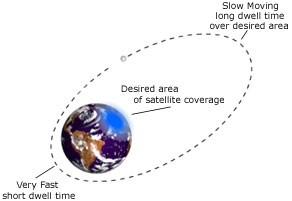 With the highly elliptical orbit described above, the satellite has long dwell time over one area, but at certain times when the satellite is on the high speed portion of the orbit, there is no coverage over the desired area.
To solve this problem we could have two satellites on similar orbits, but timed to be on opposite sides of the orbit at any given time. In this way, there will always be one satellite over the desired coverage area at all times.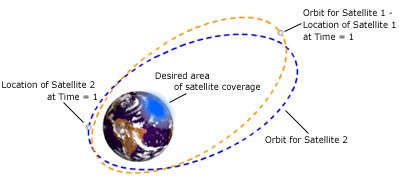 Geosynchronous Orbits
Another solution to the dwell time problem is to have a satellite always sitting over the same location on the planet.
The way we do this is to have the orbital period of the satellite exactly the same as the rotation period of the Earth, which is one day. This is called a geosynchronous orbit, or GEO for short.
In this case, the satellite cannot be too close to the Earth because it would not be going fast enough to counteract the pull of gravity.
The space shuttle, in order to stay aloft, must circle the planet every 90 minutes.
We can use Kepler's third law to figure out how far out a satellite must be to spend all its time over one part of Earth.
The answer is that a satellite has to be placed approximately 22,000 miles (36,000 km) away from the surface of the Earth in order to remain in a GEO orbit.
D) Economy
5.The 15th Finance Commission submits its Report for 2021-22 to 2025-26 to the President of India (PIB)
Context: The Fifteenth Finance Commission (XVFC) led by Chairman Sh N K Singh, today submitted its Report for the period 2021-22 to 2025-26 to the Hon'ble President of India.
Members of the Commission, Shri Ajay Narayan Jha, Prof. Anoop Singh, Dr. Ashok Lahiri and Dr. Ramesh Chand along with Secretary to the Commission Shri Arvind Mehta accompanied the Chairman.
Analysis
As per the terms of reference (ToR), the Commission was mandated to give its recommendations for five years from 2021-22 to 2025-26.
Last year, the Commission had submitted its report containing recommendations for the year 2020-21 which was accepted by the Union Government and tabled in the Parliament in January 2020.
Apart from the vertical and horizontal tax devolution, local government grants, disaster management grant, the Commission was also asked to examine and recommend performance incentives for States in many areas like power sector, adoption of DBT, solid waste management etc.
The Commission was also asked to examine whether a separate mechanism for funding of defence and internal security ought to be set up and if so how such a mechanism could be operationalized.
The Commission has analysed the finances of each State in great depth and has come up with State-specific considerations to address the key challenges that individual States face.
The Report will be available in the public domain once it is tabled in the Parliament by the Union Government along with explanatory memorandum/action taken report on the recommendations contained in the Report.
The cover and title of the Report are also unique in this Report- "Finance Commission in Covid Times" and the use of Scales on the cover to indicate the balance between the States and the Union.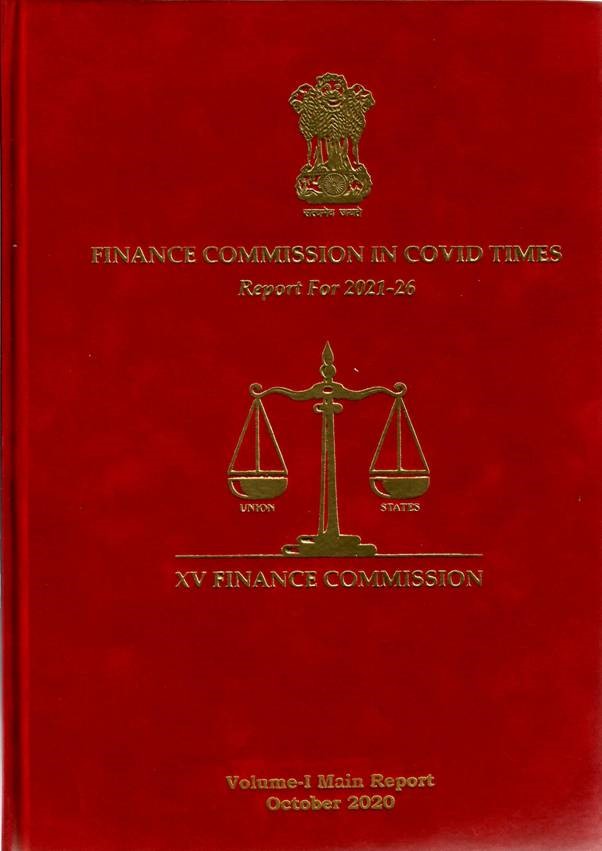 Measurable Performance-based Incentives for States
The Fifteenth Finance Commission may consider proposing measurable performance-based incentives for States, at the appropriate level of government, in following areas:
Efforts made by the States in expansion and deepening of tax net under GST;
Efforts and Progress made in moving towards replacement rate of population growth ;
Achievements in implementation of:
flagship schemes of Government of India,
disaster resilient infrastructure,
sustainable development goals, and
quality of expenditure;
increasing capital expenditure,
eliminating losses of power sector, and
improving the quality of such expenditure in generating future income streams;
increasing tax/non-tax revenues,
promoting savings by the adoption of Direct Benefit Transfers,
promoting digital economy and
removing layers between the government and the beneficiaries;
(vi) Progress made in promoting

ease of doing business

and promoting labor-intensive growth;
(vii) Provision of grants in aid to local bodies for basic services, and implementation of performance grant system in improving the delivery of services;
(viii) Control or lack of it in incurring expenditure on populist measures; and
(ix) Progress made in sanitation, solid waste management and bringing in behavioral change to end open defecation.
The Fifteenth Finance Commission shall use the population data of 2011 while making its recommendations.
E) Schemes/Policies/Initiatives/Social Issues
6.Aapda Mitra or Friends-in-Disaster (TH)
Launched by the National Disaster Management Authority (NDMA).
It is a centrally sponsored scheme focused on training 6000 community volunteers in disaster response in 30 most flood-prone districts (200 volunteers per district) of 25 States of India.
The volunteers would be drawn from Civil Defence, Home Guards, Red Cross, Youth from the community, or students from Colleges and Universities.
Click here to get Current Affairs Booster Course
Click here to get our all Courses
Click here to follow our latest updates
If you find this post helpful, then do share your thoughts with us by commenting