DIADEMY IAS in association with ARAVIND ACADEMY announces COMPLETE PRELIMS CUM MAINS IAS/UPSC 2022 COURSE
KEY FEATURES OF THE PROGRAM(PRELIMS CUM MAINS)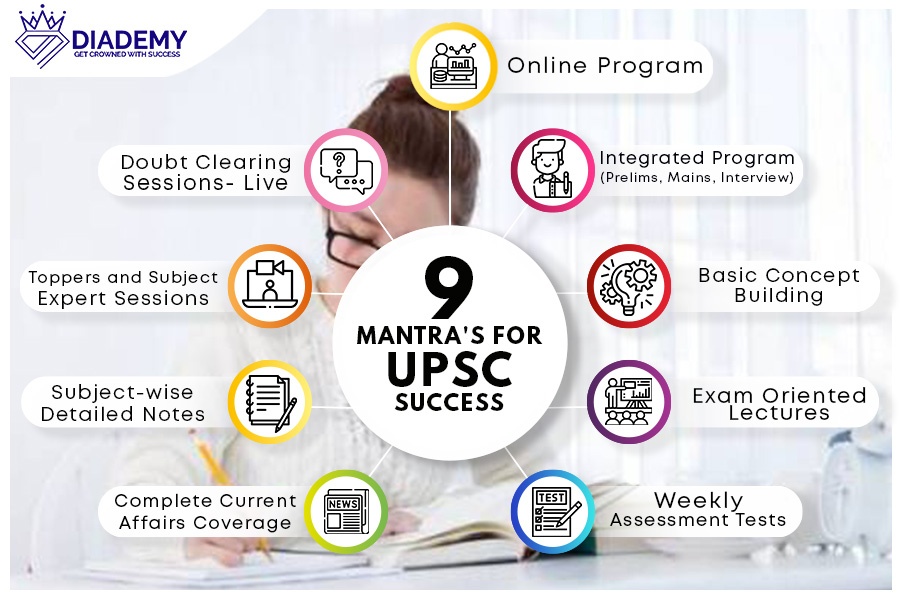 1) Live Online Interactive & Recorded Classes
In This Prelims Cum Mains Course, Live interactive classes provide you the flexibility to learn from anywhere. The flexibility of the schedule allows you to learn at your comfortable timings.
DIADEMY IAS provides you with : Prelims Cum Mains
Once the class is over, it will be uploaded into the student's account and can be accessed anytime till 1 year from the date of joining.

unlimited no. of views.

24*7 Access on web and mobile app

Weekly doubt clearing sessions – Live

Personal dashboard for students

PPT and Mindmaps driven classes

Daily Class Practice – 10 MCQs after every class
2) Basic Concept Booster:

Prelims Cum Mains
Just starting with the UPSC Preparation? Not knowing much about IAS preparation?
Don't worry, even if you have not read anything yet, our basic concept booster classes will take care of everything. In three months, we target to clear all your basic concepts of NCERT.
DIADEMY IAS provides you with:
Guidance on how to best utilize NCERTs with minimum efforts

Exam-oriented Notes of NCERTs

NCERT based MCQ tests
3) Approach during classroom
Focus on dimensions & perceptive building rather than just bombarding the content

Conceptual interlinking of topics

From basic to applied level for every topic (UPSC level)

Language Medium of class will be bilingual (English and Hindi).

From conventional till recent updates on the topic

100% exam oriented (no unnecessary intellectualism)

No need to refer any other reference book

Classroom content will be unique and not just a compilation of commonly available resources

You will remember lots of things from the lecture itself and will be able to deliver in the exam
4) Current Affairs Booster
Current affairs hold an important part in the preparation for UPSC CSE. But how to manage between so much information and materials out there?
This is the prime concern of all the UPSC aspirants. We bring you the specific exam-oriented current affairs.
DIADEMY IAS provides you with:Prelims Cum Main
Last two years of current affairs coverage

Subject-wise experts will take the lectures with proper background discussion

Regular Tests – Designed especially for current affairs

Integration of current affairs in all the relevant subject-wise lectures

Current monthly magazine

2-years Economic Survey and Budget

Daily news prescription
5) Value Addition Through Innovative Tools:

Prelims Cum Mains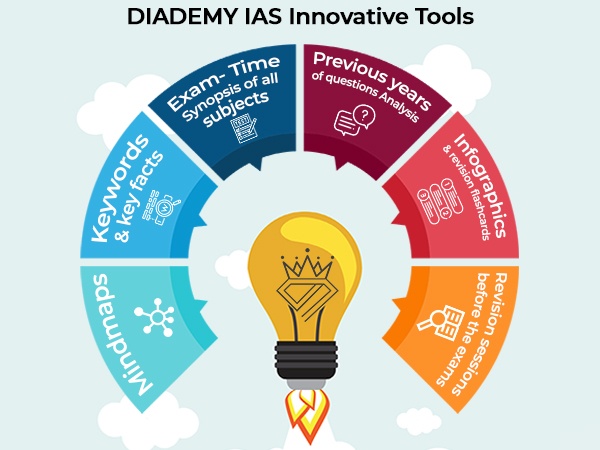 No course is complete without some value additions which nobody tells you otherwise. We focus on providing you with each and everything you need for better preparation of UPSC.
DIADEMY IAS provides you with:Prelims Cum Mains
Mindmaps

Keywords & key facts

Exam- Time Synopsis of all subjects

Previous years of questions Analysis

Infographics & revision flashcards

Revision sessions before the exams
6) Digital Study Material
The right kind and right quantity of study materials can boost up your preparation whereas if you are juggling with a lot of study materials, then you will end you just gathering information that will give you minimum output.
Our Study material provides you with: Prelims Cum Mains
Focus from fundamentals till exam-oriented concepts

Comprehensive coverage of syllabus

Prepared by Expert Faculties

Language of material will be in English

Static Portion: Sourced from Standard Books, NCERT, and other reference books.

Current Affair Materials: Sourced from newspapers like The Hindu, Indian Express. Magazines like Yojana, Science Reporter, Kurukshetra, NITI Aayog Reports, and other Govt. Reports.

Last 10 years Questions- With Solution

PDF and Downloadable materials
7) Weekly Assessment Tests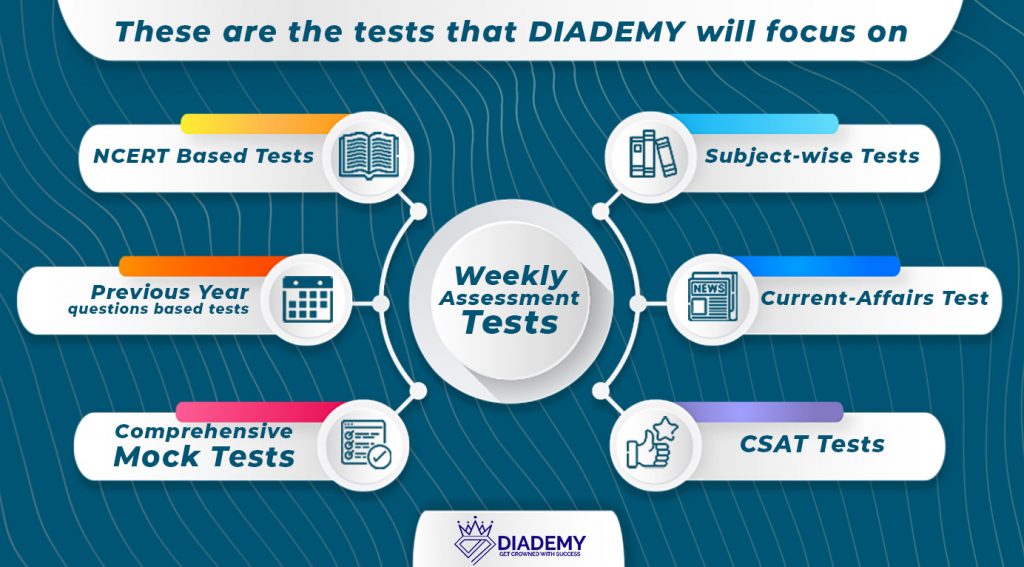 The weekly test will enable you to identify your strengths and weaknesses. By enrolling in a weekly assessment test you will get to know what all topics need extra attention. You will determine your current performance, and the feedback will enable you to upgrade your performances. Enhance your problem- solving ability with weekly assessment tests:
NCERT Based Tests

Subject-wise Tests

Previous Year questions based tests

Current-Affairs Test

Comprehensive Mock Tests

CSAT Tests
Solutions and approaches will be discussed for each test by the subject faculty.
After rigorously attending the tests and working on the feedback, you will be having added benefits like:
You will score more in the exam

You will not panic in the real exam

You will learn important concepts useful for the exam

You will face the exam-like competition before the actual UPSC exam

This will increase your confidence level
 8) Personal Attention
Self-study is no doubt very beneficial, but if you have someone experienced to guide you throughout your UPSC journey then you can save a lot of time and effort. Personal attention and the right guidance will make your journey a lot easier and smooth.
The personal attention from DIADEMY IAS will provide you with: Prelims Cum Mains
One to one regular interaction with faculty

Inspirations and motivation from the great mentors

The proper strategy to excel in UPSC CSE

Areas to improve with the right guidance
9) Toppers & Expert's Strategy Sessions
Being a newbie or a year-old aspirant, everybody needs guidance in steering out their strategy. If the strategy is coming out from someone who is an expert or already a topper, then students can rely on them and relate with their exam strategy.
The expert and toppers strategy from DIADEMY IAS will provide you everything about:
The right way of preparation

Right mindset to keep going in long tenure of preparation

Useful lessons from own difficulties

How to fill up the gaps between preparation and exam requirements
10) Subjects Being Covered In Prelims Cum Mains
It is important to give equal weightage and preparation time to each and every subject of UPSC CSE. We can't take a chance by giving less weightage to any subject.
PRELIMS CUM MAINS SUBJECTS: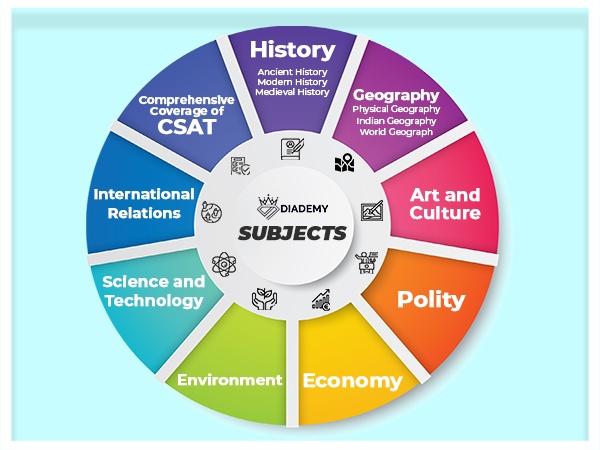 History – Ancient History, Modern History, Medieval History

Geography – Physical Geography, Indian Geography, World Geography

Art and Culture

Polity

Economy

Environment

Science and Technology

International Relations

CSAT
MAINS SPECIFIC SUBJECTS:
Post independent History

World History

Indian Society

Governance

International Relations

Disaster Management

Internal Security

Ethics

Essay
11) An integrated approach for Prelims cum Mains
An integrated approach brings a perfect symphony in the preparation of Prelims and Mains- without complicating the daily schedule of preparation. The integrated approach will cover your syllabus intensively and will make you ready to practice the mock tests. Freshers who have not started the answer writing practice yet, this approach is effective in a progressive improvement for the preparation.
An integrated approach of preparation of DIADEMY IAS will provide you with:
It will create a balance between Prelims and Mains preparation.

Fundamentals will be taught along with the applications and use in the real world.

The entire syllabus will be covered before the exam.

Regular tests will include quality questions to ensure you overcome Prelims fear.
Features of Integrated Approach of DIADEMY IAS: Prelims Cum Mains
Subject-wise discussion for prelims

Subject-wise integrated discussion for GS 1, GS 2, and GS 3.

Sectional and full-length tests for both Prelims and Mains.

Lectures for CSAT preparation.

CSAT Tests
There will be several steps of this integrated preparations:
# 1st Step: Starting phase of the preparation- Until prelims
# 2nd Step: Until Prelims – 2-3 Months before Prelims Exam
# 3rd Step: Between Prelims and Mains
For detailed information on the strategy of the integrated approach, read Integrated Approach to become IAS.
12) Specialized focus on GS Mains
The prelims exam is qualifying, so what if you qualify prelims but do not know the right strategy for qualifying Mains. Although the Mains exam has relevant topics from Prelims, the approach for writing the exam is drastically different. DIADEMY IAS has designed an issue-based preparation – with a special focus on GS Mains.
GS 4 (200 + Topics & 100 + Case Studies)

Essay (10+ Thematic Lectures & 10+ Complete Tests)
 13) Innovative Tools for Mains Exam
Other than just reading out the books and materials to complete the syllabus won't be effective. It is a proven fact that when we read something, we tend to forget 80% of the information after 2 hours. So, to build up a full-proof strategy, DIADEMY IAS came up with several innovative tools for Mains Exam that will help you to retain the topics for longer.
Revisionary clips of 5 Minute each topic (for exam time revision)

Exam Time Synopsis Notes (100 to 200 keywords on each topic)

Handwritten Mind Maps

200+ Audio/Video podcasts on factual topics
14) Sources to cover for UPSC Mains (GS 1, 2, 3 , 4 & Essay):
GS 1 – Complete coverage from most effective sources

GS 2 (Static) – From Laxmikanth Governance, D.D. Basu, M Kartikeyan & other books

GS 3 )Static) – From Kaushik Basu, NCERTs, Uma Kapila, Mishra & Puri

GS 4 Ethics – Case studies based on real life examples

GS 4 Ethics – Examples, Diagrams etc

Essay – Structure making, Theme based preparation

Updated Current Affairs Since The Last 3 Years

The Hindu, Indian Express, PIB, Business Standard, Mint

IDSA, PRS, Annual reports of ministries, India Year Book 2020

2 Years Economic Survey And Budget, Yojna & Kurukshetra

NITI Aayog Strategy Document @75 + Niti Aayog Annual Reports

Relevant 2nd Arc Reports Like Crises Management, Public Order Etc
Detailed schedule of the classes will be provided at the time of admission
STUDENT REVIEWS        CLICK HERE
DIADEMY IAS CSE 2020 TOPPERS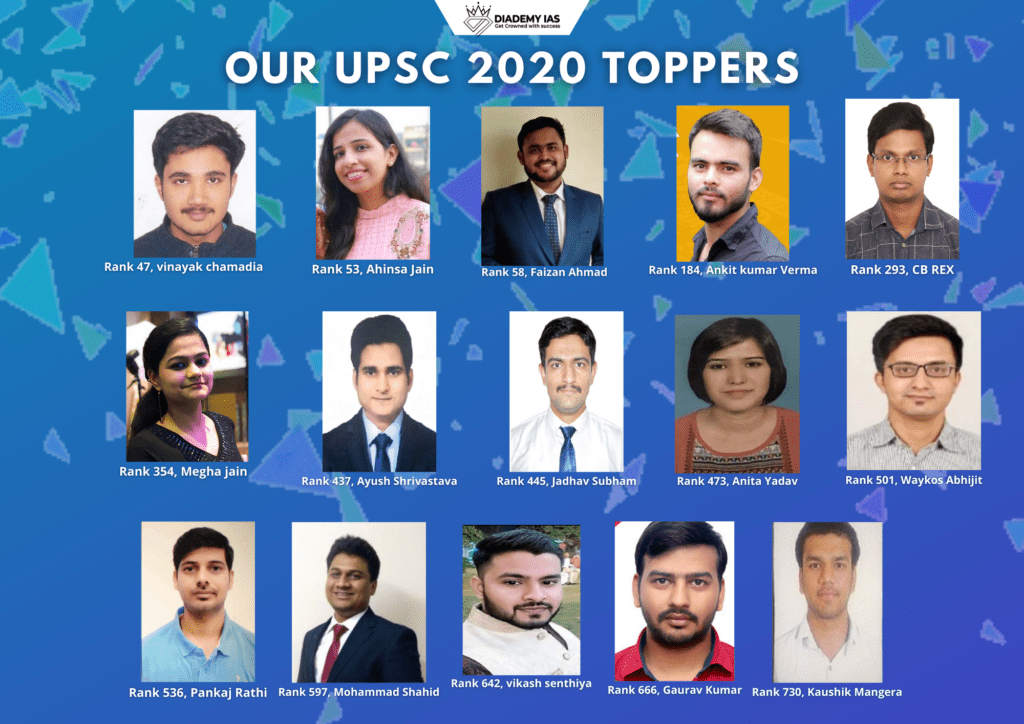 IMPORTANT FAQs
What If I miss any live class?
All students will have access to their personal dashboard. So even if they miss out on any of the live classes, you will be provided with the video of that particular lecture within 48 hours. Also, you can view your attended classes for an unlimited number of views
How do I ask queries during the classes?
There will be a Real-time Doubt Clearing facility where students can ask queries during live classes. They will get an instant response from the faculty member(s). We provide you the provision of:
Two-way communication where you can ask your query during the live classes, or
You can ask your doubts at the end of the class.
In case you have missed the live class, you can either mail your query or you can ask a query in the weekly doubt clearing session.
Preparation for Prelims Cum Mains – separate or integrated?
Civil Services preparation requires an integrated approach for the preparation process. Although the Preliminary exam is objective and the Main examination is descriptive, one should adopt an integrated approach. Main preparation requires a thorough analysis of information, organizing, and presenting information coherently and lucidly. Handling the Preliminary exam requires the ability to recollect and the concepts of the subject are also tested. So, a candidate should keep these things in mind during the preparation.
Why should I enroll for the GS Foundation course (Prelims and Mains)?
Our UPSC All Access course gives you a unique chance of getting trained from India's renowned faculty members from the comfort of your home. You will be holistically trained in all areas including GS, CSAT, Essay, Current Affairs, NCERTs, India Year Book, Editorials, Writing practice & Interview. You also have the option of learning anytime from anywhere through our recorded classes available in your personal dashboard.. Our student-oriented structured training approach will ensure that you will get the right kind of support to crack the Civil Services exam & fulfill your dream of becoming a Civil Servant.
About The Faculty Team
Team is lead by CA Rahul Kumar (Appeared in IAS interview 3 times, has experience of over 8 years, taught thousands of students, 100s of students qualified IAS exam under various courses taken by him)

The faculty team is experienced

All went through the exam process and qualified till mains

Subject wise expertise will help in deepening concepts

All of them keep updated with recent current affairs which keeps the lecture very relevant to the exams
Team includes –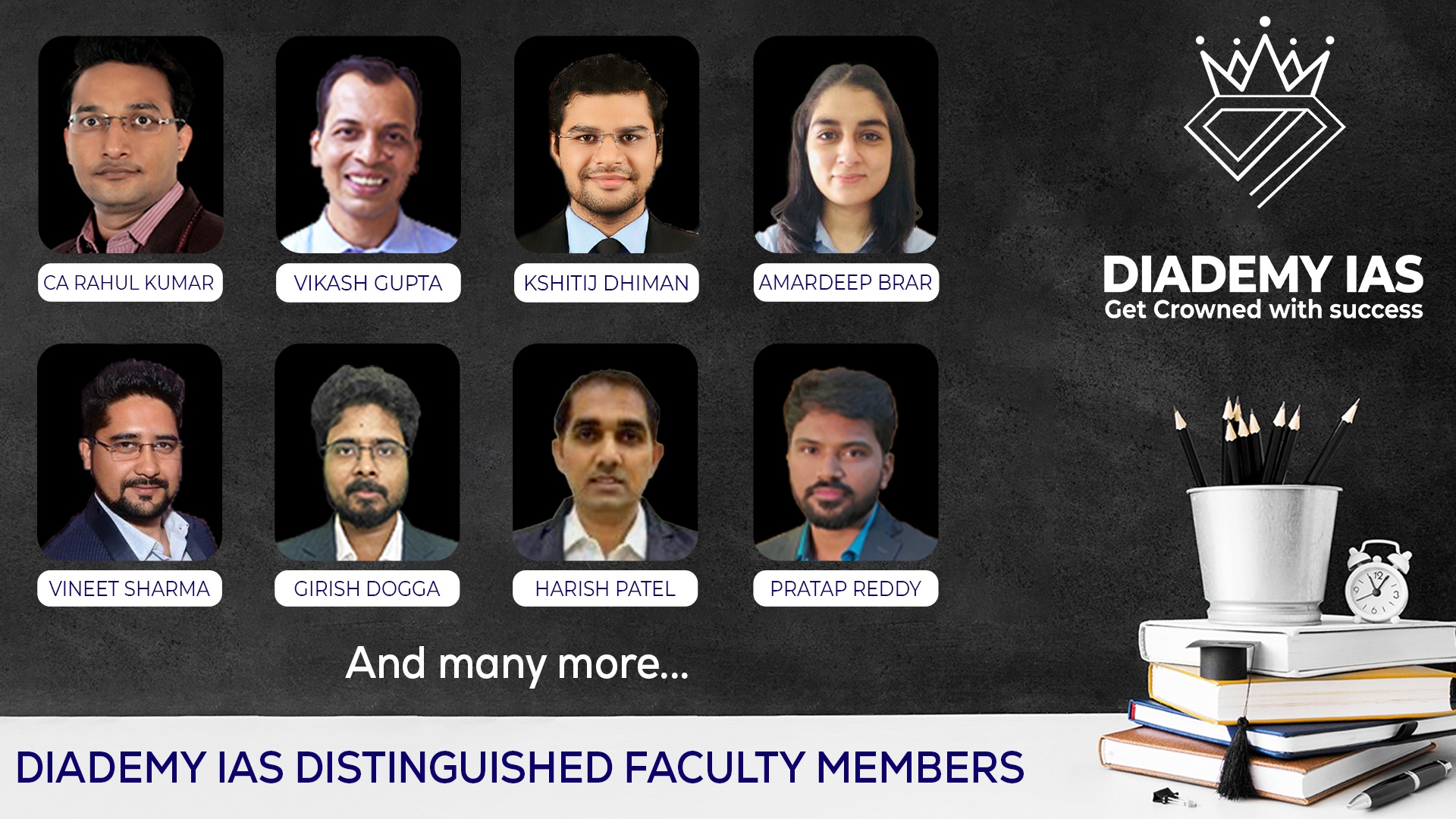 1)   CA Rahul Kumar – Economy & Internal Security (lead faculty)
2)    Girish Dogga – Science & Technology
3)   Aravind Alagatti : Ethics
4)   Harish Patel – Environment
5)   Vikash Gupta – Social Issues & Essays
6)   Vineet Sharma – Polity 
7)   Amardeep Kaur Brar – NCERTs
8)   Mahima Pant – Geography
9)    Anusha  – History & Art & Culture
10) Khistij Dhiman – S&T
How To Get Admission Into/ Subscribe To Course?
Click On "Add to Cart" & Make the payment

Please go through our Refund & Cancellation Policy by clicking on the link here before making the payment.

Please fill this SWOT form (Compulsory) Click Here so that we can give personal attention to you.

Once You Pay, Within 8 working Hrs (Working hours are from 10 AM to 6 PM), You will get access to a personal dashboard

You, Will, Get Live Class Links, Recorded Lectures And Soft Copy Study Materials In Your Dashboard As Per Lecture Plan

A detailed course/lecture plan will be given after joining

You can download the Android app also to get access to your purchased course by clicking here

For Any Problem Please Drop An Email At contact@diademy.com
DEMO SESSIONS:
Student's Review
[testimonial_view id="3″]