Introduction
Anthropology Optional for UPSC CSE Mains 2023/2024 offers syllabus overlap/connection and strategic relevance with the compulsory papers of General Studies. It is one of the most preferred optional by Toppers. Without special knowledge or specific academic background is required for the preparation of Anthropology as an optional subject, students have been obtaining high scores in the Main examination.
The only thing important is a clear understanding of the basics and their interlinkages. Students will score high provided they are guided in the right direction.
Diademy  "Anthro brings Anthropology Optional Foundation Course". These courses are meticulously designed to ensure content differentiation, score enhancement, and completeness of coverage.
Why Anthropology over other subjects
Easy to understand and High scoring
Overlap of topics
Cover maximum in minimum time
No need for prior academic background
Unique Features of the Program
Complete Comprehensive coverage of the syllabus.
The integrated answer writing approach
Makes you feel like you are inside Diademy's classroom.
Well managed, interactive, and time-bound classes
Personalized attention for doubt clearance and sustainable motivated learning
Focus upon developing skills in linking traditional information with contemporary changes
A systematic approach to syllabus completion via the class plan
Targeted to crack the exam in first attempt
Includes Test Series
Overall Holistic Guidance by DIADEMY: 360 Degree Approach
What's unique??
Complete Comprehensive coverage of the syllabus
Content and its application -static and dynamic
Makes you feel like you are inside Diademy's classroom.
Watch recorded videos as many times
Highly qualified, experienced, and trained faculty
Courses are designed to help candidates even without a prior background in the subject.
A systematic approach to syllabus completion via the class plan
Detailed analytical study of the subject concerning syllabus & previous years' questions will be completed in a comprehensive and time-bound manner.
Integrated answer writing program
Doubts and Discussion:
Weekly doubts sessions
Special Telegram Channel access
Personal mentorship under India's top educators.
Prompt grievance redressal mechanism
Answer Writing, Assessment, and Evaluation:
Special Answer Writing Masterclass
lectures to be followed by Subjective Question discussion for Mains.
A specialized dedicated Mains Test Series
Home assignments for regular practice
One-to-one reviews and discussions for personalized improvement.
Always get Extra:
Comprehensive study material will be provided to the students regularly with continuous updation.
And various other resources through Diademy LMS!!!
Learning Outcomes:
Guidance of Diademy acts like a ray of light in the Dark.
A planned approach that is systematic & well designed to clear the exam in the very first attempt.
We Provide the best exam-oriented study materials with proper direction to cover it and be ahead in the competition.
Instills competitive and fighting spirit, dedication, and motivation for success
Constant mentorship and evaluation keep you on the right track.
Broadening the scope of Improvement
Targeted course to crack the exam in first attempt
Logistical details
For Aspirants Targeting  2023 & 2024 Mains
No. of sessions provided will be 55 to 60
Each session's time covered will be 2.5 Hrs
It will Cover Paper 1 and Paper 2
And  Study Material offering are Class PPT + Value addition notes + Current Affairs
Answer writing/Mains Tests are -Unit Wise tests + PYQ discussion in class
Classes are to be held on Wed, Sat, Sun
This Course Validity Till – 2023 Mains/2023 mains
Duration of course in Months is 4 to 5 Months
DIADEMY IAS CSE 2020 TOPPERS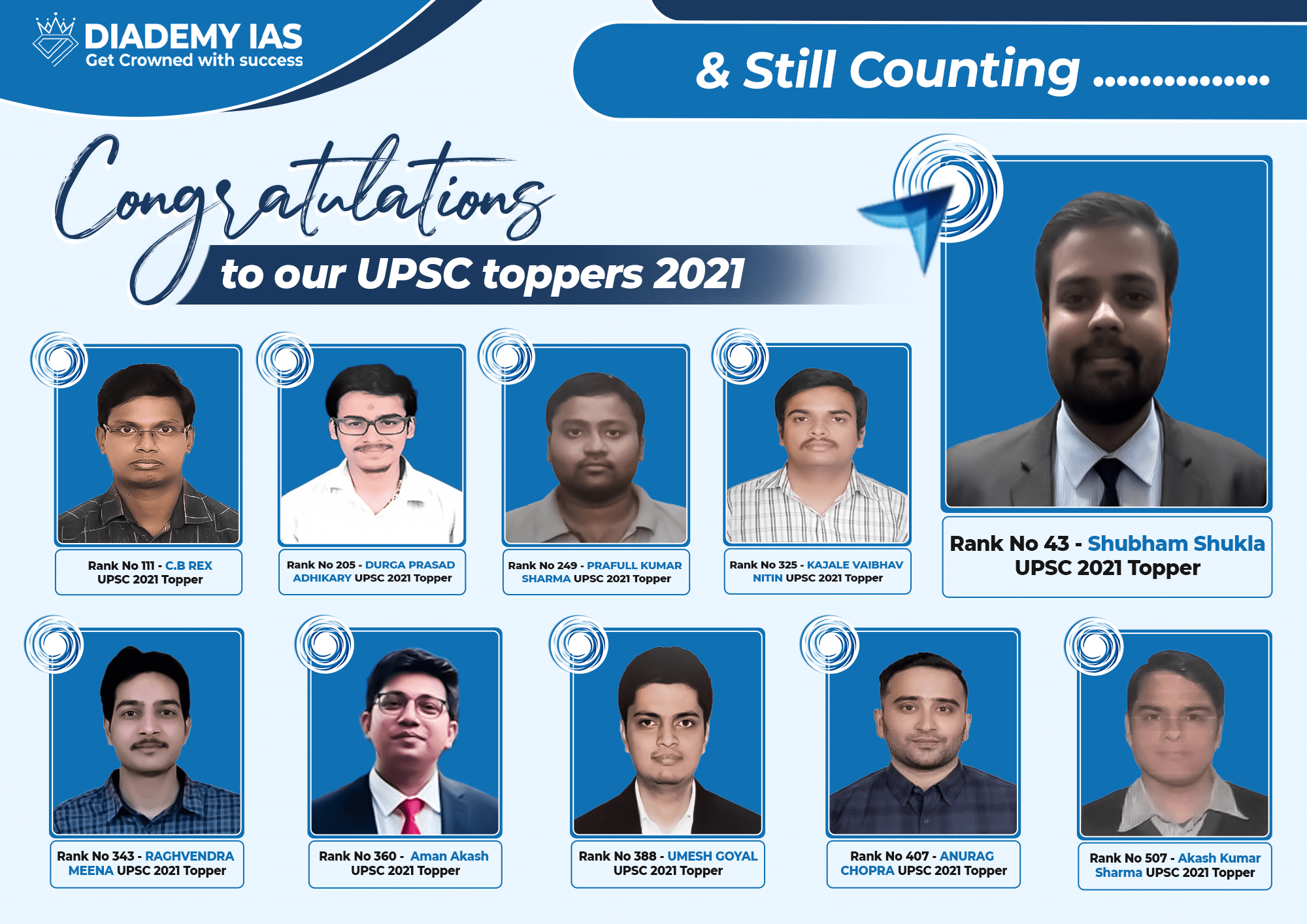 DIADEMY IAS CSE 2020 TOPPERS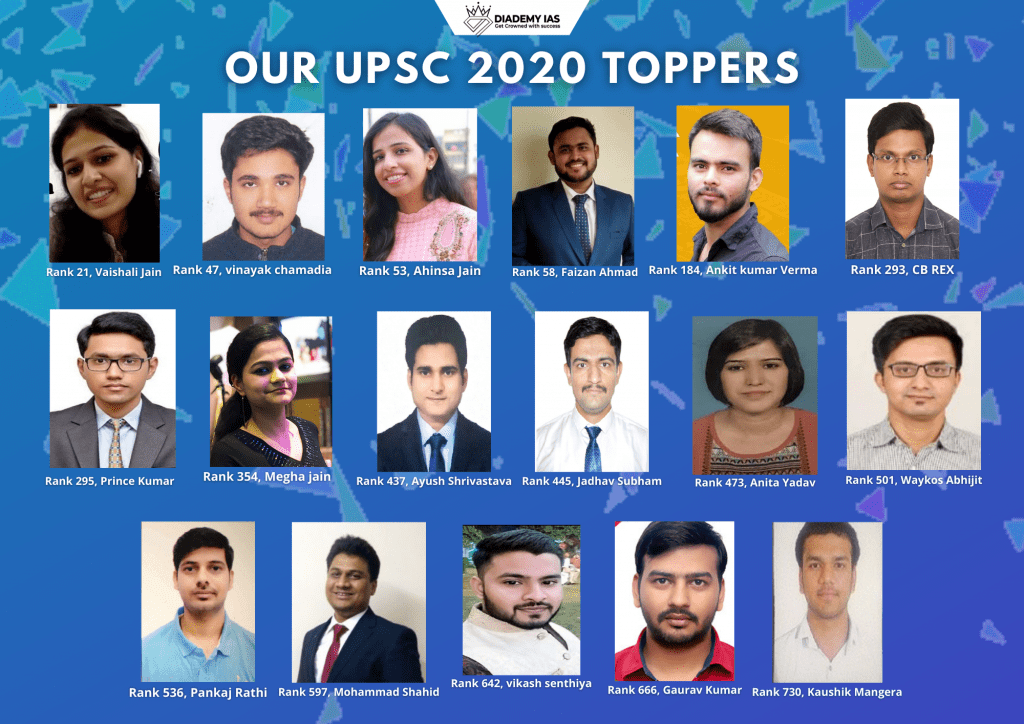 How To Get Admission Into/ Subscribe To Course?
Click On "Add to Cart" & Make the payment

Please go through our

Refund & Cancellation Policy

by clicking on the link here before making the payment.

Once You Pay, Within 8 working Hrs (Working hours are from 10 AM to 6 PM), You will get access to a personal dashboard

You, Will, Get Live Class Links, Recorded Lectures And Soft Copy Study Materials In Your Dashboard As Per Lecture Plan

A detailed course/lecture plan will be given after joining

You can download the Android app also to get access to your purchased course by clicking here

For Any Problem Please Drop An Email At   contact@diademy.com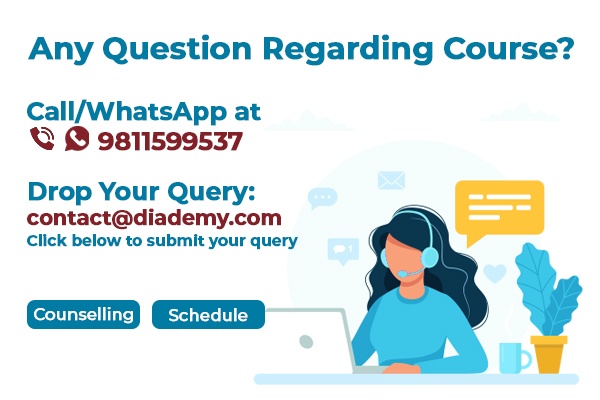 SAMPLE LECTURES
STUDENTS REVIEWS
[testimonial_view id="3″]